Is CPA the right model for you?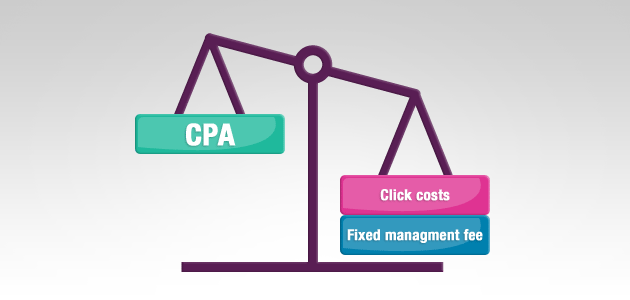 As a performance-based search agency we frequently work with clients on a purely CPA (Cost per Action or Cost per Acquisition) model, primarily via paid search but also utilising channels including mobile and social media advertising. These campaigns are often win-win for both parties, but it's important for each client to understand the benefits and implications of the model to ensure it's the perfect model for their business. Here's our stress-free guide:
The benefits of CPA
The primary benefit that certainly appeals to a lot of our clients is that CPA is a risk-free payment model. It means they don't have to worry about marketing costs with no return, because they're only paying for the sales or the leads generated.  CPA enables you to manage your budget to a controlled ROI, from a fixed percentage of basket value to a fixed cost per lead.
By providing our clients with a guaranteed CPA (whether this be a percentage of the basket value or a fixed value per lead), it's then our responsibility to construct an effective marketing campaign that delivers conversions.
Another key benefit is that as Found's revenue is directly related to the client's success, the CPA model ensures we are always striving to deliver more. We're not limited by time –  with a fixed management fee model, where a client pays a set amount to manage the campaign each month, Found's time allocation on a campaign can be restricted. However CPA allows us to manage time against the opportunity; if we can provide greater return for even more time and cost investment, it's in our best interest to do so.
The search landscape is extremely dynamic with new opportunities opening up every month, week and day. CPA promotes constant proactivity in accounts, to find the new opportunities that are opening up every day, taking the risk upon ourselves to test each opportunity.
Why CPA might not be right for you
While Found is a proud champion of performance marketing, we appreciate that the model is not always right for every client. Before embarking on a CPA-based campaign we challenge our clients to ask the question – will this deliver what I need?
There are three main areas that will restrict successful implementation of a CPA campaign:
1.       Product offering
If your website doesn't have distinctive product offerings or brands to differentiate clearly, they may not be right for the CPA model.   There can be instances where generic keywords simply do not provide sufficient return on investment to make the CPA model viable.
Found will always seek to invest revenue from brand conversions into generic terms but, when generic terms are not converting nor contributing to a conversion, then the only winner is the search engine.
2.       Non-ROI goals
If you have specific branding goals for your search campaign that are not mapped directly to performance, or a fixed budget that is not purely driven by the return on investment, CPA may not be the best model to pursue. For example, if a gift site wishes to bid on a very generic and expensive term such as 'Christmas gifts', the CPA model is not going to work in this instance unless appearing on this term results in or contributes to conversions.
3.       Campaign access
One of the reasons we are able to run CPA campaigns is that we are able to retain the IP around the structure of the campaign-builds.  If you need complete access to your Google, Yahoo or MSN campaign, CPA is not the model for you. If, however, it's simply insight and understanding you require, we are always able to share a host of metrics that provide a detailed view of the performance of your account.
However if the CPA model isn't quite right for you, there are always other ways to build performance-led metrics into the management of your campaign. Whether it's incentivising better performance via a fixed retainer + target-led bonuses or mapping campaign costs to net profit goals, you needn't be stuck with a campaign that isn't pushing your agency to achieve more. The key is to examine your individual success metrics up front and work with your search provider to come up with an agreement that will work best to drive these. If you're interested in discussing this with our Partnerships team, you can contact us here.