New Media Age "My Current Favourites"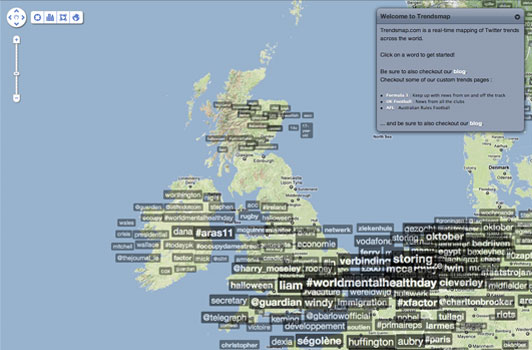 Lastminute.com (https://www.lastminute.com/site/labs/nru.html)
A very cool use of a phone app – wherever you are, the mobile application works out your exact location. It identifies which way you are facing and directs you to the nearest bars, restaurants, cinemas or cafes.
Trendsmap.com (http://trendsmap.com/)
There are many Twitter mash-ups in the digital space however I particularly like how this site shows real-time mapping of Twitter trends across the world. Using a map, this tool lets you hone in on specific cities, showing the core twitter trends being discussed in that city.

Pleaserobme.com (http://pleaserobme.com/)
A quirky tool which highlights the dangers of sharing your life with the world in social networking spaces!
The site illustrates, very simply, how users should stop and think, before they share details about their life online.
Wrangler.com (http://eu.wrangler.com/bluebell/#/collection/0)
I was impressed by the speed of the page load considering there's a whole lot of full-browser-width flash/video action on it. It's also a great opportunity to check out the latest offering from the Wrangler brand.
Secretlondon.us (http://secretlondon.us/)
A great site for sharing undiscovered 'gems' in London. Initially a blog, facebook group and Twitter feed – through the use of social media Secret London reached out to its followers to build their website. Over just one weekend, this site was built with the help of 40 volunteers. Great use of social media to recruit a group of people.