LOOKING FOR AN INFLUENCER MARKETING CAMPAIGN?
We create bespoke campaigns with credible, authentic, social creators and influencers. Producing thumb-stopping content to amplify brand stories and hook you up with engaged audiences.
LET'S GET YOU UNDER THE INFLUENCE.
We don't just do influencer marketing, we do
marketing with influencers
.

AIM
To create and activate an influencer programme around the Trigenic Evo Sand Knit sneaker launch to support Clarks Originals' partnership with D*Face.
SOLUTION
We identified and recruited a group of creative influencers who are seen as "originals" in their respective fields. Working closely with the talent, we co-created incredible content to sit across their Instagram channels, driving demand for the new shoe and generating attention for the Clarks Originals brand.
RESULTS
8 INFLUENCERS
5 AMBASSADOR LEVEL INFLUENCERS
27 INSTAGRAM POSTS AND STORIES
107K LIKES AND COMMENTS
10.3% AVERAGE ENGAGEMENT RATE
658K REACH
909K IMPRESSIONS
4,105 NEW INSTAGRAM FOLLOWERS FOR CLARKS ORIGINALS ACCOUNT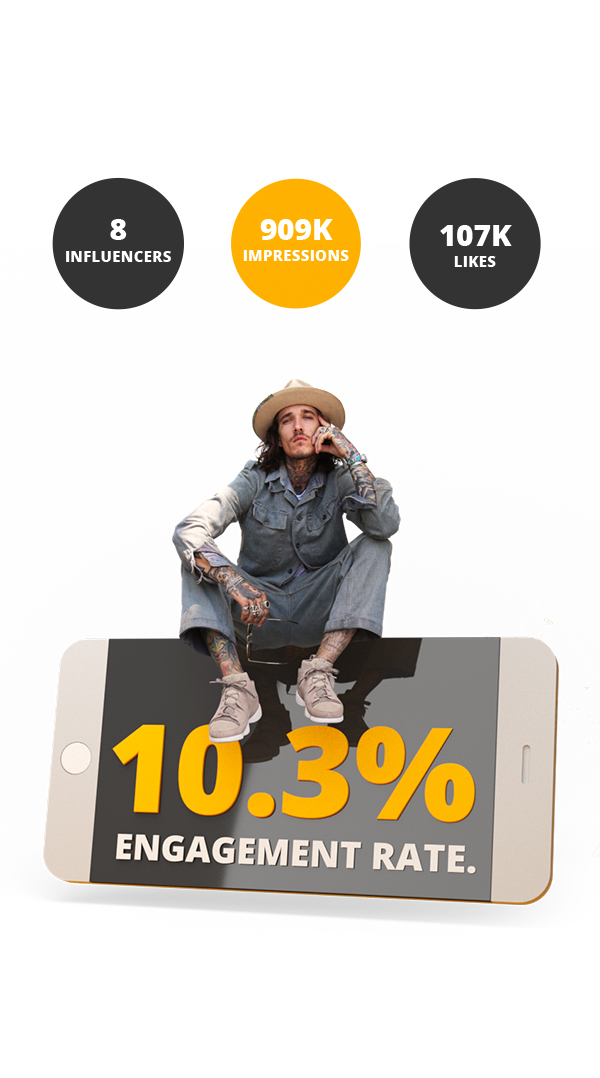 Our campaign stopped thumbs and earned attention,
resulting in over 100,000 engagements with the Clarks Originals brand

MLB MAJOR PLAYERS INFLUENCER LAUNCH
AIM
Majestic Athletic asked us to build and activate a strategic year-long campaign to build awareness and drive sales sales of Majestic x MLB apparel.
SOLUTION
We developed 'Major Players'. A campaign that pulled together the ultimate list of fashionistas shifting the culture, to make the clothing a hit over summer.
EXECUTION
STRATEGY
CONTENT PRODUCTION
AD CREATION
MEDIAPLANNING
PROMOTED POSTS
RETARGETING
RESULTS
4.2M REACH
5.7M IMPRESSIONS
1.2M ENGAGEMENTS
92K LINK CLICKS
OVER 200 ASSETS CREATED
100 EUROPEAN FASHION INFLUENCERS INVOLVED
1 EVENT ACTIVATION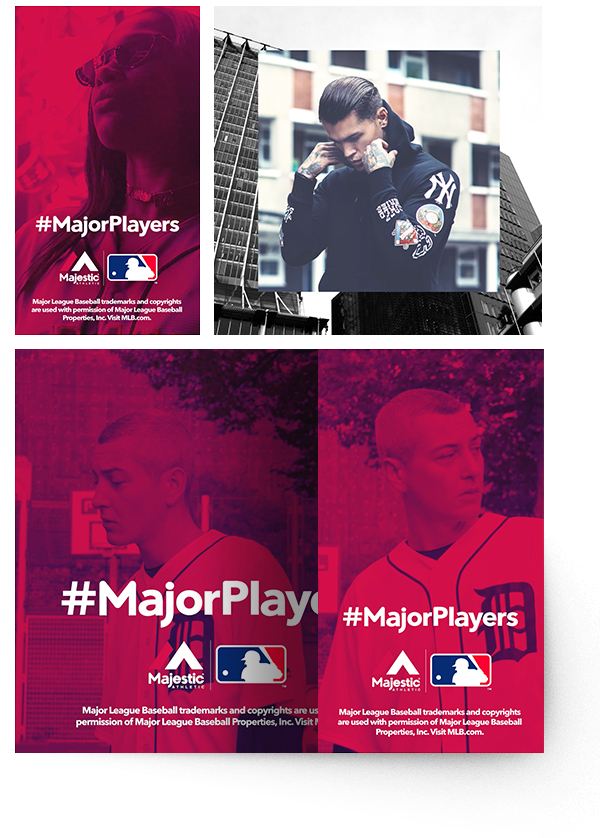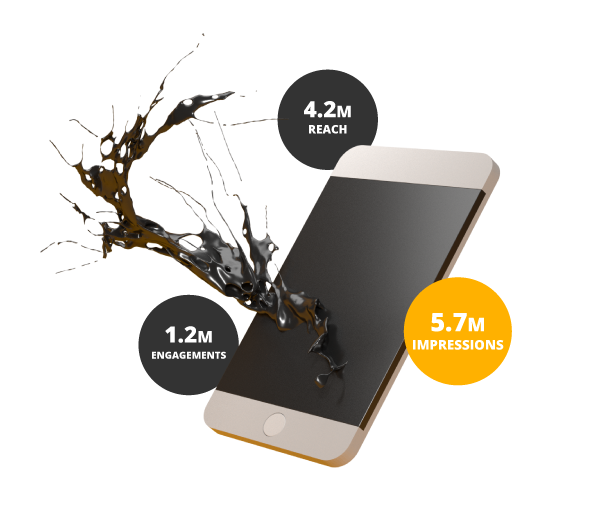 We worked with 100 influencers across music, streetwear, and lifestyle to reach over 4 million people which
resulted in 1.2 million engagements
with the Majestic Athletic brand.
OUR SERVICES IN A NUTSHELL
INFLUENCER MARKETING STRATEGY
We create strategic frameworks that will help you make commercial sense of how your brand can leverage Influencer Marketing and amplify its effectiveness.
INFLUENCER RELATIONS
We don't just give influencers a brief and hope for the best, we work with them throughout the ideation and creation process to ensure that the content hits the mark and performs as it should. Every campaign is viewed as a collaboration between the brand and the influencer with Found orchestrating the communication effectively and efficiently.
INFLUENCER SELECTION
We have a dedicated data team and combine this with our expertise to select only the most relevant influencers and content creators who have established communities that are relevant to your brand. We use best-in-class software and technology to allow us to audit audience demographics and identify inauthentic followers and accounts.
INFLUENCER MARKETING CONSULTANCY
If you're interested in learning more about Influencer Marketing, how it could work for your business or want to seek ideas for your next in-house campaign, we offer training and consultancy in the form of workshops, took kits and playbooks. We will bring you up to speed with best practice procedures and advise you on the best steps to take for your specific business or campaign.
REPORTING AND MEASUREMENT
Our job is not done once the posts have gone live. We track and monitor all influencer content through our monitoring platform and ensure it's on-track to succeed. At the end of each campaign we provide a thorough evaluation report that highlights the value of each post and the effective ROI of your campaign.
Whether you want to generate awareness, drive traffic, boost sales, reach a new audience, create content or seed products effectively, Influencer Marketing through Found will connect you to relevant influencers and achieve exceptional results.
Our clients' KPIs are at the forefront of everything we do, empowering us to create bespoke, relevant campaigns that provide stellar ROI and over-deliver on our targets. We know it's important to create conversions as well as conversations.
While everything we do is data driven, we standby the power of a humanised approach to Influencer Marketing. We hand pick influencers who are aligned with your brand and share your values and passions. We like to think of it is as Marketing with Influencers rather than Influencer Marketing.
We're experts at building and maintaining relationships with influencers and content creators. From social superstars and celebrities to emerging talent and micro-influencers across multiple platforms such as Instagram, YouTube, Facebook, Twitter, and TikTok.
We pride ourselves on our trend-forecasting skills in this ever evolving industry which allow our clients to be trend-setters rather than followers.
To put it simply, we will connect your brand with the right audience, and empower influencers to tell the right story, on the right channel, at the right time, in the most effective way.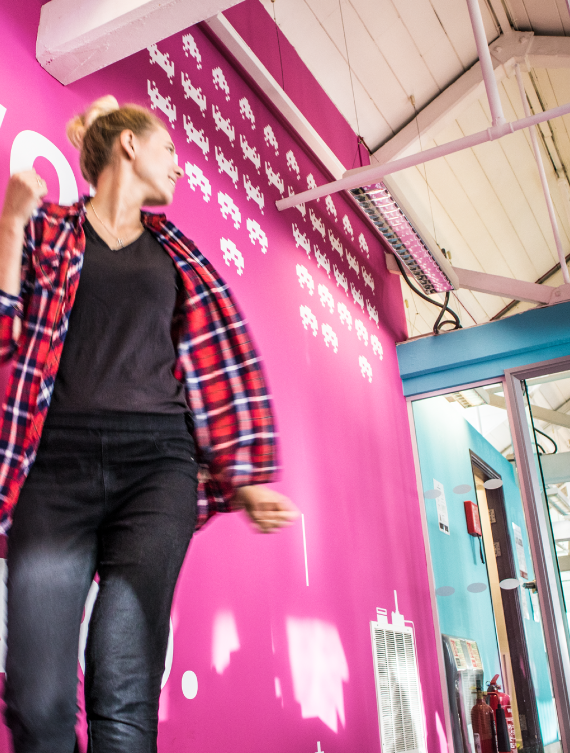 We manage every stage of the Influencer Marketing process. For each campaign we source and on-board the right mix of relevant creators, opinion leaders, brand ambassadors, micro-influencers, and story-tellers that mirror your brand values. We then collaborate with them to create content that showcases your brand message in an effective, authentic manner whether that be on Instagram, YouTube, Facebook, Twitter, TikTok or all of the above.  
In late 2017 Found wanted a bit of an edge, so we acquired Disrupt - an established influencer and youth marketing agency. Their unique approach and experience aims to inspire change and innovation, a philosophy that's been etched into the Found mantra since day one. So, it was a match made in heaven.
Everything we do is centred around data. This allows us to make data-driven selections when recruiting influencers and also gives us the tools to real-time track, monitor and evaluate our campaigns.
So not to blow our own trumpet, but we're a one-stop-shop.
Let's get started
Click to

enquire
or
Call

0207 653 6709
In late 2017 we acquired Disrupt, a dedicated influencer and social agency with a track record of making brands famous. The legacy of thumb stopping content lives on, earning unrivalled attention for our clients through our innovative influencer campaigns.
To get the attention that Clarks wanted and that Wallabees deserved, we needed to create and activate a truly excellent influencer programme.
Find out how we raised the bar for Clarks Originals
"This award is an acknowledgment of all of the great work that Found do, how that work affects their customers and the digital advertising ecosystem as a whole. It's fantastic to see digital marketeers with such sound performance roots make the large but successful leap into effective creative. Found has it all - a focus on performance, a creative edge, fantastic people, sound measurements, great results and a clear customer focus. We are looking forward to what they do next."

"Found delivered beyond our expectations with their clever Paid Media and YouTube campaign. The fine-tuned approach to audience targeting has brought great results with incredible engagement rates, which smashed all industry benchmarks."

"Found have proven themselves to be an immensely valuable extension to our in-house marketing team. Their wisdom and commitment to deliver has turbo-charged our digital media strategy and we're excited about how, together, we can continue to build the Hand Picked Hotels brand online."

"Found's ability to think outside the box has boosted both awareness and engagement with our core target audience. Their combined skills in SEO, content – including video – and paid media have cleverly thrust YHA into the mind-sets of key influencers in the travel and lifestyle community, which will significantly help us to drive long term growth and loyalty."

"Found's impact has been staggering. Their ability to plan effective, time-sensitive search marketing strategies has transformed our ROI."

"We have been very pleased with the performance, energy and attention to detail the Found team have given us. We've seen significant uplift in key PPC metrics across the board, including a 1763% YoY rise in ROI for our Father's Day campaign."