5 awesome browser extensions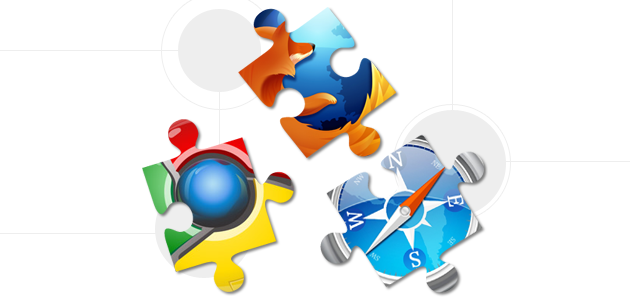 Found is immersed in the fast-paced, hectic world of digital. Deep down we are geeks who use little hacks and cheats to help us get through our day. I thought I would check out what the Founders touted as their favourite browser add-ons.
Chrome, Firefox, Safari
I installed this lovely little extension earlier this month. Pocket(formerly Read It Later) lets you save articles, videos, web pages and even tweets to your Pocket dashboard so you can read or view the content later.
The biggest draw for me is that I have the extension at work and at home. This way I can save content and access it from both locations. I no longer have to email relevant content I find during my evenings to work, or vice versa for that NSFW stuff.
Quick tip: Each piece of content has four useful buttons: share, mark as read, delete and star. There is also a bulk edit feature where you can make mass actions or add/remove tags.
Chrome
Tab Packager functions similarly to Pocket, but rather than having to save each tab one by one, it files all your currently opened tabs into one package. This is particularly useful when you are a taboholic like Social Media Manager Gareth Olyott. Each glance at his screen leaves me slightly stressed at his amount of opened tabs but a quick Tab Packager click and the extension creates a link to a holding page for all the tabs you have open. It also provides users the option to pick and choose which tabs to save and which to share.
Quick tip: Another brilliant plus is that Tab Packager gives you the ability to send a bank of websites with one simple shortlink – perfect for shared research projects.
Chrome
This extension makes it quick and easy to clear cache and browsing data (hard refresh). Users are able to customise how much and which of their data they want to clear on the options page. This includes app cache, cookies, downloads, passwords, etc..
For Web Designer Dean McDonagh this extension is particularly useful. When you update images on a website but don't change the name, the images have been cached in the browser. This means you will see the old images rather than the new ones. For developers this is very ineffective especially since Chrome does not make it easy to clear cache, so when creating websites Clear Cache is Dean's go-to tool.
Quick tips: Be mindful when choosing which features to clear as saved passwords will be deleted and automatic logins may no longer function. Set up a keyboard shortcut through chrome extensions and make the process even quicker!
Chrome, Firefox
This tool is a favourite of Andrea Downey, our Lead Designer. This nifty extension adds web developer tools right onto your browser. From being able to view image information and a clear cache option to displaying ruler and disabling CSS styles, Web Developer is a one-stop shop. There is even a re-size window for responsive testing.
For Product Director Luke Townsend the tool is more about using it to learn. Web Developer gives you the ability to see how something was achieved on another website or what broke on something our team is are working on. It can also be used to look at what cookies a site dropped or what tags the designers and developers have set.
Chrome
Mozbar is a must for our PPC and SEO teams. While it may seem strange that an SEO software makes itself at home on the browser of the PPC team, there are few good reasons. Search Analyst Guy Thornton uses the tool daily because it gives instant results. Users can type in a search query and Mozbar tells you the power of the websites at the top of the list. This gives a PPCer an indication of what the market competition is, which in turn gives you an idea of CPCs (cost per clicks).
For SEO Executive Philip Gamble the tool offers many useful functions, such as it giving a measure of authority of a page and showing how many links Moz found to it so you can get a metric of quality.
Unfortunately the full software will cost you, but the good news is that the Mozbar extension is free of charge!
Do you have some extensions that we missed? Share them in the comments or tweet them to us on the hashtag #FoundExtentions.