TOP 10 PPC AGENCIES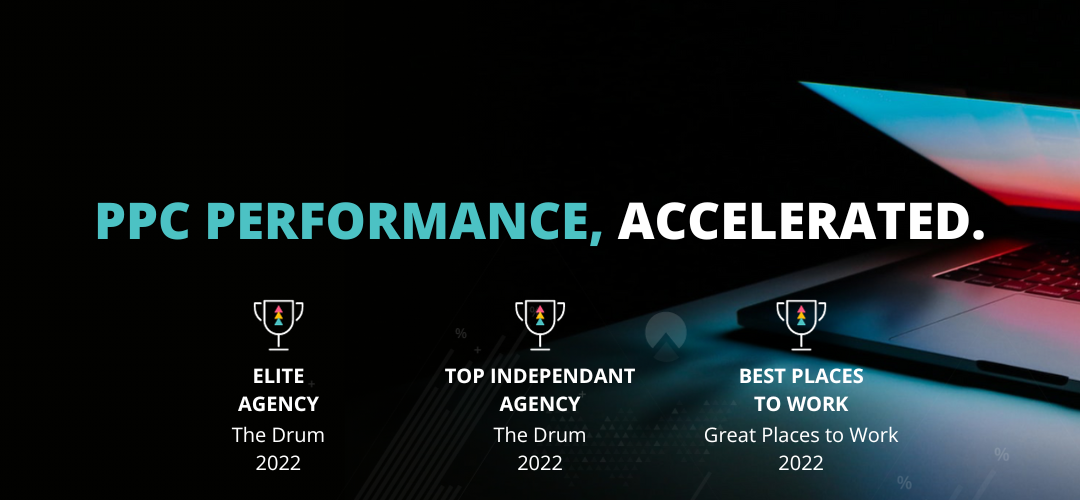 Choosing the right PPC agency to trust can be a thrilling yet challenging endeavour. You deserve to work alongside an agency that not only talks the talk but walks the walk – delivering you real, tangible results.
So, in this ever-growing market of digital marketing agencies (each offering a unique blend of services) how do you discover the one PPC agency that truly resonates with your vision?
Whether you're a small business or a powerhouse with hundreds of team members, you deserve nothing short of the best that our capital city has to offer, it just doesn't always seem clear what that actually is.
Every PPC agency listed online seems to present itself with conviction, and they all work in marketing so they should be pretty well equipped to sell their services to you convincingly.
No matter how experienced you are at it, finding the ideal PPC agency partner for your business can often feel like trying to find a needle in a haystack. Separating the wheat from the chaff can seem like a gargantuan task that the very weight of your entire performance marketing rests upon.
So, as we know this is no easy feat, we've crafted a list of the top PPC agencies to help you on your way.
---
WHAT TO CONSIDER WHEN SELECTING A PPC AGENCY
Digital marketing agencies take various forms and sizes, each honing specific expertise. Some may focus on a singular facet, while others proclaim mastery of the entire spectrum of marketing services.
If you take one piece of advice from us, let it be this; beware of agencies proclaiming to be the jack-of-all-trades – specialisation is often the true key to success.
Aside from that very clear red-flag. There are several things you should bear in mind as you evaluate PPC agencies.
1. PROVEN TESTIMONIALS
In the realm of digital marketing, trust is sacred. You should request testimonials from the PPC agencies that you're considering that showcase their past triumphs; a parade of glowing endorsements can be a reassuring beacon. But don't stop there; look for recent case studies and a trophy shelf adorned with prestigious awards, beacons of excellence in this fiercely competitive landscape.

2. EXPERIENCE
Mere existence does not ensure competence. Keep your eyes peeled for seasoned veterans in the field, they bring not just knowledge with them but efficiency, successful outcomes, and a greater likelihood of an impressive return on your investment. Don't forget to verify whether their experience aligns with your specific industry, as every business has its unique quirks and challenges.
3. SMART & REALISTIC GOALS
While paid media can perform magic, beware of PC agencies that promise the impossible. A trustworthy agency crafts a roadmap (a plan to achieve their goals). Explore the tools they wield in this journey; a magician never reveals their tricks but most PPC agencies should explain how they've achieved the things that they claim to.
4. RELIABLE REPORTING
In the digital realm, tracking progress is paramount. Trustworthy PPC agencies employ robust reporting systems that paint a clear picture of their progress. Whether they're exceeding expectations or falling short, data and reports are the mirrors reflecting reality, enabling strategic adjustments and maximising results.
5. PRICING
In the pursuit of excellence, cost should not cloud your vision. Choosing a budget-friendly agency might save a few coins, but it often comes at the expense of quality. The top PPC agencies in the UK command higher rates for a reason—they possess a storied legacy, employ proven methodologies, and consistently deliver on their promises.
---
In your quest for the ultimate PPC agency partner, let true excellence be your guiding star and consider the agencies that we've highlighted here for you:
TOP 10 PPC AGENCIES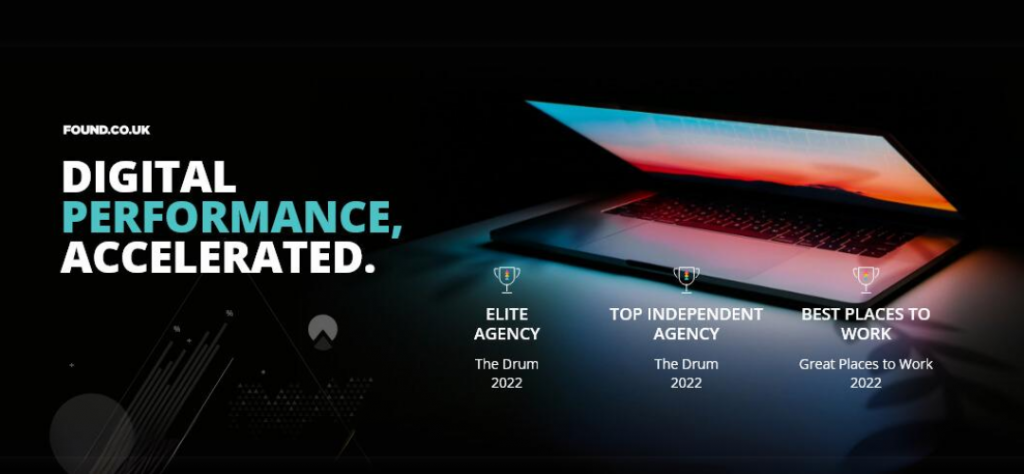 1. FOUND
Found is a London-based digital marketing agency that thinks smart and moves fast to deliver stand-out results for clients. Through data clarity and human brilliance, they supercharge digital performance across pay-per-click advertising campaigns.
They are a multi award-winning PPC agency that's work is underpinned by smart data and a growth experience that delivers results, fast.
As a dedicated team of channel experts, growth partners, data scientists and analysts, they take brands from the here and now to significant online performance and work to execute astute digital marketing and, specifically, PPC strategies for B2B and B2C companies, globally.
Found's dedicated PPC team works as an extension of brands' internal marketing functions and loves to think outside of the box to find the best way to use the varied PPC services they offer to get brands the results they're looking for.
Their specialist PPC division is made up of qualified professionals that guarantee top-tier expertise that you can rely on. They're proud of their impressive campaign results, and encourage prospective clients to check out their track record and even speak directly with existing clients. Transparency is one of the agency's core values.
Whilst always maintaining a core of PPC fundamentals in their campaigns, Found continually tests new approaches and tactics to get the best understanding of what works for specific businesses in order to establish the optimal paid search strategies to achieve their clients' goals.
Their close relationship with ad platforms such as Google and Microsoft means that they get access to the latest betas and developments (as well as industry insights) that they use to understand market trends and keep their accounts at the cutting edge.
Found's work has them recognised as an 'Elite Digital' & 'Top Independent' Agency in the 2022 Drum UK DIGITAL AGENCY CENSUS and has delivered exceptional results for clients like Toolstation, The Clermont Hotel Group, Bonmarché and House of Marley.
---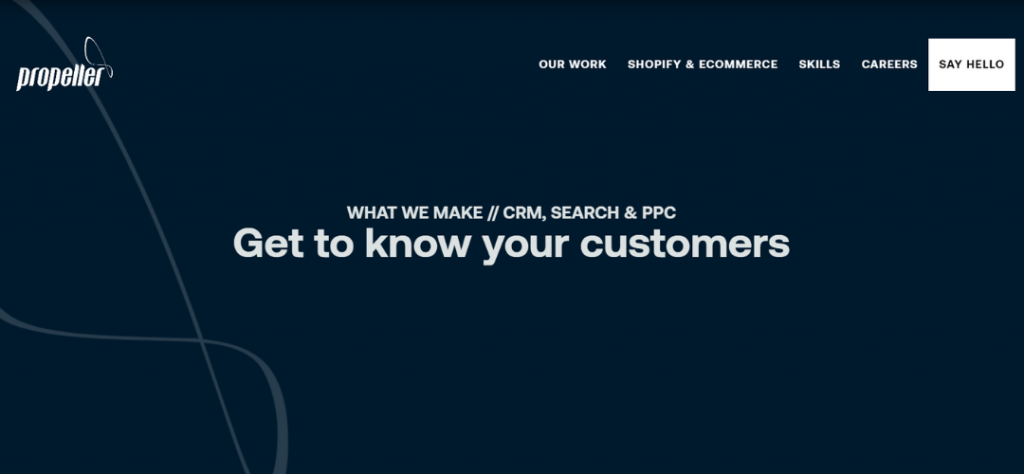 2. PROPELLER.
Propeller's no ordinary PPC agency; it's a powerhouse of expertise dedicated to premium brands in the eCommerce, hospitality, food & drinks, and lifestyle sectors. With a rich history spanning two decades, Propeller has established a strong presence in both London and New York.
What sets Propeller apart is their profound understanding of the industries they serve. Their team of PPC experts possesses an unparalleled depth of knowledge in eCommerce, hospitality, food & drinks, and lifestyle brands. They don't merely offer services; they become an integral part of your team, providing strategic insights, technical support, and invaluable digital guidance precisely when your brand needs it the most.
In fact, Propeller stands shoulder to shoulder with some of the finest establishments in the UK, renowned international hotels, prestigious members' clubs, and luxury eCommerce brands. It's no wonder they've earned the trust of illustrious names like Twinings, Zizzi, and Pizza Pilgrims.
---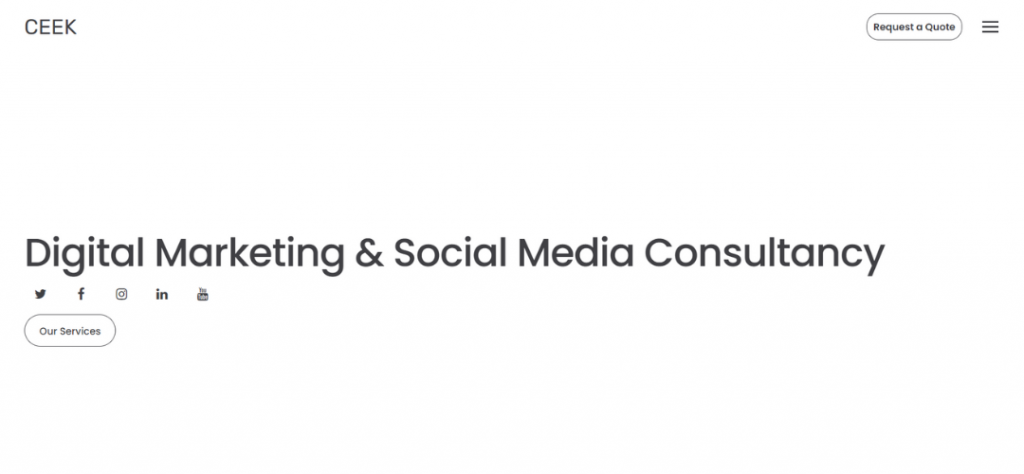 3. CEEK.
CEEK Marketing was initially founded as a social media marketing agency and their journey to date has been driven by a passion for outsourcing digital marketing and PPC to create winning strategies. Over time, they've organically grown to encompass dedicated teams for every facet of digital marketing, including Search Engine Marketing (SEO), Influencer Marketing, Content Creation, and Paid Targeting (PPC).
What truly sets CEEK apart is their ardent dedication to startups and their unique ability to empower large companies to think and act with the nimbleness of startups. They offer outsourced PPC and marketing solutions tailored to businesses of all sizes, providing the same dynamic energy that propels startups forward.
CEEK's paid media consultants are masters of Paid Targeting, excelling in Google Adwords and Social Media paid posts. They've partnered with prestigious brands like Radisson Edwardian, Mayflower London, and The Lookout Sri Lanka.
---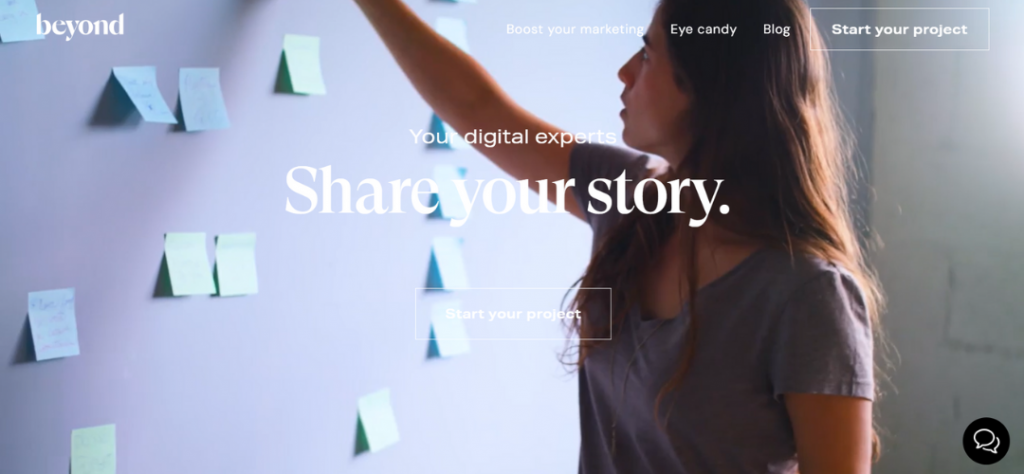 4. BEYOND.
Beyond is more than just a PPC agency; they are a collective of passionate individuals committed to propelling their clients to digital success. Their approach extends beyond immediate gains, aiming to cultivate enduring relationships with their partners because they understand that the most gratifying rewards come from long-term collaborations.
At Beyond, the mission is clear: they strive to be more than just PPC service providers; they want to be strategic partners. They offer a holistic approach, combining mindful planning, thoughtful strategy, and unwavering dedication to continuous PPC management. This comprehensive approach is designed to empower their clients and drive the growth they seek in the online arena.
Their impressive client portfolio includes esteemed brands like Barnardo's, Infinite Edge, and Tixserve. These partnerships are a testament to Beyond's prowess in the digital domain, where they don't just meet expectations; they exceed them.
---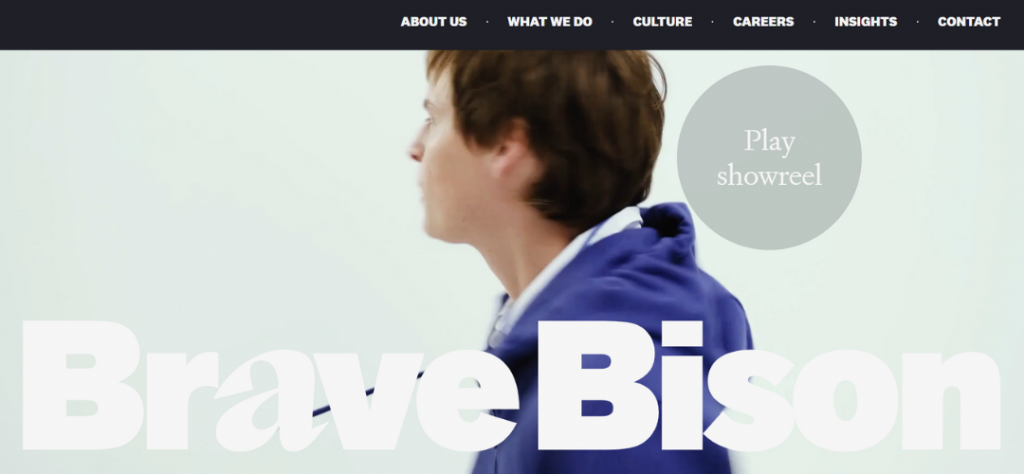 5. BRAVE BISON.
Brave Bison isn't just a team of PPC specialists; they're a unified force that thrives on defying the mundane. As a dynamic media, marketing, and technology company meticulously crafted for the modern era, they're in the business of forging connections—between digital experiences, creators, and conversions.
With two decades of experience under their belt, their forte lies in crafting and executing brilliant PPC strategies brimming with audience insights, ensuring their clients reach the right people, at the right time, with precisely the right message. Data is their compass, steering every decision they make.
At the heart of Brave Bison's innovation lies their Paid Media team, working in tandem with recognisable brands like New Balance and Furniture Village. These partnerships are a testament to their ability to transform data-driven strategies into tangible PPC success stories.
---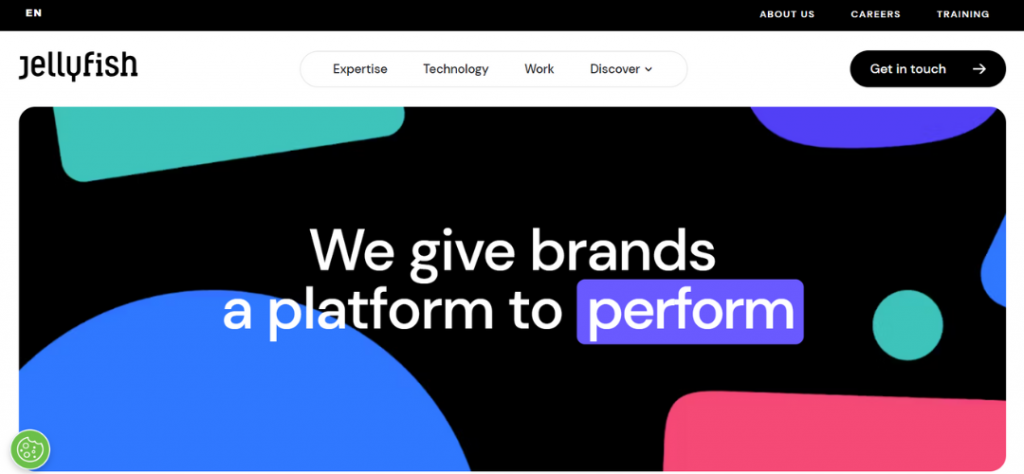 6. JELLYFISH.
The Jellyfish mantra is simple yet profound: they provide brands with a platform not just to perform but to excel. How do they do it? With a fusion of their in-house talent, strategic partnerships, and an innovative approach that helps brands captivate, expand, and enchant their audiences on a global scale.
What truly sets Jellyfish apart is their unorthodox business model, one that encourages bold innovation. Their true expertise lies in Product Advertising, sculpting PPC and digital journeys as unique as the brands themselves. Their global paid search team of experts operates across a vast landscape, managing campaigns on over 10 platforms spanning more than 100 markets. Their paid media campaigns are meticulously integrated across the Google Marketing Platform for maximum impact.
Jellyfish's impressive client roster includes illustrious names like H Beauty, Greenpeace, and Netflix.
---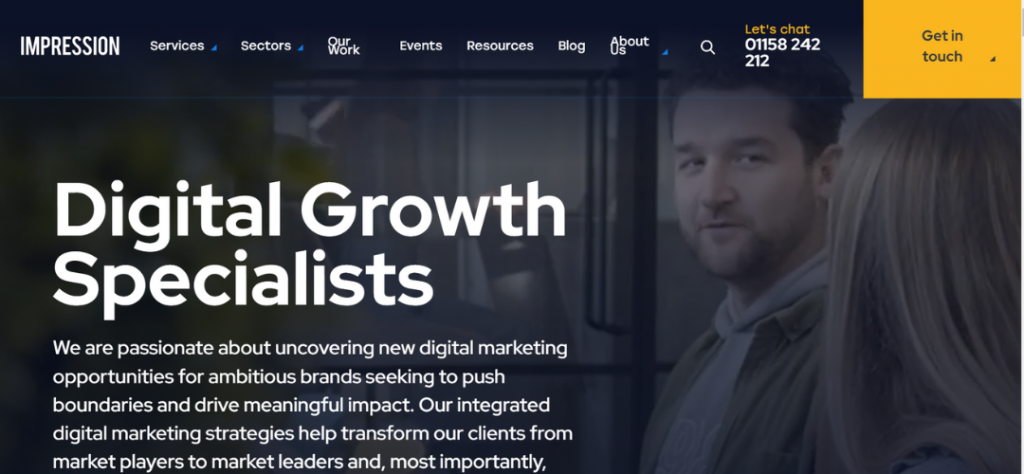 7. IMPRESSION.
Impression is a PPC agency with offices in both London and Nottingham, armed with a wealth of experience in crafting and executing lucrative paid marketing strategies.
Their arsenal encompasses the full spectrum of paid media, spanning paid search, paid social, and Google Shopping campaigns.
What sets Impression apart is their unwavering commitment to precision, employing data-driven insights, technology, and a splash of creativity to sculpt paid search campaigns that don't just make noise but make a tangible impact on a brand's bottom line.
Their approach to PPC management is nothing short of scientific, leveraging the power of mathematics, user testing, and astute data analysis to guide their decisions, ensuring the optimal return on investment.
Impression's paid media prowess extends across a multitude of channels, from PPC and social to display and video. And they've left their mark, working on campaigns for brands like Topps Tiles, Cancer Research UK, and Lotus Car Rental.
---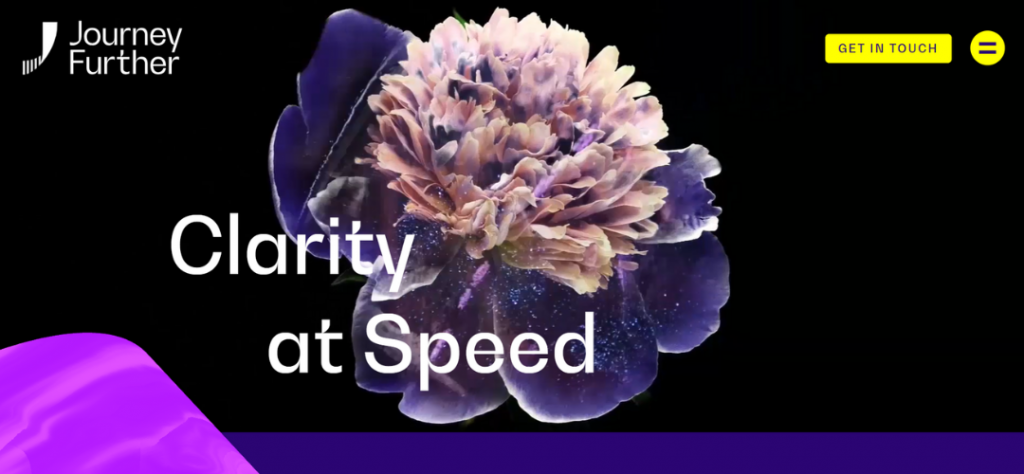 8. JOURNEY FURTHER.
Journey Further are trailblazers in connecting brands with seasoned specialists who wield extensive platform experience. Their distinctive "direct to analyst" approach is the linchpin of their success, and it's further fortified by premier partnerships with some of the world's largest corporations. They aren't just observers of industry trends; they are pioneers, often leading the charge in testing and adopting cutting-edge products like Google Performance Max. Their relationship with Google is built on their ability to test swiftly and provide critical feedback, ensuring their clients stay ahead of the curve.
At the heart of Journey Further is a PPC specialist team adept at bridging the gap between clients and platforms. They collaborate closely with clients to fine-tune first-party data for optimal paid search campaign performance. Moreover, they create custom scripts and tools, elevating performance beyond the conventional.
Journey Further's PPC agency experts have worked alongside renowned brands like Evans Cycles and Sky.
---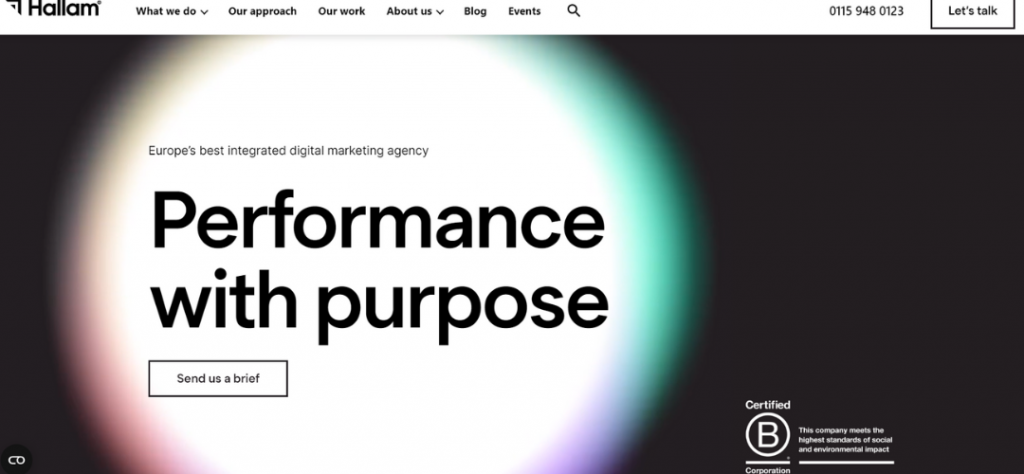 9. HALLAM.
Hallam are strategic thinkers with an unwavering digital focus. At their core, they harness the synergy of media, creativity, technology, and data to craft marketing campaigns that transcend the ordinary. Their mission is clear: to create marketing endeavours that not only make an instant impact but also yield enduring results.
For Hallam, success isn't just a momentary triumph; it's a path to longevity, and that journey hinges on strategic prowess.
When it comes to PPC, Hallam doesn't just chase clicks; they pursue conversions with tenacity. They craft paid search campaigns that deliver not just products but experiences that resonate.
Hallam's dedication extends to growing revenues and maximising profits through potent search campaigns that pinpoint the right audience at precisely the right moment.
Their PPC team have done great work with brands like Boots Hearingcare, The University of Nottingham, and Cleveland Containers.
---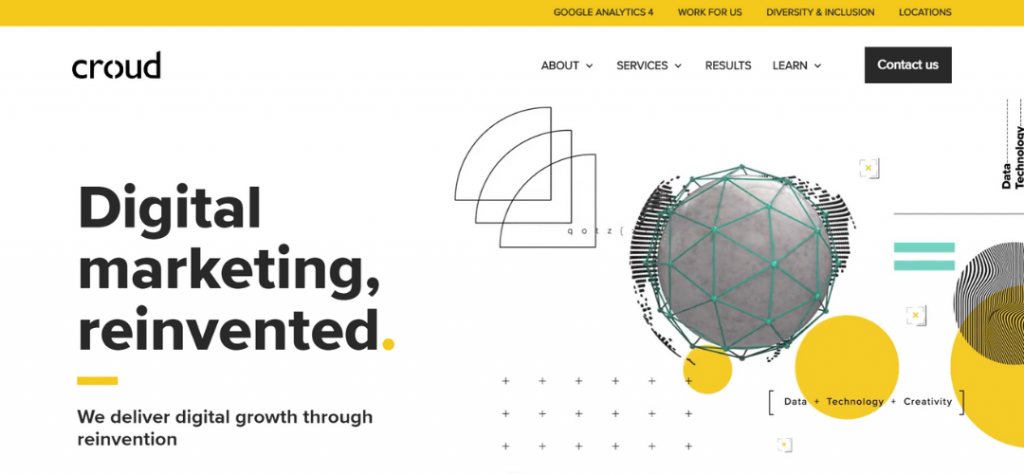 10. CROUD.
This international PPC and marketing powerhouse isn't just making waves in London; they've cast their global net with outposts in Surry Hills, Australia, and New York. At the core of Croud's prowess lies a captivating ensemble—an in-house team of experts seamlessly complemented by an expansive network of freelancers. Together, they craft symphonies of content that enrapture audiences, offering a stellar suite of services encompassing PPC, SEO, and paid social on a truly global scale.
Their 2,300-strong roster of freelancers includes 172 in-house maestros who've honed their craft since Croud's inception in 2011. Fast forward to today, and Croud proudly wears the crown of one of the largest independent digital agencies in the industry.
When it comes to PPC, Croud's experts have worked alongside brands like IWG, Hiscox, and The Athletic.
---
PPC Agencies FAQs
What does a PPC Agency do?
A PPC agency specialises in managing and optimising pay-per-click advertising campaigns.
They start by conducting keyword research to identify high-performing keywords. Next, they set up campaigns on platforms like Google Ads and craft persuasive ad copy. They perform tasks like landing page optimisation (to ensure a seamless user experience after clicks), continuous monitoring, management, and A/B testing (to refine campaigns for better results), and regular reporting (to provide performance insights, guiding further optimisations). They also perform budget management to help clients allocate their resources effectively.
In essence, PPC agencies maximise ROI by strategically handling paid advertising efforts, from keyword research to campaign setup, optimisation, and budget management, across various online platforms.
How much do PPC agencies charge per month?
PPC agency fees vary widely based on factors like campaign complexity, ad spend, and agency expertise.
On average, small to mid-sized businesses may spend between £1,000 to £5,000 per month on PPC management services. Larger enterprises with extensive campaigns might invest significantly more, ranging from £5,000 to £20,000 or more per month. Agencies often charge a percentage of the ad spend as a management fee, which typically ranges from 10% to 20%. Additionally, some agencies charge a flat monthly fee, project-based fees, or offer customised pricing structures tailored to client needs. It's essential to consult with agencies directly for precise cost estimates.
Who is the best PPC agency?
In our opinion, Found. are the best PPC agency around, of course!
In all seriousness, there isn't a one-size-fits-all "best" PPC agency, as the ideal choice depends on your specific business needs, industry, and budget. To find the right agency, research and evaluate options based on their track record, industry expertise, client reviews, and alignment with your goals. Conduct thorough consultations with potential agencies to determine which one offers the best fit for your PPC advertising objectives.
How do I choose a PPC agency?
To choose a PPC agency, consider their experience, expertise in your specific industry, client reviews, and case studies.
You should assess their transparency in reporting and communication, inquire about their approach to optimising campaigns and their understanding of your business goals and request a clear breakdown of fees and pricing structures.
Ensure they align with your budget and objectives and, most importantly, trust your instincts – select an agency that not only offers the right services but also feels like a genuine partner in achieving your PPC goals.