Analysing the New Google Analytics Features for PPC and SEO
Google have made huge strides with their Analytics platform over the last few months, introducing new features every few weeks, which are all being placed into the new-look Analytics platform. If you're using the old Analytics, you can switch to the new version by clicking on the link in the top right of the interface. In this post I will give a brief overview of each new addition and why this could be important for your online presence.
Focus on Real-Time Search – Fresh Content
Google have reacted to what it has learned from the time they spent using Twitter's data pipeline to provide real-time search results. It is clear that, with the rise of social sharing, news and content moves incredibly fast, and Google has had to react to this. They announced real-time analytics in September, which has coincided with a recent update to natural search, referred to as the 'Freshness' algorithm update.
Although still in Beta, it gives a good indication about where traffic is coming from and what the most popular pages are in real time. As fresh, new content becomes an increasingly larger part of your search strategy, this report will be a good resource for monitoring the performance of new content as it is released.

Flow Visualisation
Something we always aim to do is set up goals for when a user performs an action. The new, beautiful flow visualisation diagrams makes it much easier to decipher what is working on your site.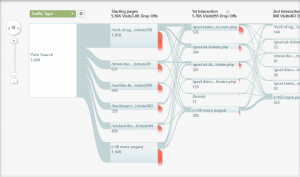 Multi-Channel Funnels
Understandably, attributing online sales to the correct channel is very important and marketing budgets can be based upon this performance in many organisations. This feature in Google Analytics allows you to see the channels contributing to the conversion path of your customers over the last 30 days. This should help in determining how effective your combined strategies are, and identify how they are assisting each other to generate conversions.

Monitoring this data then allows Analytics to display some eye-catching Venn diagrams, which give you a very intuitive visual representation of the channel attribution.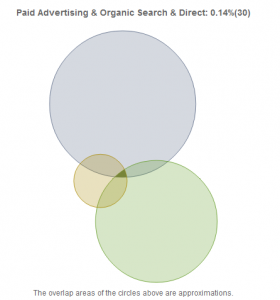 Multi-channel funnels have made Analytics much more powerful. This has put the feature-set on par with many other pay tools in the marketplace, which offer similar features.
Greater Focus on Mobile Reporting
Google have been focussing its efforts on improving mobile reporting within their Analytics platform for some time now, and there have been several new additions this month.
An interesting one, especially for Adwords advertisers is the fact that you can now seemobile ad performance in Google Analytics. The new settings will allow you to choose between different segments, such as smart phones (iPhone, Android) and Tablets (iPads). This feature is being rolled out gradually, and the ability to view this depends on your account type.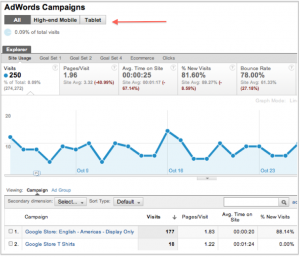 It is very important to understand the shift towards the use of smart phones and tablet devices to use your site and to adapt your marketing strategy to suit. Combined with the correct set up of goals, this new reporting will enable you to see the effectiveness of ads on different devices. Armed with this information, you can then make the required changes to your site to function correctly on these devices, or even increase/decrease advertising budgets.
This includes optimising your site for use on different devices, especially important for web stores. Another interesting point is that you can use Google's new online site speed analyser, which generates a speed rating out of 100 for your site. This tool will give you suggestions on improving your site performance on mobile devices, as most mobile connections are likely to be slower than desktops, if using 3G to connect. Google have said itself that site speed is a factor in search performance, so it would be wise to optimise your mobile site accordingly.
You can even optimise to specific devices, and monitor their performance. It may be that your site is popular with android users, so you would want to test on those devices if possible.

Features coming soon to Analytics
Google does not simply stop there, it has announced that a PDF report email scheduler will be released shortly; no doubt along with many other features that I am sure will be announced on the Google Analytics blog. Keep your eyes open and your fingers ready.