Are Marketers more interested in Elon Musk than the looming impact of a cookieless future?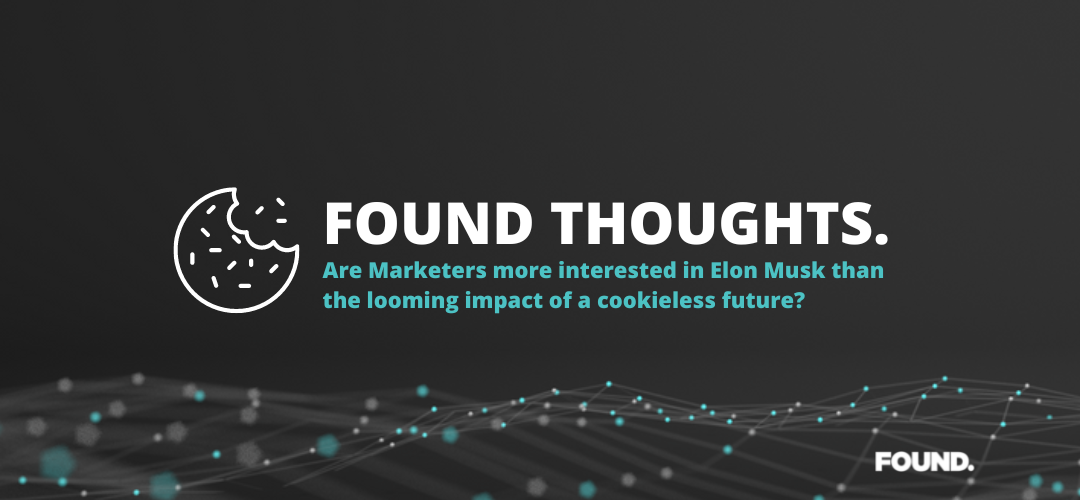 Analysis from Found's sister company (Braidr) has shown that most CMOs fail to grasp the importance of addressing the inevitable consequences of a future without cookies.
Braidr has been analysing the Twitter profiles of more than 15,000 CMOs (and similar professional roles across the UK and US) over the past 12 weeks and the data that they've collected shows that <1% (0.83%) of Chief Marketing Officers in the US, and even less here in the UK (0.25%), are engaging in discussions about the cookieless future and the impact that it's going to have have on their businesses.
Far from engaging in what is perhaps the most significant digital shift since the introduction of mobile technology, marketing leaders seem to be distracted by topics like the role of AI in business.
The vast majority of marketing professionals are failing to discuss the impact that the loss of third party cookies and increased privacy demands will have on marketing (and company finances) if not mitigated imminently.
Dora Moldovan, co-founder and managing director of Braidr, says that: "It's mind-boggling, and concerning, in equal measure that virtually no-one has been paying attention to the biggest online shift in front of us.
Despite Google announcing a short delay, the next e-generation is looming incredibly fast, where everything that we've learned over the past 20 years, and the tools we know are going to disappear, yet CMOs are talking mostly about AI, the Metaverse and Elon Musk. "
Braidr's recently released study shows that only 20% of UK CMOs are engaging in discussions about business strategy, including digital transformation, right now (with only 14% of CMOs discussing the topic in the US).
Data issues, such as business transformation, feature in only 15% of marketers' Twitter conversations – with a similar number in the UK discussing Elon Musk (11% in US). Facebook, the Metaverse, and Web3 (including blockchain) make up another 14% of their conversations.
"Failing to deal with the future will hit businesses' bottom lines. They will pay over the odds for media-buying to find the same customers which they had up to now," adds Moldovan.
"For smaller brands trying to cut it in the world, it's going to be prohibitively expensive because targeting will be extremely broad, and it will be difficult to achieve segmented targeting, reaching the customers they really want."
As a leading expert in the cookieless future and data science, Moldovan's advice to CMOs and marketing leaders the world over is stark:
"You need to be asking yourself a crucial question today, and not tomorrow. Are you frickin' data ready? Are you seriously data ready for everything that will blow up in your face in 2024? Because it will!"
Marketers' focus should shift as soon as possible to understanding as much as about their customers (their online & offline behaviours, their attitudes and beliefs outside their brand's touchpoints, and their social presence/fingerprint) as quickly as they can.
Moldovan concludes her statement on the report by saying: "The cookieless future is here and it becomes imperative to know everything about your customers. Failing to know will cost your business dearly. If you want help preparing for your data future, Braidr is here to do just that."
---

It's hugely important that businesses do not delay taking the appropriate action to prepare for a cookieless future.
We're working alongside many clients to help them build their first-party data. This will absolutely give them a competitive edge over businesses who are waiting and not acting.
Businesses need to understand the makeup of their audiences; creating meaningful interactions with their consumers to truly understand how much first-party data can be successfully activated in a cookieless world. The time to act is now.
Natalie Patel (Managing Director, Found.)
The move towards a cookieless future is already impacting businesses' visibility across their KPIs. Diminishing visibility across trackable revenue and leads is creating an ever increasing level of challenge when brands attempt to utilise their marketing budgets effectively.
Acting now will enable better performance driven decisions for businesses and provide a competitive edge vs. those who are slow to update their approach to first party data.
Tom Brand (Director of Growth, Found.)

First party data is becoming more and more important as it's the unique reference point for businesses in an increasingly automated world.
Future-proof yourself early and not only will you be well placed for cookieless life, but you'll also be able to steal a march on your competitors in an area that's proven to perform.
James Rigby (Head of Biddable, Found.)
---
Is your brand ready for the cookieless future?
Start speaking to our experts today to prepare your business for the new digital age.