BrightonSEO – Roundup 2013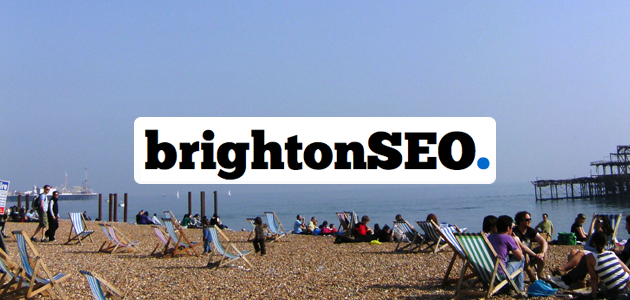 Last week on a mildly sunny day, the Found SEO team visited The Brighton Dome for #BrightonSEO. The day was jam-packed with thought-provoking talks and lessons from our fellow SEO'ers.
Here's a reflection on our day at the conference:

Top 5 takeaways
1. Write about what people care about
With the shift in SEO strategies, the importance of content was always going to be a major focus at this seasons conference. Almost every person that took to the stage talked content, and the significance of producing solid pieces of content which engages audiences.
Lexi Mill's talk "7 Secret weapons of successful content & outreach" gave a few pointers on how to successfully create content and do outreach for it.
Mill suggested visiting a client's Facebook page when looking for ideas for topics that will bring traffic. The reason being that here you can see what the client's fans are already talking about and which topics they engaged with most. Expand on topics already generating discussion.
According to Mill, the kind of content people tend to engage best with are interviews, quotes and graphics.
2. Old-school SEO is dying
With the changes that Google is enforcing, the skill sets new SEO'ers need are different to those of the past. A major point of this conference was that we must build the skills to fully leverage the guys in social media and PR. It is using these two other groups that content and events can be created and hosted. Kevin Gibbons said "Tear down the silos."
3. Forget about exact anchors
The "Ask the Ex-Googlers Anything Panel" was the talking point of the day. Three former employees spoke out about their experiences at Google. They answered questions from the specialist crowd, who took their opportunity to grill the experts. This seminar answered one of the questions that is burning on the minds of all SEOs:
What links can we build?
The answer wasn't as straightforward as the question but my initial thoughts were confirmed; if you want to be seen authoritative in a specific niche, you need to prove you are an expert and aim to solve real problems!
Additionally, the ex-Googlers said that links should be built more and more with branded or generic/natural anchor terms.
This immediately raised another question.
Raluca – "How can I then rank for a specific keyword with an internal page if the majority of the links I build have to be branded or generic, how can we relate to a keyword forecast?"
My thoughts are that Google is pretty good at determining what a page is about, so pointing backlinks with exact anchors is just a signal of unnatural linking. Aim for a mixture of branded, generic and synonym anchors and you should be on the right path. Ask yourself "What would I link with if this were my own blog?" Try to forget you are an SEO for a minute."
4. Watch out for Google+
It's becoming common place to hear how links on social media have very little effect on search rankings. In fact, we're told that social media signals only count for roughly 1% of a sites ranking. This is partly down to the fact that Google simply can't access the data it needs from behind the walled garden of Facebook.
However, the Ex-Googlers seemed to think that Google+ may very well change that. At the moment, there is no direct ranking impact from the social media site but they advised the audience that if they use Google+ actively, they may very well be at an advantage later.
5. Techniques can vary to suit project type
The talk from Danielle Fudge, SEO Director at Forward 3d explained how certain sectors require a completely different approach and change in techniques in order to rank in the search engines.
Her brilliant example was that of pay day loans and how they have suddenly taken over the nation both online and away from the keyboard. "In the pay day sector you have to spam and play dirty," said Fudge who also referred to the financial gains that were on offer, being just in the top spots for a matter of hours.
"The only well-established company that were ranking for the term "pay day loans" was moneysupermarket.com who have superior domain authority in comparison but these can't even compete anymore because they do purely white hat SEO and are not willing to get involved in dirty tricks." – Jadon
The point of the matter is that the top 10 sites in Google for the term "pay day loans" have probably all received a manual penalty but they all still rank. Why? Because they are all competing against each other and there is no-one else in the space making it a level playing field regardless of bad activity.
This contrasts with industries such as fashion where you need a much more of clean approach. – (Let's not even mention Interflora…)
New tools
Tools are one of our favourite parts about swapping thoughts and opinions with other people in the industry. It's exciting finding out what other people use to get their results. We have summarised a few of the best tools talked about at BrightonSEO:
1. Linkrisk– It audits your links and gives your site a score depending on the number of good/bad links it finds. It can help flag up low quality links in a site backlink profile which you may want to remove/disavow to reduce the risk of a penalty.
2. Trendsmap and Google Trends – Google Trends should be leveraged to provide additional information when planning and performing analytics.
"Use Google Trends or, even better, the Trends Map to see what people are talking about". – Lexi Mills, Dynamo PR
3. Get feedback on your web design from Concept Feedback.
4. Screaming Frog for crawling websites for data.
5. Power Mapper – Power Mapper usefully visualizes your website structure in an easy to digest format. – Rich Falconer
Honourable mentions
We all absolutely loved the SEO rap. Neil Walkers mashup of SEO and search related poetry, along to the track Niggas in Paris by Jay-Z and Kanye West finished off the day with a nice fun vibe that left people leaving the conference with something to think about. Check it out below.
And we can't forget the rodeo bull riding, which had Jadon our SEO executive clocking in a top 3 time of 57 seconds.
What Twitter looked like…
Focus on a niche and don't be afraid to turn away clients!#brightonseo

— Click Consult (@ClickConsultLtd) April 12, 2013
How Phone Data Might Change Your Search Strategy – #brightonseo bit.ly/1535EFI by Sarah Bradley

— State of Search (@stateofsearch) April 12, 2013
Removing links is a balancing act. Don't end up penalising yourself #BrightonSEO #Forward3D

— Cherrie West (@Cherries_Scoop) April 12, 2013
Technical SEO as Part of a Multi-Signal Search Strategy – #brightonseo by @nedpoulter buff.ly/17wiPhS via… fb.me/2E5lzECRd

— Anise Smith (@AniseSmith) April 16, 2013
RT @paddymoogan: Slides from #BrightonSEO April 2013 – Social Structured flip.it/JpZhA by @alexmoss

— Jeff Davis (@Davisj80) April 16, 2013
Matt Roberts: content marketing is all about teamwork between departments – use the skills from social, search, pr, ppc, etc #brightonseo

— Pablo Smithson (@PablitoSmithson) April 12, 2013
Issues-based content can get high value links and media coverage Sharon Flaherty at #brightonseo

— Wordtracker (@wordtracker) April 12, 2013
Blogger outreach: "be polite, be honest and be useful to the blogger" #Brightonseo

— Hannah Stephen (@hanskapade) April 12, 2013