The changing face of SEO

We've all heard the saying that "SEO is dead", and, from the stories I could tell, it might be easy to believe it is. SEO isn't what it once was (it's barely what it was 6 months ago) but that isn't a bad thing. The industry's lost a lot of terrible habits – from content spinners to link farms – but it's gained a lot of good ones too.
For some time now, the industry has needed to change how it does things, and that finally started happening last year. Throughout 2020, we saw more and more businesses turn to SEO for support in meeting their objectives, but also to help ensure business survival. Retail stores were closed for large parts of the year and previously their websites had played second fiddle. Companies in the B2B industry suddenly couldn't go to the large events and conferences to showcase their products or services and had to find ways to connect with these audiences through different means.
Suddenly everyone was online, everyone had to be able to serve customers as they would in person, and everyone needed to reach their audience and allow them to find and purchase products and services they previously would have done offline.
What happened to SEO 2020?
Because there was suddenly a much larger focus on website performance, and digital performance as a whole, SEO really came to the forefront of marketing departments. Budgets were being cut to avoid unnecessary spend, and sometimes whole channels were being turned off because the return couldn't be justified.
But with that, SEO had to outperform every previous expectation. It went from making sure a website functions, to making sure the previously offline audience came to the website and converted. It went from making sure a page was indexed, to making sure various pages were appearing in various elements for various searches to capture as much of the audience as possible. It finally turned away from just what would help search engines and into what the audience needed.
Audience needs have always been important to SEO – the intent behind searches, semantic understanding of the relationship between keyword and content and action, the need for different types of search feature and different forms of content – and through 2020 a lot of companies and agencies who previously neglected this element were forced to adapt.
However, you are never going to be able to learn everything about your audience, or how you need to serve them, through a single channel or by operating under a single channel mindset. So for SEO, that means we still need to make changes to how we work with other channels and teams to really drive the best performance possible.
Where does SEO go in 2021?
Moving away from single channel mindsets.
As an industry, we are so used to talking about SEO as the be all and end all for all of your website problems, but there's an issue with this. Every problem you encounter is 'solved' by a single-channel, single-minded approach that normally goes something like this:
Client: "I can't get traffic without paying for it with ads, what do I do?"
SEO: "Well, Kev, you need to build some landing pages to capture users organically".
Client: "But I've got landing pages, that's where I send my paid traffic, what can I do organically?"
SEO: "Well, you'll need to target the keywords properly"
Client: "Okay, how do I do that?"
SEO: "Map them to your landing pages then optimise your landing pages with them…"
Client: "But I have all of that for PPC, otherwise my quality score would be bad…"
SEO: "Then you clearly need links. Let's create an outreach strategy for building links into your website so it gets more authority than your competitors."
Familiar? Thought so. You'll also notice that I have left out any kind of 'technical' issue because, while SEOs can identify them, they can very rarely implement them as they need developers. But throughout 2020, technical implementation was a huge part of business plans. We saw clients go through with migrations they'd been putting off for years, and others really heavily invest on the on-site experience. Some of it is timing, but mostly it isn't implemented because it isn't a priority, or because companies don't see the value of it being done.
Areej AbuAli recently wrote an excellent roundup on getting tech SEO implemented, and Polly Pospelova's talk at Search Leeds in 2019 covered off the benefits you can see when SEOs and developers work together, so if you're looking for inspiration on how to get technical SEO implemented I'd recommend starting there! If, as SEOs, we don't look to developers to help with our solutions, we miss a monumental aspect of performance improvement.
But more than that, the exchange above is one that has happened time and time again. The key theme from it? If you actually listen to the client, they are giving you clues as to what to do. They are telling you that:
PPC is working for them.
The landing pages they are driving people to from PPC are working.
The keywords they are targeting are capturing the right audience.
They have a good quality score for their keywords.
What does this tell us as SEOs? Nothing. It's PPC. Down with the enemy!
Wrong.
That tells us that our client has:
Keyword data they can share with us.
Landing page reports they can share with us.
Search Query reports they can share with us – impressions, clicks, conversions.
Quality score reports.
But when we work in SEO or PPC or Content, it is so, so difficult for us to step away from what we know and into the world of what we don't and what-if. So, we miss opportunities. We miss opportunities to listen to our clients, to identify areas where channels can work closer together, and to genuinely drive valuable growth for their business.
We need to start looking to other channels to build suitable, lasting solutions. Nothing has ever been solved by one person looking at one thing and fixing one part.
Go against everything you know and work behind enemy lines.
As SEOs, we've been conditioned to think of PPC as "the enemy"; to think of Developers as "the enemy"; to think of Google as "the enemy". But that only feeds the single-channel mindset, meaning you'll never actually get very far without any of them. The truth is, we're all in the same boat.
As an industry, we thrive on the challenge. This is true for SEO, Biddable Media, Print, Publications, Traditional Marketing, and everything in between. The challenge is what keeps us moving forwards.
Knowing that you can get useful, actionable data from a single source should be music to any SEO's ears. So why don't we utilise PPC (or Data, or Content) more? Because we don't want to stray from the path we were taught to walk on. We, as humans – not even just SEOs – inherently do not like change. If we can avoid it, we do. Why? Because it is harder for our brains to form connections about expected behaviour or things that might happen when we have less exposure to it.
But, when we do stray – because our minds are frantically trying to figure out what to do, and what to expect, and how we should react and all the things – we're actually at a heightened processing level. Because our brains haven't been exposed to these situations as much, they need to start forming new connections, and quickly. When this happens, we form new memories, new relationships and, ultimately, new "triggers" to be released upon future encounters.
That means that the more you expose yourself to new situations, the more you learn. Ground-breaking, right? No, agreed. But, what is important here, is that if you continue to just approach things from one perspective, you're going to run out of solutions. So, using our well-versed client interaction above, how do we utilise the PPC data they have to assist with our SEO approach?
Keyword Data
Keyword data from PPC gives us great insight into the competition of a keyword, the cost of performing in PPC for it (and, thus, the potential saving if Organic can work for it), and a more accurate view of how frequently it is searched for. You can also go a step further and pull out the split of broad, phrase and exact match to tie into your own landscapes. Juicy, right? How about one step further and combine that with the data you can get for keywords from GSC?
Landing Page Reports
The landing page report tells you how good (or bad) your landing page is from a paid perspective. Why do SEO care? Because this is basically Google saying "this is what you should do". It might be for PPC, but there is no reason SEO cannot use this as a foundation for landing page requirements.
Search Query Reports
Search query reports give you absolutely everything you need at keyword level to know how to prioritise your organic targeting. Use them. Use the impression data and cross-reference it with GSC data. Use the click data and cross-reference it with GSC data. Use the conversion data and cross-reference it with GA data. Boom. Prioritised keywords to go after.
Quality Score Reports
Finally, quality score reports. These essentially tell you how relevant a landing page is for a keyword and ad. Imagine this at scale. Imagine this for every organic keyword you have as well. Imagine that you are in the initial stages of a project, and you've done your initial keyword research and now you're mapping your keywords to the landing pages that you think relate to them the best. If you've got the Quality Score report, and there is overlap between your organic keyword set and your paid keyword set, then instead of relying on what you think is best, you can align your thoughts with what Google is saying.
But that isn't all. There are whole parts of this score devoted to the landing page experience, including things like speed. This, combined with all the data SEOs can get their hands on, is an absolute goldmine at the start of a strategy.
Use all the things!
SEO is no longer just about getting your website to rank and then driving traffic to it. There is so much more at play. Even if you do rank in position 1, you can't guarantee you'll get the traffic. Rand Fishkin published a post recently looking specifically at where people click in the SERPs, with data from Jumpshot showing that in Q1 2019, in the US, almost 12% of all search clicks from Google were directed back to Alphabet-owned properties. More worrying, in Q1 2019 Google sent approximately 20% fewer organic clicks via browser searches than they did in 2016.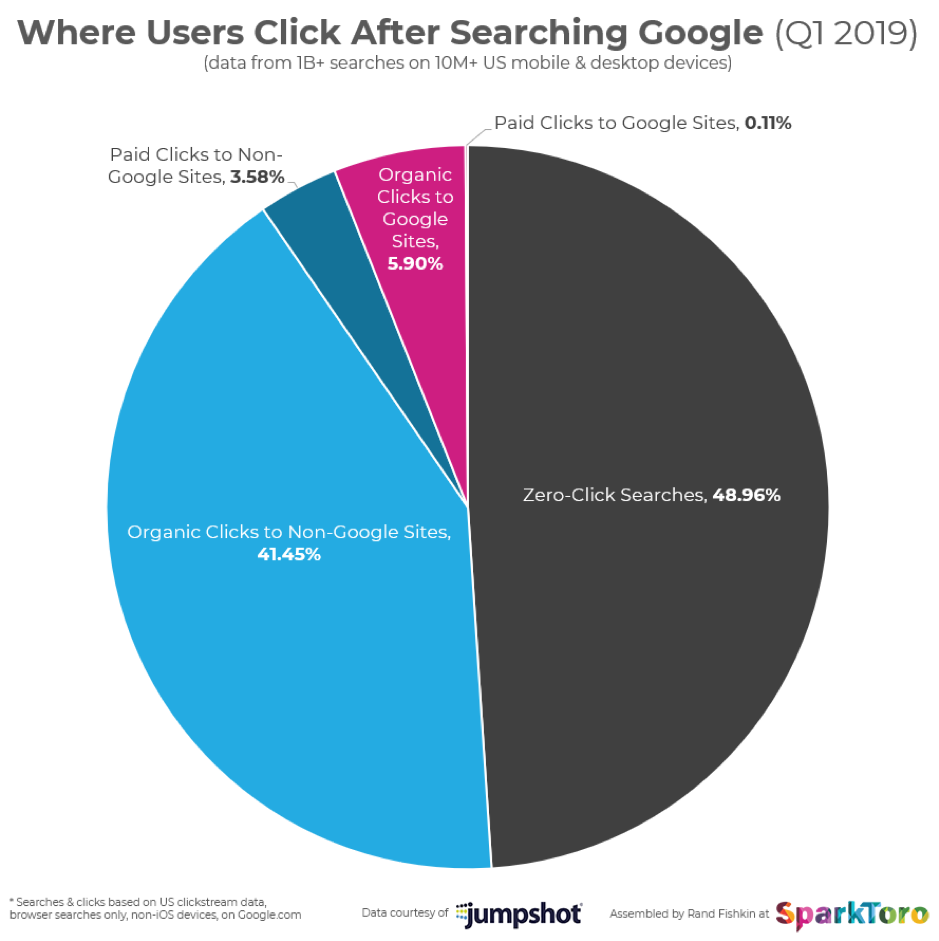 The SERPs are changing. Rapidly. The rise of zero-click searches (currently at approximately 49% according to Jumpshot) means that users don't need to click on a website to find the answers they are looking for. Users don't need to leave the SERPs. So… how do you drive organic traffic then?
Use. All. The Things.
Use all the data you can. Know what your SERPs are like. Know what results you get for your keywords. Know what your competitors are doing.
But not just from an organic perspective, from a digital perspective. You need to know if your keywords are showing more ads, or whether they are showing the local pack, featured snippets, images, videos, answer boxes, people also ask, FAQs, reviews, comparisons. The list goes on.
You need to know, with as much data as possible, how the SERPs are changing for the industries of your clients. That means utilising PPC, utilising data science teams or even utilising PR agencies or your in-house PR teams. But one thing as an industry we always forget to do is utilise our clients. They know their industry. They know their competitors. They know more about their business challenges than you do.
If you have a proper understanding of what is happening in the SERPs for your clients, your keywords, your competitors and the industry, you can start looking at issues at a digital scale. But not just any issues; issues that matter to your clients because you know what their pain points are and how they tie into the digital pain points.
Then, and only then, are you truly able to start making informed decisions about where your strategies should take you.
Map SEO to other channels.
Anyone who has worked with me in the past 3 years will know that what I am about to show you is my brain on paper. A wonderful mess of connected chaos. Or, in terms that aren't so scary, the relationship between everyday SEO activities and other channels: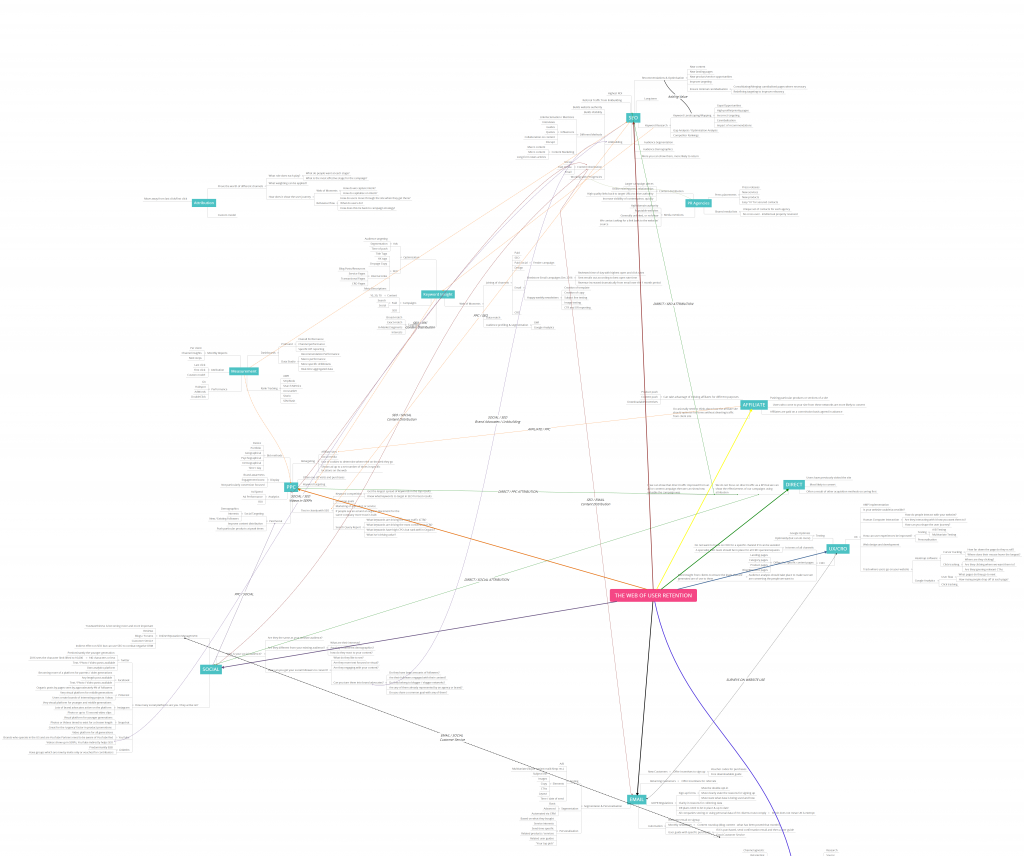 But this doesn't just look at how SEO fits into everything else, it looks at how everything fits into everything. With connections mapped out we can see relationships between:
SEO
Direct
PPC
Affiliate
Social (Organic & Paid)
PR
Email
Influencer
UX
CRO
We can see the relationships because they are there. We can see the connections because they make sense on paper. But, without mapping it all out, there is no way of seeing just how much overlap there is between what you do in your day-to-day and what other teams do.
Every single point above is a channel that your audience can interact with and in each of those are multiple sources, platforms, and touchpoints for them to encounter. A single user could go through 100 touchpoints before they decide to convert on your site, so you need to be there whenever they are thinking of your products. As a very basic breakdown, overlap across channels could be seen like this: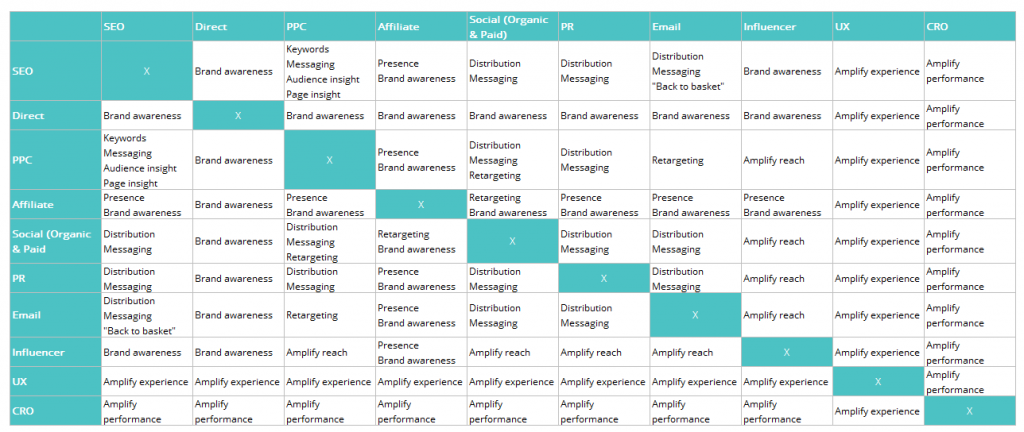 The more we understand about the relationships between channels and how each links into the others, the more we can amplify the experience people have on your site, ensuring consistency between messaging, and ultimately improving the digital performance for your clients.
SEO is becoming more and more about the user, and how they interact with your website as well as how their behaviour is changing. Jill Quick did a fantastic talk on this at Search Leeds, exploring why marketing and UX are a match made in heaven so, if you have 5 minutes, it is well worth checking out alongside their Consumer Cross Stitch model.
But my job is SEO, not "digital marketing".
You don't need to be an expert in all the channels to see how they can work together and understand the impact they have on each other. In fact, you need specialists in your teams to really cut through all the noise and speak up if proposed solutions are going to negatively impact their field.
I'm not telling you to suddenly start calling yourself a digital marketer. I'm not even telling you to leave SEO. I'm telling you to leave SEO as you know it. Retire old habits. Leave what you know behind you, learn from your experience, and move into a new era of your career.
With SEO becoming much less about on-site and much more about in-SERP, if we don't change how we approach situations then we will be left for dead. As our Business Director and Head of SEO, Hannah Thorpe, said, Google is changing into a Discovery Engine, instead of a Search Engine, which means that, effectively, SEO is changing into DEO.
SEO is not simply about rankings anymore. It is much more geared towards awareness than it perhaps was in the past. If Google is becoming a discovery engine, we need to make sure Google understands relationships between a website and their online presence; not just that they understand the website and magically rank it.
EAT has been (or should have been) at the forefront of every SEO strategy for years, and there is no reason for this to go away. But this is primarily focused on the website, so it doesn't really leave room for other aspects, apart from links from external sources to boost your authority and trust signals.
Now, we need to be moving towards things like Entity Recognition, in-SERP optimisation, and cross-channel journeys.
The tricky part of this is knowing how to report on it, and what metrics to measure. Right now, everything is still in the process of changing, and so many within the industry still report on SEO as a last-click channel. But what if we changed that?
Is SEO still last click? Not really.
To really understand the impact your SEO work is having on a client's website, you need to look past last click. You need to be able to see how much of a part you had to play in the whole journey. How much of "SEO" is actually "DEO"?
Ah, but how do you figure out if SEO had a part to play? You map everything you possibly can. For example, tools like Sistrix, SEO Monitor, or AWR will give you breakdowns of the SERP results for a keyword – you export this data periodically and you've got a running document showing you how SERPs are changing for your keywords over time.
You can then take that document and overlay it with GA, GSC, and AdWords data to get as much information as possible about what that keyword is doing for your site. You can even speak to your data science teams to devise a way to capture this automatically – imagine that!
I know that we can't move away from reporting on SEO as a last click channel completely, but we need to be able to report on the impact it is having across digital, not just as single-channel performance. Just as PPC will look at things like linear attribution, we need to be able to look at things through an almost customised lens.
But what if you don't do it all for a client, say you just do SEO? The good news here is you aren't then responsible for what happens across all the other channels. The bad news? You cannot influence what they do. You want them to turn off brand bidding because you're ranking in position 1 organically and they are 'stealing your clicks'? Their answer is almost always going to be "not a chance, this is driving performance for us". But without working closely with them, you won't know if they have to be bidding on brand to stave off competition, or if they just do it for presence.
With things like this, communication is key, but it doesn't mean that you should only report on SEO because that's all you're employed to do. A client will, in fact, employ you to improve their organic presence, but if you're only looking at it through the data you have, not the data that is available, then you're back to square one with the single-channel, single-minded solutions.
Reporting on the whole picture instead of part of it will let you see much, much more than you are currently. But you do need to get buy-in from the other agencies, otherwise it won't work, and you'll all say you're working together but the minute you leave the room it is back to siloes.
Believe in direct.
As a marketer, you're told to ignore direct traffic coming to the website because your goal is to grow the organic presence, or the paid presence, or the social presence, etc. So, you only get measured on the improvement you can show for those channels. Is that fair? No. Why not? Because although most channels aid performance, for the most part they all play a part in awareness as well. If you are continuing to drive awareness for a brand, why wouldn't someone go directly to the website they've seen 100 times over the last month through various channels, searches and sources?
In fact, if they are coming to the site through direct, haven't you technically exceeded at your job? With Search becoming much more about retaining users than acquiring new ones, because new ones aren't loyal but returning users might stick about for a long time, wouldn't it make sense to understand how your direct traffic level is changing?
Of course, wherever possible, we want to be using custom attribution models to identify every channel that plays a part but, as a starting point, just understanding the relationship between your marketing activity and a change in Direct traffic attribution is key.
Take it offline.
The final piece of the puzzle is understanding what your users, customers and audience are doing when they aren't online. How frequently do they visit your stores, where do they live, how old are they, are they seeing family at the weekend etc. The offline piece is the hardest part to connect to because you're relying on people to give you accurate information.
You're relying on store assistants adding all the data into backend systems. You're relying on HitWise (or similar tools) to give you insights into who they are, their demographics, psychographics, and socio-economic information.
But if you can match it all up, and tie the offline data into the online data, you've got everything you need to know about your consumer purchase decisions and buying behaviours. You can then start moulding their online journey to match their offline journey, giving them one seamless experience from one to the next.
Is SEO worth it anymore?
Absolutely. SEO, good SEO, is still worth its weight in gold. There is no denying that it still has a huge part to play in your online performance, especially when it comes to real estate in the SERPs. But we absolutely must change how we are doing it and how we are thinking about it.
"Traditional" SEO dies out as we move towards DEO, going further than just optimising a website and more into optimising the end to end experience. How do we ensure we're present for our users at every step of the journey?
We optimise everything we used to, and then optimise in-SERP. We take up as much of the organic real estate as we can, including zero-click searches, and report on everything we can. We match what our organic approach is looking to achieve with what other channels are trying to achieve, and we stop looking to single channels to fix problems. Short-term that will work fine, but if you're looking for sustained, long-term growth, you need to adapt the ways you work.
SEO isn't dead. It's finally coming to life.