Embracing uncertainty & getting comfortable with optimising the grey.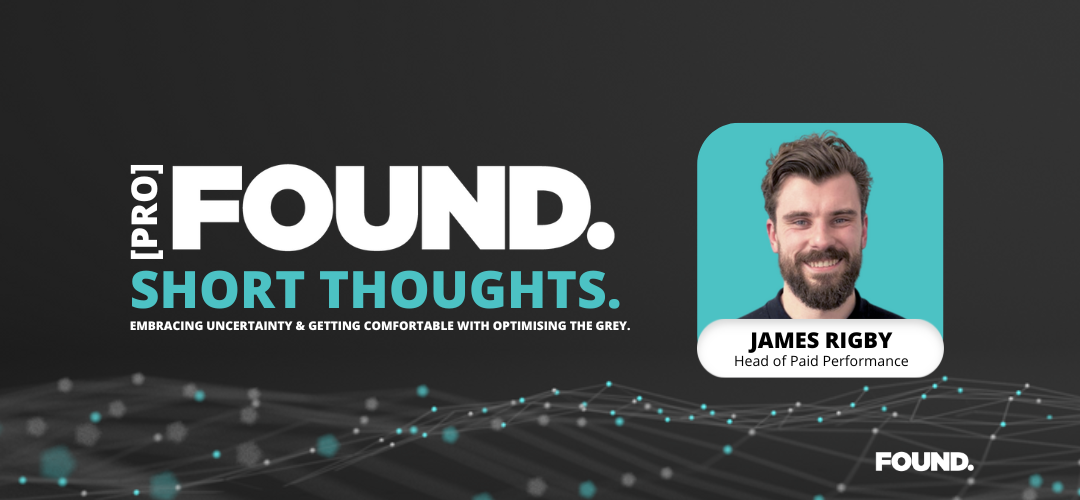 This week's message:
If you're still trying to be 'granular', 'maximise control' or 'join every dot' with your digital advertising then all you are actually doing is inadvertently putting a cap on your potential growth. It's time to let go.
I know it's hard, I started PPC in a world where Exact meant Exact, Broad was the devil's work and every touchpoint attribution was the holy grail, but those days are sadly gone.
In order to achieve something transformational you need to embrace uncertainty across the board and get comfortable optimising the grey.
The announcement last year that Google's search share was under threat from TikTok (40% with gen Z) felt uncomfortable. The disruption almost felt like 'they' must just be 'searching wrong'.
But, with overall Google impressions down in numerous categories this year (in particular high Gen Z indexing areas) then this uncomfortable reality is something we are very quickly having to get comfortable with.
Google's actions over the last week have seen them introduce X to their Display network and work with TikTok to show Google results in their search feature. This is off the back of Instagram and TikTok videos being introduced to the SERP last year (or was it the year before? I lose track…).
They have also abandoned their attribution tool, spoken at length about the 'messy middle' and introduced the Demand Gen campaign type to Google Ads, which focuses on producing ads in spaces for those that buy on social platforms.
All of Google's moves in recent times have been to expand reach, to integrate in diverse and vibrant ways, let go of 'exact' tracking and embrace 'holistic' approaches. All of this done with AI based bidding frantically optimising in the background to achieve an advertisers goal.
If you aren't thinking, planning, creating and measuring with all of this front of mind then you will very quickly find yourself trapped bidding only on Brand, chasing a ROAS in Ads and wondering why your market share is dwindling and "where the hell did it all go wrong?".
Embrace the change. Marketing was never meant to be an exact science – it's a vibrant new world that, if approached correctly, could actually be your greatest opportunity in years.
---