Facebook Memology – What topics did we engage most this year?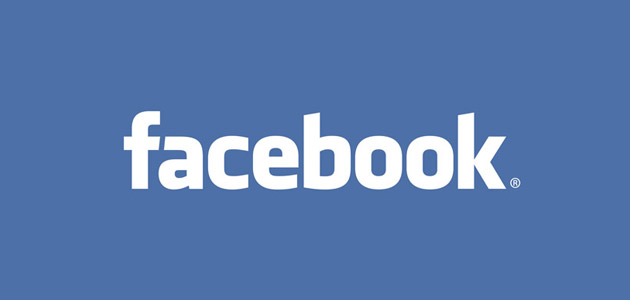 What do Facebook know about us that we don't? Well pretty much everything. The average user spends 7:01:41 hours per month on Facebook and 50% of the 800 Million, yes, 800 million users log into the social network each day. With this scale of interaction there is obviously a plethora of data gathered that unlocks all the secrets of human interaction and behaviours, giving a completely new and unrivalled insights which have never been possible before. Not only does it show how we share online but how we monitor and interact with the world outside of Facebook.
This data is described as Memology:-
"Memology takes the pulse of this global community by comparing this year's status updates to last year's, unearthing the most popular topics and cultural trends – or memes – emerging on Facebook." – Jonathan Chang , Facebook.
On Facebook people are passionate about what they post whether that is with or about their friends or family, or global news of tragedy. By the results posted in the 'Facebook Memology report of 2011' it's hardly surprising to see what topped this years social activity.
As you may have predicted, the top global meme was the death of Terrorist Osama bin Laden with almost 10% of all English status' mentioning this event on May 1st.
Death was a hot topic in the realms of Facebook. Peoples passion to engage on such topics pushed the tragic Death of Steve Jobs to Number 5 and the equally sad death of Amy Winehouse to number 7 on the global chart. In the UK there was a huge conversation surrounding the death of former Libyan leader Muammar Gaddafi who was found at number 6 in the UK chart. It wasn't all doom and gloom for social networkers around the globe though; Charlie Sheen and his Tiger Blood antics took centre stage in March with his famous Guinness world record breaking "Fastest Time to Reach 1 Million Followers". In the meme chart he certainly isn't "winning".
The marriage of Kate Middleton and Prince William dominated the conversation in April, with mentions of the phrase "Royal Wedding" shooting up nearly 600-fold in the days running up to the day they tied the knot. Their marriage sits at number six on the Global Memology chart for 2011.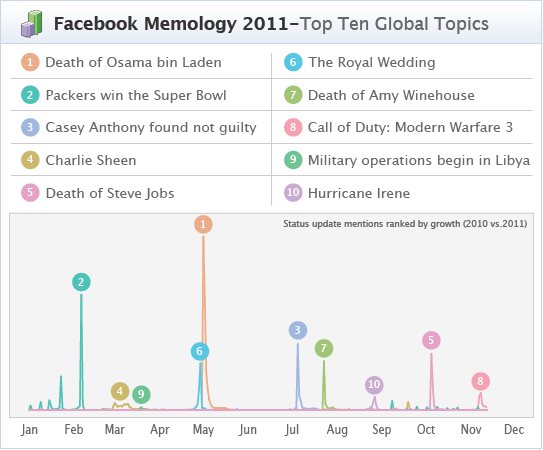 Online Cultural Phenomena
As well as identifying the top ten global topics, Facebook also unveiled the top trending cultural phenomena for the year; Planking. For those that aren't familiar with the phrase 'Planking' this is a game where people lie face down in unusual locations more often than not, taking a picture to share online.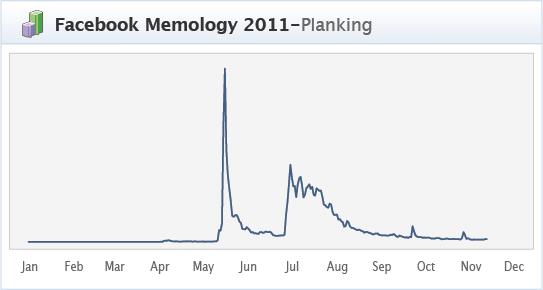 As the you can see above, it was more of a fad than a phenomenon making a huge spike in late May when Max Key, the son of New Zealand Prime Minister John Key, posted a Facebook photo of himself planking in the family lounge with his father in the background. After this the social buzz around planking took a nose dive until another sharp spike in July when celebrities such as Tom Green, Chris Brown and Katy Perry contributed with their own planking pictures. Planking took an eventual decline during the winter months.
To see memes for countries around the world, along with top trending musicians, actors and songs on Facebook, check out the special tab on the Facebook Page.