Found awarded for excellence in wellbeing.
Last week, we were delighted to receive the news that we have been awarded Excellence in Wellbeing by Great Places to Work. With team wellbeing a top priority for the agency, it is great to be officially recognised for this.
This is the first year that GPTW has awarded companies for this category and having already been ranked in the top 10 for GPTW (medium category) and top 3 for GPTW for Women, this is further recognition for the efforts we put into staff happiness and nurturing a positive workplace culture here at Found.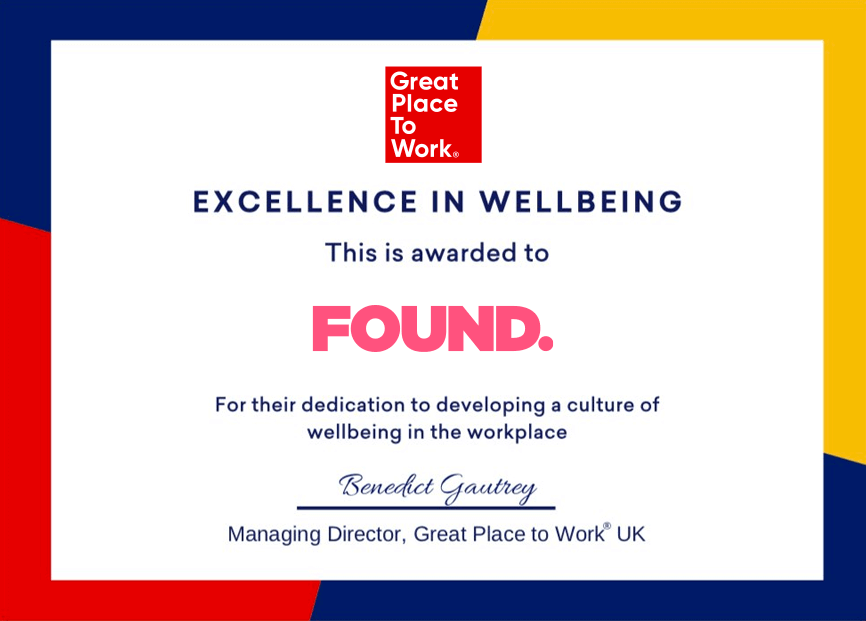 Everything from fulfilment at work, work environment and financial security right through to mental health and interpersonal relationships is assessed, based on the team's responses to a series of questions sent to them in a survey.
With our culture firmly orientated around supporting our team, we take the wellbeing of our people seriously. This is why we have invested in our 'Foundfullness' programme which features a whole series of in-house training and development activities to help develop our Founders from a career, physical, mental and emotional standpoint. Most importantly we have a culture of openness, nurturing and care that has put our people at the heart of what we do and every decision we make. To be recognised for these efforts, makes us extremely proud.