Found makes pizza!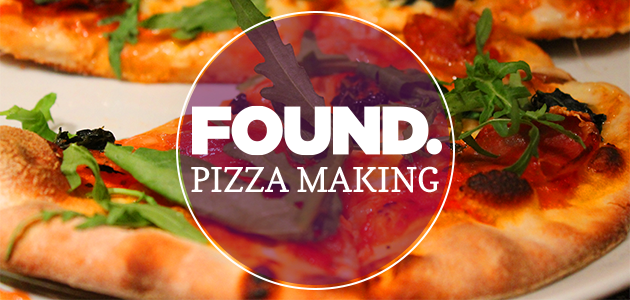 Earlier this month all the Founders got together for our company quarterly review. Each quarter, representatives from each team give a mini presentation on everything that has happened throughout the previous quarter and what is to come in the future months.
After the meeting, the team always heads out to do a group activity…this quarter we made delicious pizza at the Caldesi Cucina Italiana:

Overall it was a really great experience. All the staff were not only very welcoming, they were also patient and helpful. The pizza kept flowing all night long, topped with everything from mushrooms and pancetta to capers and anchovies.
Lucky for us, chef Giancarlo Caldesi sent us home with the recipe for his beer pizza dough:
10g fresh yeast or 5g dried yeast

220ml Birra Moretti at room temperature

125ml tepid water

500g strong bread flour

2 teaspoons salt

Semolina for sliding the pizza
Mix the dry ingredients together in a large bowl. If using fresh yeast stir this into the water until completely dissolved. Add the liquid to the dry ingredients in the bowl and using a dough scraper or your hand blend the ingredients together well.
For more detailed instructions, check out the full recipe and directions.