Another award win for Found at the Drum Search Awards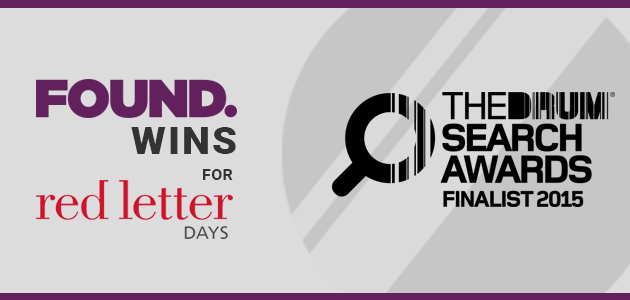 We're delighted to have been officially recognised as one of the search industry's top agencies after taking home two accolades at the inaugural Drum Search Awards last night.
Jostling amongst the industry's great and good at the glitzy black tie event in Grosvenor Square, we won Best B2C Campaign for our work with Red Letter Days as well as being commended for our strategic retail focus and delivery for the long term client in the Best Retail/Ecommerce Campaign category.
Our very own brilliant PPC Analyst Emily Cole and Campaign Manager Lauren Dodds were there to receive the awards and then got their own moment in the spotlight with very Oscar-esque performances in their recorded acceptance speech!
Having our work recognised twice at such a prestigious ceremony is fantastic and, more importantly, is a real testament to the Found team's absolute focus on crafting hard-working campaigns which not only deliver but also outshine the rest of the market. We're delighted as a team for all of their hard work with Red Letter Days and delighted for our client too, whom we thoroughly enjoy working hand in hand with!
The campaign success hinged on our clever segmentation to target new customers and search retargeting to reach existing customers. We were able to not only secure a massive 51% increase in revenue over the previous year's activity, but also maintain costs whilst driving a significant 67% increase in ROI year-on-year. In terms of brand awareness, our strategy equally generated over 20% more clicks.
Topping this all off, Gerry O'Brien, Ecommerce Director at Red Letter Days, adds: "Found's ability to immerse themselves into the Red Letter Days' brand, interpreting data and insight, enabled them to mastermind a clever paid search campaign that has delivered fantastic returns. Not only have we reached greater revenue numbers than we expected, but we've achieved this through a considerable reduction in ROI and a huge increase in generic keyword performance. Working closely together in an agile manner, we've been able to share knowledge and skills which, together, has definitely helped us to achieve these great results."