Found shortlisted for 7 UK Search Awards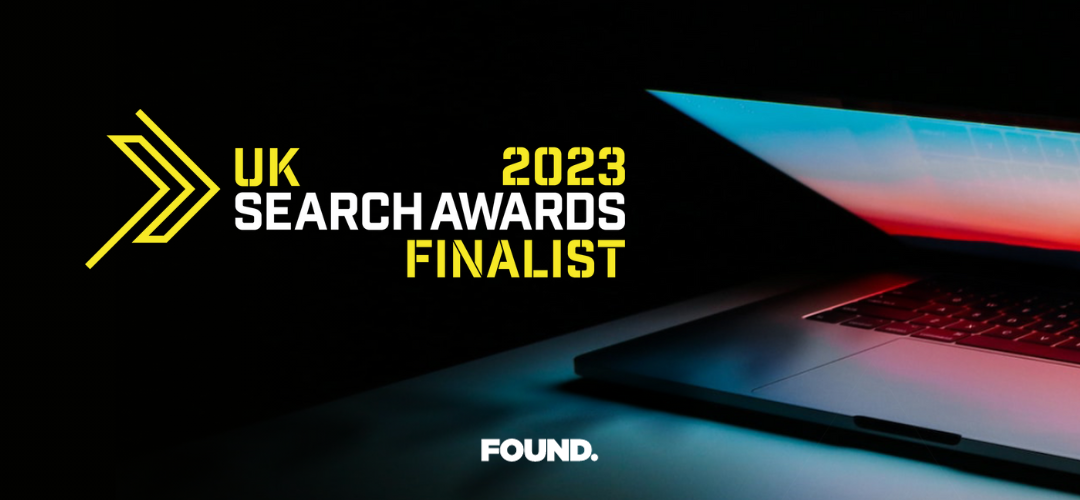 'It's been an unprecedented year for all of the wrong reasons for a lot of businesses so to be able to showcase so many positive results across such an array of verticals is testament to the standard of work that is being produced by the team.' – James Rigby (Head of Paid Performance | Found.)
---
We're delighted to share the news that Found have been shortlisted in SEVEN categories at this year's UK Search Awards!
The UK Search Awards celebrate the very best in Search across England, Ireland, Scotland and Wales are and the ultimate award for UK Search agencies and teams. They're regarded as the premiere celebration of UK search in the industry so we are delighted to receive recognition from such an impressive body.
Campaigns that our PPC experts have delivered for our client teams at Toolstation, Champneys Health Resorts, Blackhawk Network, Vita Student, and others have been acknowledged by the judges.
---
We are shortlisted for the following:
✨ Best use of Search – Retail/Ecommerce PPC (Large)
✨ Best use of Search – Travel/Leisure PPC (Large)
✨ Best use of Search – B2B PPC (Large)
✨ Best use of search – B2C PPC (Large)
✨ Best Local Campaign PPC (Large)
✨ Best use of social media in a search campaign (Large)
✨ And…Best Large PPC Agency!!!
---
We'd like to share heartfelt 'congratulations' to every single member of our team that's been involved in delivering this work, the time and effort that that've put into these pieces of work hasn't gone unnoticed or unappreciated.
We're incredibly proud of the campaigns we've delivered for our clients this year and it's amazing to have our belief that the work is outstanding validated like this.
We're now really looking forward to seeing our fellow nominees at the UK Search Awards ceremony in November!!!
---
As our Head of Paid Performance has put it:
'The UK Search Awards is one of the most prestigious award bodies in our industry so to have 7 submissions shortlisted is nothing short of incredible. It's been an unprecedented year for all of the wrong reasons for a lot of businesses so to be able to showcase so many positive results across such an array of verticals is testament to the standard of work that is being produced by the team.
Thank you to everyone that has put the time in at Found (you've been amazing) and to our clients for continuing to trust us to deliver during these challenging times.
Best of luck to all of our fellow agencies too – we look forward to seeing you on the 30th!'