Found wins three at this years Performance Marketing Awards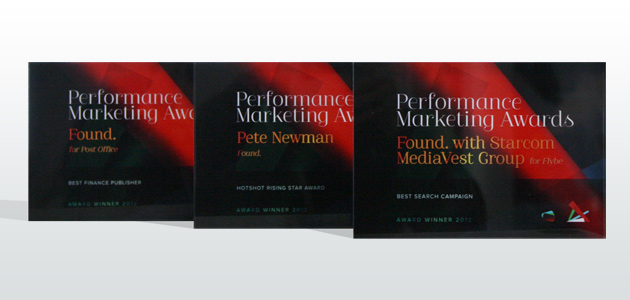 Found had another amazing night at the Performance Marketing Awards, scooping 3 awards for our work with Flybe and the Post Office, along with our very own Pete Newman taking home the Hotshot Rising Star award. We love attending these awards – they are so much fun, so well organised and so entertaining. The host, Miles Jupp, held the crowd with his deadpan mocking and the food was some of the best we've ever eaten at awards ceremonies!
We beat a clutch of other high profile contenders to win Best Search Campaign for our 'Magic Broad Match' work for Flybe, Best in Finance Publisher for our Post Office partnership and received a high commendation for our work with Handpicked Hotels in the Travel & Leisure Publisher category. We were delighted to see Pete, who at just 25 was appointed Found's Partnerships Director late last year, walk away with the highly-prestigious Hotshot Rising Star Award, beating an impressive collection of some of the other brightest and most innovative minds in the industry.
As a team that lives and breathes Performance Marketing, the success of last night is a brilliant thumbs-up from the industry to all of the hard work and dedication from the Found team. We certainly made the most of the evening and had a cracking time, especially when the after show party truly kicked into action with Rockaoke – giving everyone a chance to be a pop star for 5 minutes. Brilliant, brilliant fun. Bring on next year!