Great Place To Work 2021 Awards: Team culture in a pandemic.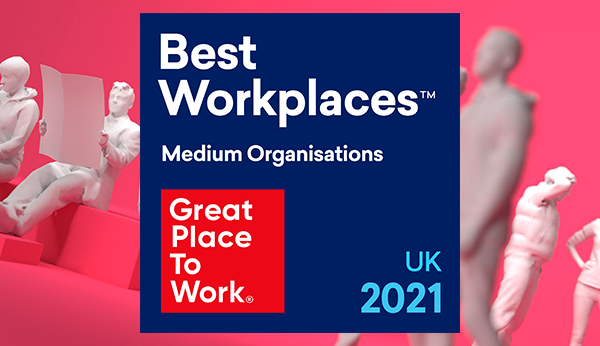 We're thrilled to announce that we've been awarded 10th place in this year's Great Place to Work Awards 2021 (medium category) for companies of 51-250 employees.
We've been extremely proud to rank in the prestigious Great Place to Work Awards for the past five years, but this year is extra special for us. This year's culture audit submission was based on our response to the COVID-19 pandemic. There is no denying that the pandemic affected everyone in the world. For us, the impact was felt across both our team and our clients.
The first, and possibly most significant, way the pandemic impacted us, was that we went from being entirely office-based to working remotely, in a world that was full of uncertainty.
We ensured the team were aware of our decisions, our focus, our hopes, and our concerns during this time of uncertainty. It became a true 'in it together' moment that, whilst we would all prefer to see each other face-to-face each day, really has brought us together in ways we never thought possible.
This was really demonstrated in our culture audit and survey sent to the team, and completing our submission reinforced how incredibly proud of our team we are.
Thank you to all of our Founders that contribute to making Found the great place it is – hip hip, hooray!
We're looking for more fantastic Founders to join our team, check out our roles here.