Looking Beyond High Volume Keywords.

When you are selling online, you need to make sure you are targeting your audience. What are people searching for? Who else sells what I'm selling? How do I get to the top of Google?
With SEO and PPC, keywords are the most vital part of any strategy. Every search starts with a word, or collection of words, which are used to find what a user is looking for. With these keywords, you want to be making sure that you have the relevant page to target them with.
Research what keywords will work best for you
As part of any strategy, keyword research is essential so that you can evaluate the space in which you want to start targeting. This will start with some basic keywords based on what you are offering, whether that be furniture or clothing, and other relatable terms that stem from overarching groups, until you end up with a structure like this:

In this research, you discover your current rankings, what the competition is like, and how many searches on average each query gets. A mistake many make is going after those search terms which have the highest search volume. While these high search volume queries are attractive, they are not the only route you should be focusing on.
High search volume keywords are usually umbrella terms, and more than often have a lower level of user intent which acts as the commercial grouping for a set of products.
One example sector which falls into this category is cybersecurity. As an industry, there are multiple names which represent a very expansive product base. Cybersecurity can branch from a simple home computer cybersecurity software to a full-blown corporate cybersecurity software program. Both very different audiences, but a term that can apply to both areas of the market.
One set of keywords that works for one company will not be the best fit for another, so by researching the entire landscape, you are able to narrow down your keyword list so that you can start to action your strategy.
Think about the bigger picture, by thinking smaller
This is where you would need to start looking at the commercial aspect of what your business offers, and what the core products or services are that you are offering and want to be found for. Big search volumes are attractive and sometimes a great thing to be ranking for, but if you offer a specific service within an umbrella or a bespoke service, then going smaller is likely to be your route for getting valuable customers and leads.
Commercial keywords have a more defined intent and offer a clearer signal to what a user is looking for and are often supported by words such as 'buy', 'book' and 'enquire'.
In the context of cybersecurity, one example of a commercial keyword which contains more intent is 'managed security services'. This search query has a much lower search volume but has a much clearer user intent as they are searching for a specific service. As a more direct search, as well as one that delivers more specific results in the SERP, 'managed security services' has more user intent and therefore is more likely to see a quantifiable lead as a result, when compared to generic 'cybersecurity'.
Thinking smaller will also help with your wider content output, as you will be able to target a more niche selection of PAA (People Also Ask) boxes, as well as featured snippets to broaden your specialism in any particular section of a market.
With 'managed security services' there are a whole range of questions which could be included in FAQs or blog content to increase the visibility and authority of a website. There are a range of tools available for you to get ideas of what content could be produced. One website that offers insights into what users are searching for is Answer The Public, which has a variety of questions based on a single search query and can help inform you as to what would be a good fit for your content.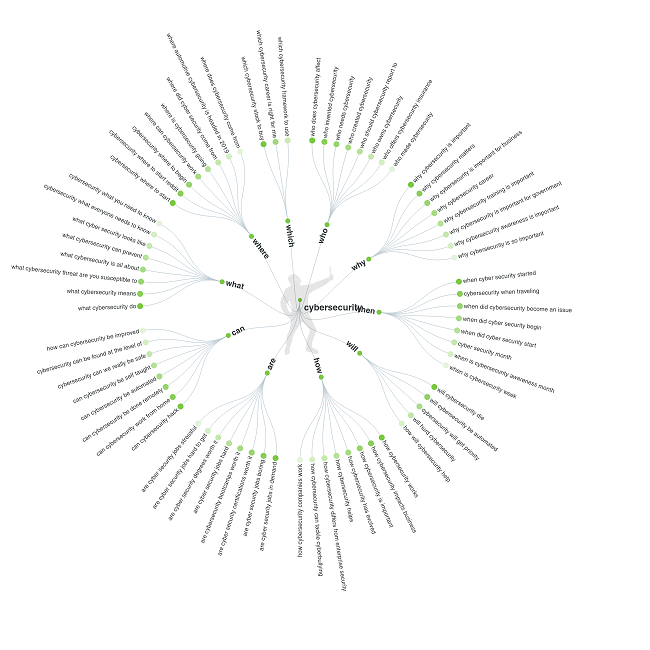 The search volumes for these terms and queries are more than often lower, but by thinking beyond a single term and considering the wider range of long-tail keywords and questions that can stem off of that term, you are working on making your website the dominant force in that specific search environment, therefore increasing your opportunities for high-quality commercial leads.
Refining your presence
If you only go after high volume keywords, you're almost always going to be appearing for searches that aren't intrinsically relevant to your business or what you offer. That's not great for SEO, but could also be wasting your budget for PPC.
There is a fine line between wanting to appear for everything and wanting to appear where your users are searching, and that starts with refining your presence and really looking into what it is you offer to potential customers. The likelihood is, especially for B2B industries, that users who know what they want and are in the market to buy are more likely to be using refined search queries, whereas people who are in the initial research phases are going to be using broader terms.
So if you want to be appearing for the searches that are most likely to convert users, you need to be looking at the longer tail and lower volume terms. Be present on the key broader terms, but don't focus every attention on ranking for more generic terms that have lower value for the business. Instead, use category pages and informational content, and even the homepage, for broader terms and then focus your service, product and core pages around the lower volume queries with a higher user intent.
In a time of uncertainty surrounding COVID-19, as a business, you need to think smart about how you are going to be generating leads and putting yourself ahead of the competition. Low-volume keywords could be the driving force to get you through these unprecedented times.