Our Organic Search Team's 2022 Highlights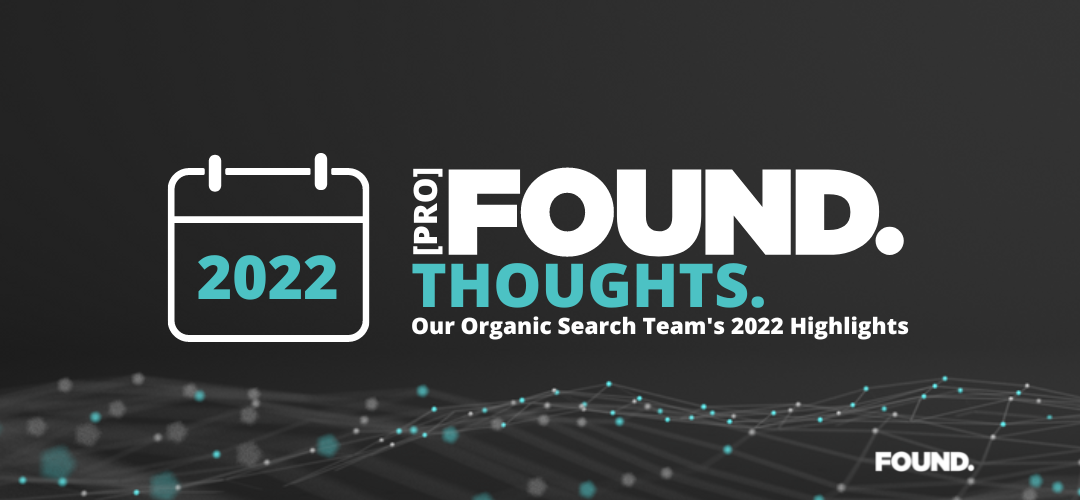 As 2022 draws to a close, it's natural for each and every one of us to look back and reflect on the year that's just passed us by.
But when 2022 is far behind us (in our rear-view mirror), what are the actual learnings that we want to take with us and draw value from in the future? What moments or insights do we really want to hold on to as we move forward into (a hopefully prosperous) 2023?
Well, we asked our Organic Search experts just that question.
So, what have they actually learnt from 2022? What have they seen this year that's got them really excited? And, when they reflect on 2022 what do they consider to be a real SEO highlight or development?
---

Starting at Found! Jokes aside, I think it has been the so many Google updates that we have had this year.
However, by far the most exciting thing coming from Google is MuM. Although it was announced last year, so not necessarily 2022, it is coming to live this year with all Google new updates and ever changes in the SERPs.
MuM makes the tasks of many SEOs way more difficult but also more exciting. Multisearch and Multilingual, what is there not to be excited about?
Everybody talks about ChatGTP as something that will kill SEO, only that Google has been investing in Natural Language Processing for years now, so I can't wait for people to discover that ChatGTP is nothing compared to what Google has!

It's not a secret that "Content is King", but the further we go, the more we see how important it is to write high-quality content for people and not for search engines. It is indeed hard to balance between SEO writing and writing for people, but this is one of the characteristics that defines a professional SEO team.
This year has shown me that if your content doesn't have enough Expertise, Authoritativeness, and Trustworthiness (Hello to Google's E-A-T algorithm!), stuffing the content with keywords won't help to rank higher.
If I had to choose between no keywords in H1 but really valuable content or lots of keywords but not much sense – I think you know what I'd go for!

Having been watching the rise of AI (well, technically it's machine learning, but that's way less catchy) copywriting with some mild concern for my job, what I'm taking away from this year is that Google has my back, for now.
With the roll-out of the helpful content update, and their continuing support of 'people first' language, we can rest assured that skynet won't be taking over quite yet. That is to say, instead of creating content with a keyword only focus, Google wants to see valuable content created that will resonate with your intended audience. While they might be using machine learning to police the content, copywriting for SEO will remain, mostly, human.
October was my second venture to BrightonSEO and although there were plenty of great talks, advice and mingling, one thing really stuck with me – optimising for accessibility!
Unfortunately, so many of us within SEO have left accessibility in the hands of developers with a naïve mindset of 'just add a plugin', whilst we focused our efforts on fighting off Google's latest algorithm updates and keeping up with the latest SEO trends.
After seeing and hearing the experience of accessible users at BrightonSEO and learning about POUR (four key principle of accessibility – Perceivable, Operable, Understandable, Robust), I understood the importance of optimising a website with a screen reader in mind. 35-45% of website users require voiceover screen readers, and with the world becoming more digitally focused this number is continuing to increase, so we have to do our bit!

It would be remiss to talk about 2022 and not mention the massive changes that Web3 and the metaverse seem to be bringing out in the digital marketing sphere. The first meeting to be held in virtual reality actually got people talking about the future of search engines and how they're going to factor into this seemingly imminent new age of the internet.
One thing that'll surely become more important as the internet continues to evolve (throughout 2023 and beyond) is the importance of visual content.While this re-prioritisation may be little way off, we've seen a very exciting shift in search patterns this year – with the growth of tools like Amazon Alexas and Google Lenses.
This year the importance of writing content with natural language processing in mind and optimising ecommerce images has really been drilled into me. I'm really enjoying watching approaches to new developments like the metaverse change (and seeing adoption increase) and I'm excited, if not a little bit wary, to see what SEO will look like in the next 10 years.
---

This year, I was keen to go back to my roots and focus solely on SEO once again. So, I joined the team at Found and got stuck in!
With social media now rivalling traditional search engines – there's never a dull moment! Earlier in the year, Google acknowledged this shift in search, revealing that 40% of younger users flocked to TikTok or Instagram to find their next lunch hot spot, instead of Google Maps. But Google is far from quaking in their boots. TikTok operates as a more user-focused platform, whilst Google aims to showcase Expert, Experienced, Authoritative and Trusted brands. Regardless of the search engine, careful content creation is still at the heart of appearing on top.

Backlinks are being talked about more than ever this year due to stricter ruling from the Google gods. Also known as an SEO's worst nightmare, paid backlinks are usually low value, high price, and put your site at risk of being penalised by Google. So, the aim is to gain organic backlinks. But how?
One great way is public data sets! Data is collected on practically everything, but most of it isn't looked at (due to how it is laid out and the amount of data), which makes it a golden opportunity. You just need to think outside the box in what your users would find interesting, pull the data and make it visually exciting. Infographics are a fantastic way to visualise complex information, these paired with the data sets are powerful pieces that get your blog shared!
---
If you'd like to get in touch with any of our Organic Search experts, you can always fill in a contact form!