Shifting to Digital: How to temporarily close your retail stores.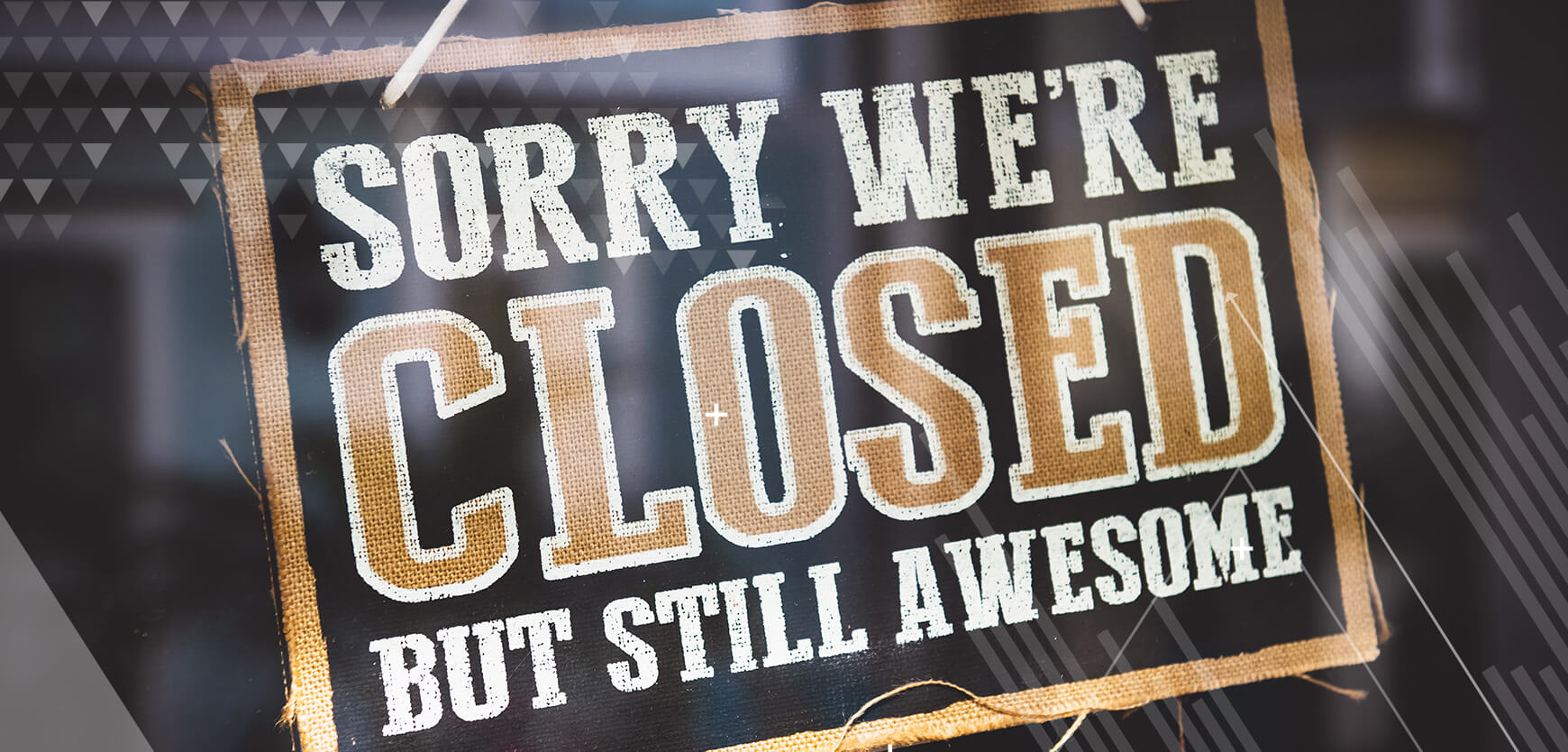 With the recent announcement of all non-essential businesses closing within the UK, brands with a high street presence are rushing to comply by closing their retail stores and moving to online-only operations. It's crucial in these times that businesses provide accurate and useful information for their consumers, maintaining as much business-as-usual service as possible.
Website Actions
Your website should be the first point of call as it is now your virtual (and only) storefront. There's a few quick steps you need to take to get it up to date and help users on their shopping journey.
Create a specific landing page that you keep updated – this page needs to become the hub of all information around Covid-19 and your business, reviewed in line with any major updates to government advice.
Add an announcement banner visible on every page – this will help users to navigate to the information they need and understand how your business is still trading.
Add FAQs specific to Covid-19 – we'd recommend speaking to your customer service team on the common questions they're getting and publishing these on site; this will help alleviate some of the pressures on your team as consumers can find answers for themselves.
Update on-page text and metadata for store pages across your site – If you have landing pages for each store, update the meta descriptions to let people know they're temporarily closed and if they can still purchase online. Also update the copy on the page itself to include this information for people who visit it looking for more information.
Update site metadata – if your sitewide meta descriptions include CTAs like 'click and collect' or 'visit the store' make sure these are removed.
Update all product pages – update your availability on product pages to show things can only be bought online, new delivery times and help users trust they can still buy from you.
Local Listings
Once your website is updated, you can move on to looking at your presence in maps and in local searches on Google. This may be time consuming as there are multiple platforms but it will help to ensure that you are capturing any potential footfall to the store back to the website.
Use 'Special Hours' to update your Google My Business opening hours – this feature means you can set special opening hours and show the closure is only temporary.
Use the 'Temporarily Closed' feature in Bing Places – it's important to remember to set a reminder to go back and revisit this as you must schedule an end time to being temporarily closed.
Apple Maps – you can update your listing in https://mapsconnect.apple.com and tell those using Apple Maps that you are now closed.
Waze – often forgotten but for major city locations, update your store opening hours in Waze to indicate a temporary closure.
PPC Actions
It'll be important to take key PPC actions too as they will preserve your budget and ensure spend is not wasted while your stores are closed.
Pause all location extensions.
Direct call extensions to take people to a customer service number.
Update messaging to remove visit in store and focus instead on delivery/brand copy.
Pause local inventory ads.
Pause or update ads for all store location keywords.
Add callout extensions for still delivering.
Social Actions
Pin a post to Facebook/Twitter about store closures, and add as a highlighted story to Instagram.
Update opening hours in 'About' section.
Add more resource to customer service through social.
Update auto-response on Facebook messenger to include Covid-19 information.
Remove any 'visit store' message from ad copy.
Pause all store traffic ads.
Review geotargeting if necessary.
Analytics Actions
The data and tracking in place on your site will be key for helping you to understand the impact the current situation is having upon your business, and creating future-focused business plans.
Add annotations for all major Covid-19 announcements – this will help in the future, when you complete year on year comparisons in performance and need to understand causes of anomalies.
Create new event tracking for people entering the site through store pages and dropping out – this will help to calculate potential lost revenue and the demand in each location if you do need to start considering permanent store closures.
Additional events and goals set up – while pure e-commerce conversions may be slow and delivery options are uncertain, create goals around buying intent and positive engagement with the site to track quality and relevant site visits.
Add heat mapping on site to support conversion rate optimisation now that you're reliant upon the website fully.
Want a copy of the checklist? Download it here.
If you're interested in how Found could supercharge your digital performance across SEO, PPC, Social and Digital PR, then get in touch today to speak to a member of the team.