The changing world of link building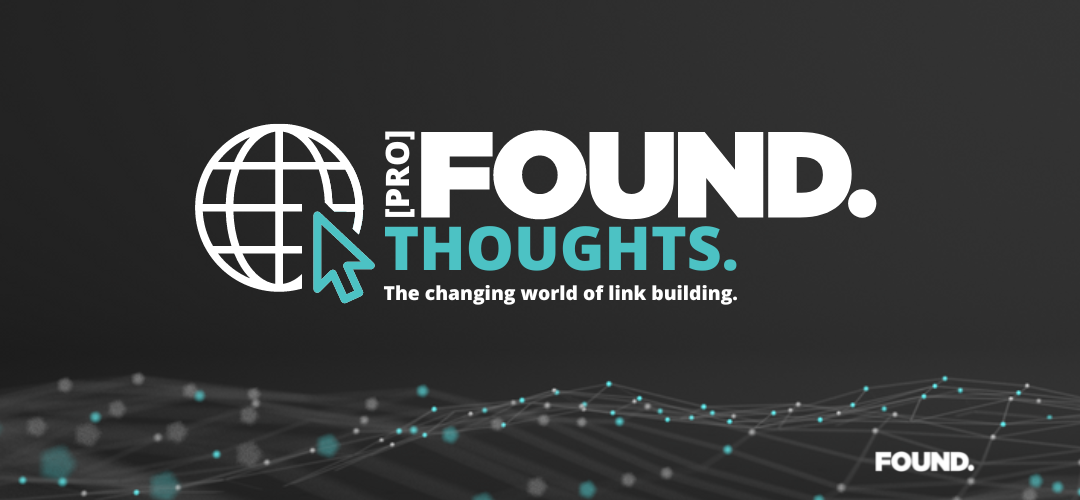 Link building is an important part of both Digital PR and SEO strategies. Securing relevant and authoritative links back to site to improve rankings in search engine results pages and drive brand awareness and traffic is something brands regularly come to us for support with.
As with anything in the digital space, the way in which links are secured, how they are measured and the results they drive has changed an awful lot over the past decade and will continue to do so over the next 10 years. Our team believe now more than ever, it's important to create a sustainable organic link building strategy that will deliver results now and in the future.
Many years ago, link building tactics used to focus on things such as directory submissions, chasing broken back links and guest blogging…manually placing each link. This, not surprisingly, was not sustainable or delivering best results, so something needed to change! In addition, the changes to how Google handled links in the 2012 Penguin update helped propel the rise in content marketing and digital PR in more recent years and brings us more towards where we are today.
Over the years, link building has evolved into Digital PR where we use tactics that will earn us valuable links, activity such as news jacking, news stories, thought leadership, and useful evergreen content such as guides and reports. There is a whole host of factors that inform which tactics we carry out for clients, such as the news agenda, Google updates, the target media as well as competitor activity.
What does this mean?
So, there's good and bad news. I'll start with the bad, securing good quality organic coverage with links is getting harder for many reasons; – competition, savvy media outlets and paid opportunities to name a few. The good news is that there are things we can do as PR and SEO experts to adapt to maximise results and ensure we are delivering the best for the brands we work with.
We believe we need to future proof our digital PR and link building strategies, so they last a lifetime and are able to sustain the elements that are constantly changing.
So, how do we make link building a sustainable success for our brands?
We focus on 4 key areas:
Relevancy
Creating genuinely interesting and useful content that makes us indispensable
Tactics that will deliver results
Metrics that matter
By concentrating our strategies around these points, we ensure we create and carry out link building strategies that have staying power and deliver results.
Let's look at the points in a bit more detail…
Be and stay relevant – ensuring you have content that is relevant to your audience as well as your target media is more important than ever. Google won't reward content or campaigns that it doesn't see as relevant, so what's the point!
Create content with a purpose – media outlets are savvy and know the power their sites can have on yours. They also don't want to send their readers off their page if they can avoid it. So, we need to create content that is truly useful to journalists and readers so there is a real reason for our content to be used. It could be anything from stats, a report, an interactive tool, definitions or a guide.
Know the tactics that work – often with Digital PR it's easy to get drawn in to create sexy campaigns, but do they drive results? It's important to test tactics in the target media and industry you're in to make sure you know what activity is securing results. Sometimes this will mean a little trial and error, but that's a good thing and will help with a long-term link building strategy.
We need to focus on metrics that matter – not all metrics are always important to all clients, so make sure you're focusing on what really matters right from the planning and ideation stage. This will ensure you have a tailored approach that hits all the KPI's – that's what we're all after right?
Other things to consider:
On top of the key four points above there are some other key things we'd recommend considering when link building.
Integrate with other online channels where possible. Maximising content and delivering a joined-up approach for your customers is important.
Look at existing content that can be reused to generate media interest and links. What content currently secures the most links and traffic on your site?
When planning content, really focus on your audience and the customer journey. What can you offer them? What would be useful?
Build a strategy that focuses on who can link to you – this can sometimes mean going beyond journalists. This doesn't mean building huge outreach target lists or link prospects lists, it means focusing on the few relevant places that really matter.
Tailored outreach is key in the current media landscape – mass emailing is not the right approach
It's no secret that securing organic links and good quality coverage can be challenging, but with expert guidance, research, quality relevant content and tailored outreach we can maximise results and ensure we are delivering the best for the brands we work with both now and in the future.

---
If you'd be keen to discuss your Digital PR and link building strategy with our dedicated experts, please get in touch.