TikTok is becoming the 'New Google' for Gen-Z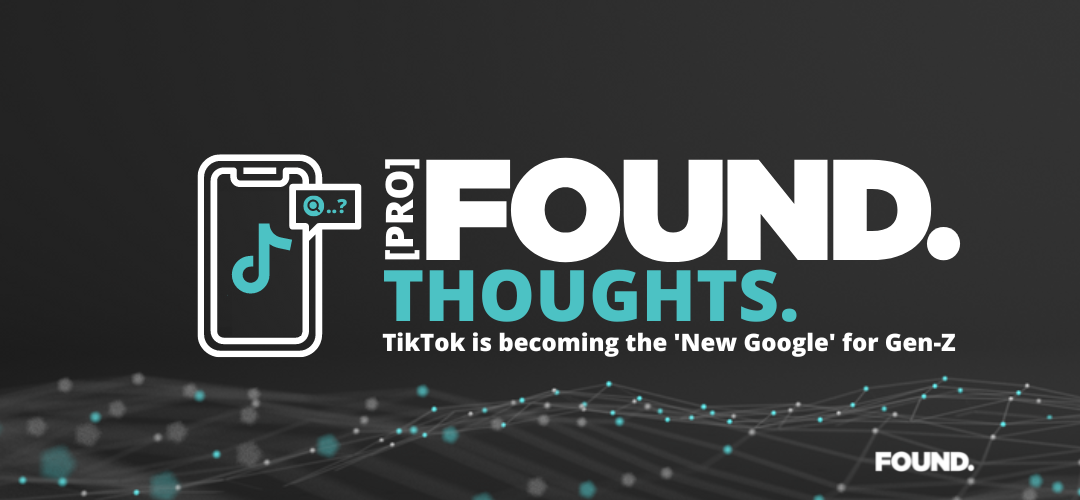 40% of Gen-Z prefer using TikTok and Instagram over Google to search. What does this mean for digital marketers and how can brands ensure they aren't left behind?
'Social search' is the term coined to describe using social media platforms to search for things, in place of search engines. Recently, we have seen a growing trend of consumers using TikTok and Instagram to search for recommendations, learn about current events and much more.
---
Recent trends show that 'social search' is on the rise
Some of the main reasons for using social media are to find content and research what to buy, especially amongst Gen-Z. Short videos and bulleted infographics are the new way to share knowledge, and it's both quick to create and digestible to read or watch.
Young people have grown up consuming content on what to wear, how to create a routine and where to eat without having to search for any of these things it is no wonder that we have collectively realised almost anything could be found on social media.
Research shows that 50% of 16-24 years olds use social media to research brands instead of search engines, and each month more people visit social media networks than they do search engines.
---
How can brands adapt to social search in 2023?
As new ways of using social media become established, brands need to stay on top of it. Luckily, social search is of the simple trends to implement.
57% of social media users are more likely to claim they have learnt practical life skills from social media than from university, Brands need to use this opportunity to help position themselves in front of their target audience.
As people are increasingly using social media as a search tool or creating searchable content, that solves a relevant problem on channels such as TikTok it is more critical than ever for brands looking to increase their awareness and followers in 2023.
Over 1 in 5 accounts followed are companies and brands that users are considering buying from, and this metric can increase if brands utilise social search strategically.
A few ways to optimise for social search include using alt text on creative assets, geotagging posts and creating a descriptive caption.
---
Social search is here to stay
From my perspective, as a Gen-Z digital marketer, I can see social search becoming more prominent, and it could be one of the top trends of 2023 as a whole.
The most impactful way social search can be utilised is when it is paired with influencer content to help maximise clicks and engagement.
This would also make it easier for brands to direct what they want their influencers to cover, so the content can be discovered easily when searching for relevant keywords, so the content can get in front of the target audience.
This also makes it easier for social media users to find exactly what they are looking for and get direct links to the products or services they need much more quickly and seamlessly.
TikTok might be thriving as a faux search engine, but the concept of social search started before the platform's existence. Pinterest is a social media platform that consists of bookmarking pins into boards that are intended for the public to see, so you can rightly imagine that social search is huge on the platform.
So, although TikTok might be getting all the attention around social search, don't forget it was always a concept in a low-key, long-term growth way.
I think it's important to remember this if you're wondering if the sudden surge in social search as a buzzword will fall just as quickly as it rose in popularity. I think Pinterest's concept of social search, combined with TikTok's hype around social search is only just the beginning of a new way to use the internet.
Bonus food for thought: After Gen-Z, we have Gen-Alpha, AKA the 'iPad kids' and I feel it is pretty safe to assume they will be searching on social media channels far before they even realise Google is a thing.
---
Found is a London-based multi-award-winning digital growth, SEO, PPC, Social and Digital PR agency that harnesses the efficiencies of data and technology and future-thinking to help clients grow their businesses online. If you'd like to discuss 'Social Search' and what your business should be looking to implement, contact our experts.
---