TOTAL SEARCH: THE HOLISTIC FUTURE OF DIGITAL MARKETING

The term 'Total Search' may be one that you're already familiar with. If not, the concept is probably something you'll have already seen but didn't know you had.
So, What is Total Search?
Put simply; it's the combination of multiple performance marketing channels into one entity.
When SEO and PPC are used as growth tactics they can become siloed and sometimes even compete to drive the most value. The way that value is measured can also differ with channels reporting on different metrics, such as paid sessions and organic sessions or CPC and organic clicks.
But now, with a data-led approach, Total Search can align activities to achieve the shared digital goals better.
Total Search means taking a step back and looking at the whole picture.
The most important metric for businesses that deploy digital marketing tactics is results; that's their bottom line. It doesn't matter which channel results come from; as long as a brand sees growth, they will continue to invest.
Why is it now becoming more relevant?
The subject of Total Search is growing in popularity. Back at BrightonSEO in April, it was a key topic discussed throughout the event by industry experts.
So it's no surprise that it's a big topic of conversation internally here at Found too, with our teams exploring how we can use this idea to create a better experience for our clients.

It's hard to pinpoint when the concept of Total Search began, but it's been around for several years now. And our proprietary search tool, Lumnir, was built on this very idea; a total search view of a Search Engine Results Page, or SERP, landscape.
How Luminr is being used to achieve Total Search.
Found's biggest contribution to the idea of Total Search is our very own SERP tool. It was imagined by the brilliant Head of Data Science, James Wolman, and brought to life by our data team.
Luminr crawls the page 1 SERP results of a specific set of keywords based on the relevance to the brand. When crawled, every part of the page is assessed:
Organic results
Top-of-page and bottom-of-page ads
Any other in-SERP features e.g. featured snippets, people also ask, knowledge panel, map pack, shopping etc.
Which order do these results appear in?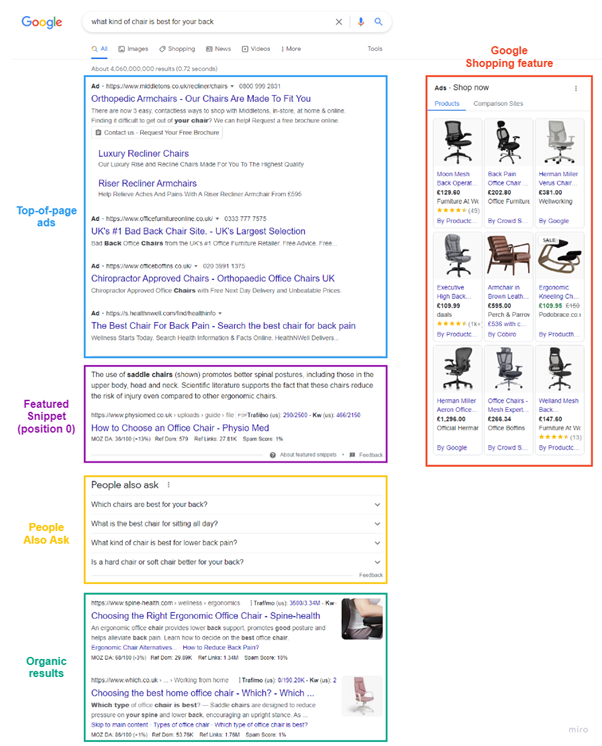 A click-through rate is assigned to each result based on which feature it appears and how far down the page it sits. We also use a unique total search metric called SERP Real Estate, which is calculated using the CTR and the keyword's search volume.
This data is then aggregated to spot the best opportunities for ranking based on SERP features. It can also look at how well certain sites or even pages are performing and how they increase or decrease in visibility over time.
The tool gives you insights into the entire state of the SERPs, not just organic or paid results. That's why it's great for the total search concept; you can measure your whole digital performance in the same place rather than looking at organic visibility on one tool and ads impression share on another.
---
While the idea of a Total Search future seems inevitable, it's still a work in progress. We will continue to strive towards this seamless integration with our growth tactics, the in-house collaboration of our performance teams and the continued development of Luminr.
If you're keen to learn more about how Luminr can help you achieve total search dominance, please get in touch today.