What's the new E in E-E-A-T?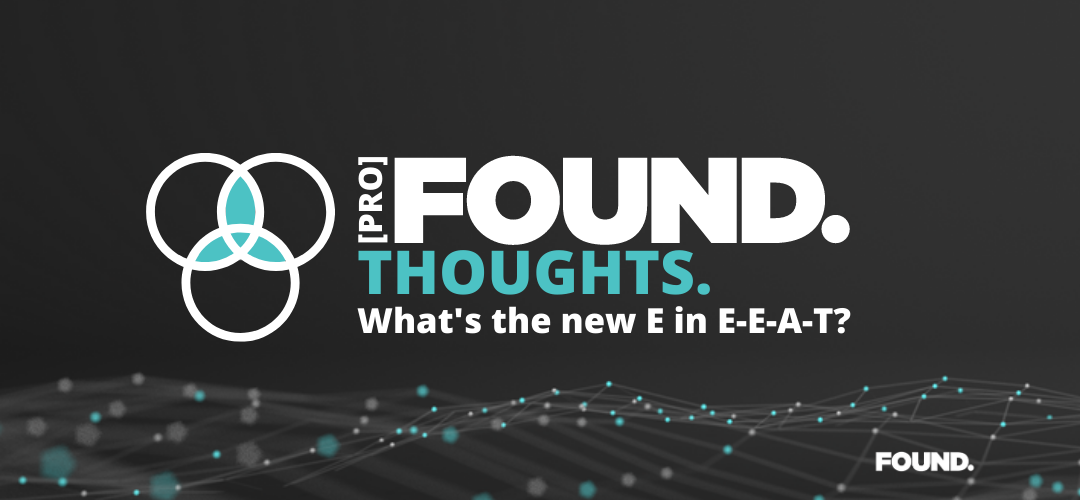 It is very appropriate of Google to significantly update their Content Rater Guidelines when everybody is losing their minds about AI content creation and speculating again how content is dead.
Although the timing does seem convenient, this update is quite clearly linked to the rest of the updates that Google has been rolling out during the year. Product review updates, Helpful Content Updates…they've all been related to content. However, while all of these seem new, E-A-T has been with us for a while, so let's do a refresh of what that means.
---
What's E-A-T?
Anybody who has spent long enough in SEO will remember when E-A-T was first introduced (back in 2014), but it was only in 2018 when everyone started taking it seriously because it was confirmed that it had become part of Google Core Algorithm.
As laid out by Google Content Rater Guidelines, E-A-T is translated into a website content by using:
EXPERTISE: To demonstrate Expertise, your content must be written by a person with in depth knowledge of the subject. Your website must represent professional experience on the topic.
"A verified beauty chemist writing about best hyaluronic acid serums."
AUTHORITY: It is not enough to just write the content in a professional way, but you need to demonstrate your (the author) Authority in the topic.
"Showing the author credentials, job title, bio and relevant experience."
TRUST: However, in the era of anybody who can write anything, or copy anything from the web or even use AI to create your content, you need to convince your user to Trust your word.
"Adding links to linkedin bios, having visible content info, or even making sure your writers engage in forums or social media will reassure your users."
---
What's E-E-A-T then?
Something we have noticed quite a lot in the last waves of Google updates (product review, helpful content etc) is the rise of personal experience content. Videos in TikTok and YouTube or direct feedback about restaurants and companies have become the king of content.
And it is not strange that users prefer to read first experience reviews of products or services. Users constantly feel that whatever information is found on the internet has been written by companies to trick them into buying something, into hiring them and more and more often content is written for "SEO purposes", not to help users.
The solution is to make sure that within the algorithm real content is prioritised, always considering content that has Experience, Expertise, written with Authoritativeness and (overall) that users can consider Trustworthy.
Google says Trust is the most important characteristic of your content and it says:
"The type and amount of Trust needed depends on the page, for example:
● Online stores need secure online payment systems and reliable customer service.
● Product reviews should be honest and written to help others make informed purchasing decisions (rather than solely to sell the product).
● Informational pages on clear YMYL topics must be accurate to prevent harm to people and society.
● Social media posts on non-YMYL topics may not need a high level of Trust, such as when the purpose of the post is to entertain its audience and the content of the post does not risk causing harm."
---
What's the difference between Experience and Expertise?
While the difference between Experience and Expertise might seem subtle, it is not.
Experience is placing the focus on the user or the person having used, experienced something and Expertise is the person or web that provides the product or service. In other words, the difference is Experience is whoever has used a product or lived through an experience while Expertise is the professionalism and knowledge of the person producing the product or providing the experience.
To continue with the example of a beauty e-commerce website:
You can write all you want about your best hyaluronic acid serum, how they are made of and how they use the best ingredients, but does the serum work? Having an independent piece of content that shows the experience of using it and its results will be equal or even more valuable.
Lilly Ray, an expert in E-A-T, (YMYL update) gives a very simple but clarifying example:
She has very well summarised the 176 pages Content Guideline document for whoever is interested in knowing more about the topic.
By Carmen Dominguez
---

You can contact Carmen Dominguez (Account Director | Found.) by emailing her at carmen.dominguez@found.co.uk
---