How can Search address the challenges facing retail in 2019?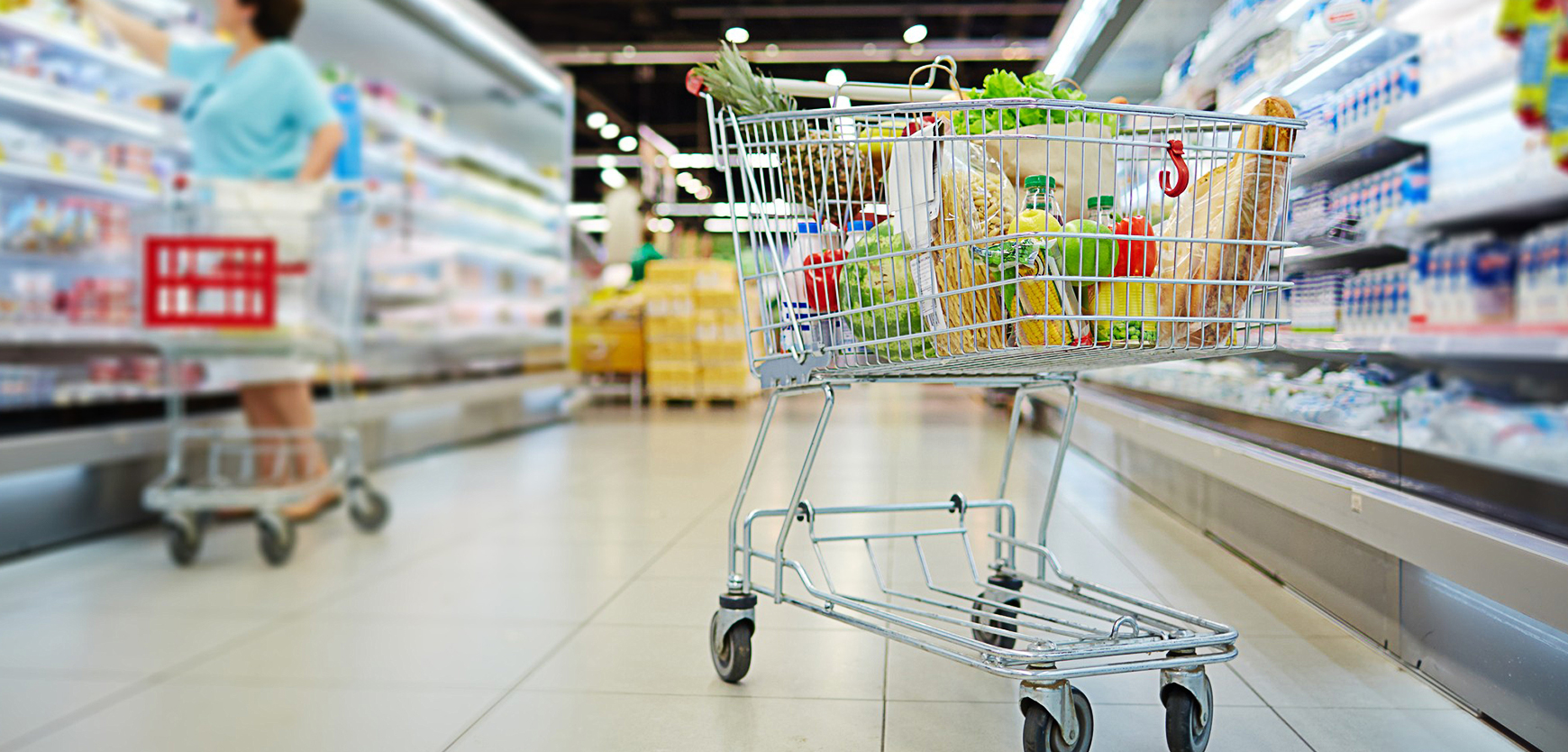 In this post our Director of Data Science and Analytics, Dora Moldovan takes a look at the use of Search in the retail sector and examines what role it should play in addressing the challenges faced in 2019 and beyond.
CHALLENGES IN THE RETAIL ENVIRONMENT.
Consumer confidence has slumped to a five-year low due to external pressures impacting purchase decisions. This is creating a less buoyant retail market, particularly online, with retailers having to work harder and invest heavily to retain market share.
Extreme discounting and promotions are ubiquitous, encouraging the race to the bottom pricing. Although the clothing portion of the market is in a period of growth, the challenges are significant due to the tactics of pure play retailers, aggressive with both spend and promotions. We're seeing digital becoming the bulk source of growth in retail with omnichannel businesses reducing bricks-and-mortar operations, while most pure-play retailers are expected to open retail experience shops on the high-street by 2023.
To capitalise on less competition but more-aggressive auction prices, Found believes retailers should make full use of data-driven technology. Tools such as Adthena or Hitwise, interpreting data from the Office for National Statistics or Google market information will enable them to spot opportunities for growth quickly. The example below is the home market trend with data pulled from ONS to demonstrate retail demand for the home sector: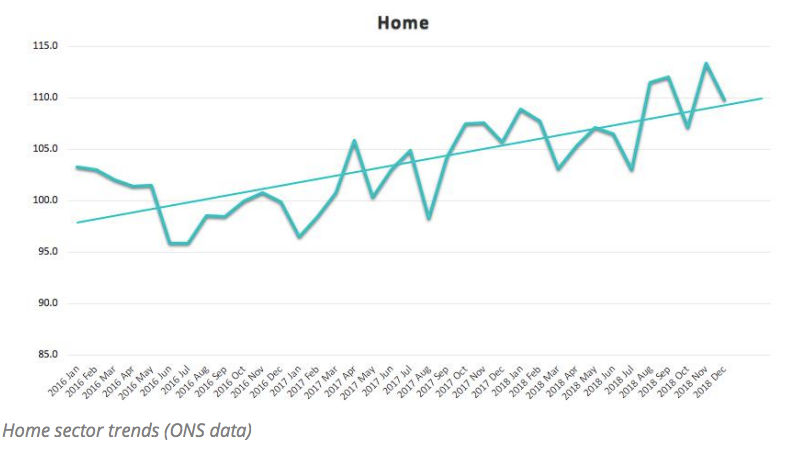 Food and Non-Food will have very different market positions throughout the year and any search performance will need to be tailored towards these changing markets. Supporting this is the BRC report for retail showing that, in December, like-for-like retail sales were down – 0.7%, but the three-month average for Non-Food showed a +7.0% growth. Footfall was down – 2.6% in the same period, with retailers struggling to convert customers to store. The result is an increased propensity for retailers to invest more online. Leveraging audience data and the increased localisation of Search will be the main areas of focus in 2019.
Retailers who successfully optimise towards offline metrics are set to win in 2019/2020. With customer search journeys taking longer, there is an inherent need to understand and optimise throughout the journey. This, combined with 67% of clothing searches coming from mobile, demonstrates the need to continue with mobile first strategies.
The landscape is changing not just in the context of competition, but also in the way the retailers are leveraging technology. Amazon's move to acquire Whole Foods and the completely frictionless checkouts via Amazon Go stores, have granted access not just to new audiences but also to a wealth of data on in-store behaviour to integrate into their strategies. In many cases where Amazon Prime Now is active, this has broken down the buying objections of shopping online by providing almost-instant delivery services at low cost.
With the ongoing Brexit negotiations, we note the letter of warning from the British Retail Consortium to Parliament signed by several of the major food retailers, regarding the impossibility of stockpiling fresh food, empty shelves and higher prices. It's becoming ever-clear that the UK is very reliant on the EU for produce.
MARKET CHANGE: 2019/20.
Experiential commerce is becoming a driving force in delivering increased sales for brands and retailers. Consumers' interest in online shopping is shifting from a formulaic, convenience type interaction to immersive, brand loyalty building experiences.
Personalisation is still a significant player. The ability to create unique experiences for audiences is highly valuable and brands are taking advantage of the technology to engage with customers more than ever before. This is being seen through the emergence of pure-play retailers' in-store formats, creating experiential shopping formats.
The demand for delivery is making this a priority for retailers. With same-day delivery becoming the stake for grocers in competitive markets, we're expecting to see even more investment in technology around driverless, autonomous delivery.
Environmental awareness was a major trend in 2018 and we're expecting interest in sustainability and concern in consumer behaviour's impact on the environment to shape the retail space even further in 2019.
UNDERTAKING SEARCH DIFFERENTLY IN 2019/20 VS 2018/19.
Retailers are going to need to ensure that every pound is spent in line with business goals; whether that be new customer acquisition, customer retention, sales growth or profit. Data-driven strategies that focus around audiences will allow these goals, in line with profit margin by product, to be achieved more effectively. As the overall market is consolidating, retailers are in a constant battle to 'own' the SERPS. Maintaining or growing market share becomes more competitive.
THE IMPORTANCE OF LOCAL SEARCH.
With technology making instant gratification and impulsive actions very easy to perform, Google has reported a huge increase in growth for all searches related to "near me" in recent years. Consumers now expect Search technology to find the places and even specific items they want to purchase in their area so they can get what they want instantly.
With that in mind, standing out in a Local Search pack to appear in traditional and Local Search or get picked up by voice assistants has become increasingly important part of the local and voice strategy. Whilst we can't impact the consumers' proximity to the business, we can optimise to influence the other factors such as prominence and relevance, ensuring that:
GMB (Google My Business) properties are optimised and contain up-to-date information.

NAP (Name, Address, Phone Number) data is accurate and truthful.

Listings have positive reviews – this is becoming more important than ever.
THE IMPORTANCE OF ASO (App store optimisation).
The online grocery market is extremely competitive, with users not only searching through traditional search engines but also using downloaded apps to complete purchases. Frequently a store's app may provide a better user experience and help keep consumers loyal to that brand, so being present and front of mind when downloading apps must be part of any integrated strategy. ASO can help you:
Capture 100% of consumers' attention on a branded search.

Engage with a higher lifetime value customer by them obtaining the app and having a better user experience and push notifications for re-engagement.

Appear in competitor searches to attract them to your brand.
To gain greater positions in the app store results, an ASO strategy is required to cover keyword research, on-site optimisations and off-site signals. This includes:
Choosing the right keywords for the app.

Optimising titles and descriptions in line with selected target terms.

Taking advantage of the screenshots so your customers know how to use it.

Adding videos to provide even more detailed information about the app.

Having a strategy in place to gain positive reviews and external signals to the app.
THE IMPORTANCE OF VOICE SEARCH.
As voice technology is maturing and becoming much more reliable, people are more comfortable using it for purchases, which is reducing the need to visit stores in person. This is especially significant both for FMCG brands and traditional retailers. Consumer demand for increased convenience in groceries is an obvious driver to start optimising for voice search. To cater for voice search, brands need to be set up to deliver multiple varieties of relevant and quality content. For grocery brands specifically, there is a great potential to influence consumer at the discovery stage of the user journey. Voice searches differ to normal search as they:
Contain a higher average number of words per search.

Contain 'trigger words' such as 'how', 'why', 'where'.

More frequently are sequential, in the form of a conversation with the voice assistant.

Can be tracked less easily than a standard search. With Google yet to separate voice queries within its search console, retailers need to rely on cues to identify the types of searches that could be performed by voice.
Statistics around voice search, and its importance, range from predicting it will take over 25- 50% of searches. Whilst this is a hotly debated topic, what's clear is that voice search will hold at least some place within the market. In the case of FMCG, where billions of pounds are traded online daily, the role of voice search will not be insignificant.
THE IMPORTANCE OF OMNICHANNEL.
Marketing is a team effort. To win, every element of your strategy, including your Search, should work hand-in-hand and build upon each other's strengths to power your business. In order to understand this concerted effort and the role each channel (digital or offline) is playing, the right attribution tech is essential. Complementing the tech with omnichannel data science analysis will help retailers paint the full picture as accurately as possible.
THE IMPORTANCE OF TECHNOLOGY IN AUDIENCE.
We know that your most complete set of data is your CRM data, and Search can use this as a powerful lever to turn new customers into brand-loyal, lifelong customers. Machine learning has sparked a new wave of interest in the application of RFM (recency/frequency modelling) analysis to deliver insights to Search, especially SEO targeting. We slice data to understand customer flow and acquisition in ecommerce as it:
Links online and offline order data.

Creates real-time audiences that can be utilised in Search to fine-tune strategy.

Enables the assistive side of Search through AI-powered insights.
By using machine learning to monitor online conversation about products/brand and to map user behaviour, brands can uncover patterns and trends that can be reflected in search strategies.
HOW SEARCH CAN PLAY A ROLE IN ADDRESSING THE CHALLENGES FOR RETAIL.
Search can be a significant tool in any retailers kit to overcome the many challenges ahead. We believe they need to embrace the following within their Search strategies:
Understand the changing needs of consumers and their search behaviours. As consumers demand more choice in-store, they expect even more when shopping online. Search needs to utilise a long-tail strategy to capture niche requirements and understand consumer shopping trends.
Embrace automation. Automated creatives and automated bidding will allow agency partners to work strategically towards business-aligned KPIs (RoAS, CPA), creating efficiencies.
Leave behind the silo approach and move towards an omnichannel/localisation strategy. The confluence of online and offline activity is essential to provide the kind of personalisation consumers expect. 80% of consumers still go in-store for items they want immediately but Search activity, especially on mobile, is a significant part of this journey.
Plan for the future by having a clear strategy around voice search and hyper-localisation.
EMBRACING EMERGING PLATFORMS & TECHNOLOGIES.
In order to take advantage of the full potential Search has to offer we believe retailers should be looking to inform their campaigns and benefit from:
Applications of technologies that link store data with online data and explore the causality of relationship between them.

Analysis that furthers the understanding of customer behaviour.

An advanced AI-powered, custom-trained attribution model to help the marketing department understand the relationship between online/offline, new/loyal customers and marketing channels that best influence and convert them.
Search will remain a powerful growth channel for retailers and it can go a long way to assisting them in overcoming the current challenges in the sector, providing they embrace the changes that they need to allow Search to be successful. Retailers who continue to operate their Search campaigns in the same way the have done in previous years will lose out to those embracing the changes and integrating search with their wider activity in-store and online. It's time for retailers to integrate Search, rethink their strategies and make sure that their Search campaigns are using all the cutting edge tactics available to them.