How to Optimise TikToks for Google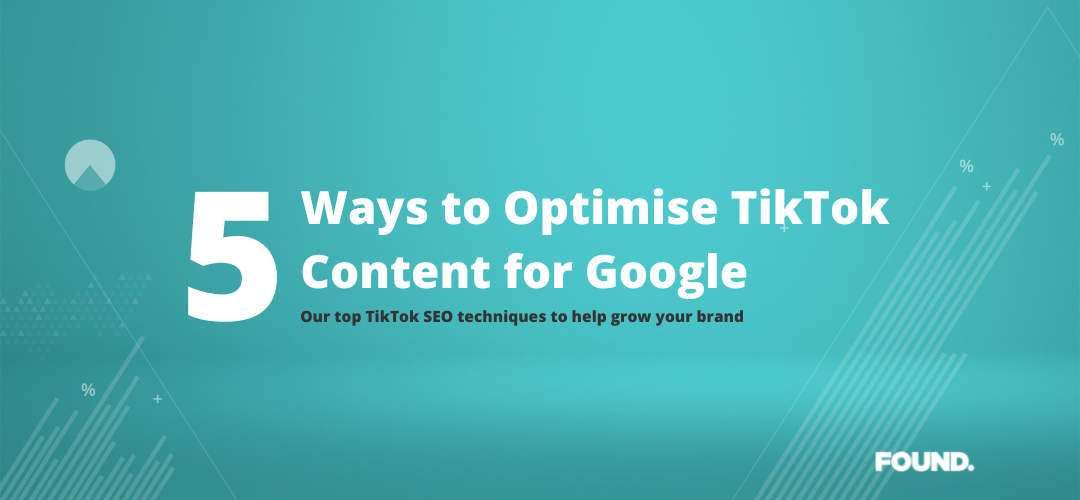 Discover how to optimise TikTok Content for Google with our top 5 TikTok SEO techniques.
TikTok has undoubtably cemented itself as a dominant force in the social media world over the last few years. Currently maintaining over one billion daily users, it saw a significant growth in popularity during the Coronavirus pandemic in 2020 and shows no signs of slowing down.
As well as being a platform that allows users to express themselves creatively, it has also given companies the chance to promote their products or services in a new way, which when used correctly can be a great tool for boosting brand awareness and exposure. These growth opportunities have recently been increased by the fact that Google is now indexing TikTok's video content, allowing users to search videos with ease.
Whilst TikTok does provide an exciting platform for brands to use to grow, it is vital that the content produced on the platform is sufficiently optimised for Google in order to produce significant results. In this article, we will explore five ways in which TikTok can be used as effectively as possible when it comes to digital marketing and SEO.
Don't Underestimate Hashtags
The importance of keywords is well-known when it comes to SEO. Essentially, the strategy of using relevant keywords in your website metadata and on-page copy increases brand discoverability.
The same techniques can be applied to hashtags when it comes to TikTok. Although hashtags can sometimes be seen as something to just add on to fill out the description of content, a well-considered hashtag strategy is vital for optimising TikTok content for Google.
Use hashtags that are relevant to the audience you are trying to attract, but not so popular that it will be difficult to stand out amongst the competition. Finding and targeting a niche is the best way to do this, and you can do this by using a keyword rank checker. It is a good idea to target long-tail keywords, as these are likely to have less competition when it comes to search volume and will therefore be easier to rank for.
Make use of TikTok SEO Analytics
TikTok analytics tools, such as TikTok Pixel, provide detailed information your audience demographics and general behaviour, as well as which content of yours gets the most interaction.
Paying attention to these statistics and tailoring your content to fit them accordingly will allow you to develop a more effective strategy for optimising your TikTok content, so it is essential to make use of them.
Identify Trends
Spending time on TikTok as a user is a great way to understand the trends that are gaining the most traction. Once you have identified the trends, in terms of the style of videos being made and the audio being used, you can begin to take advantage of them for your own content optimisation.
An easy way to do this is the 'For You' section will show the popular videos in a given category, which you can analyse depending on what your company does. Once you identify a trend, aim to create content that is in-keeping with the same style.
Cross-promote across other platforms
Despite its immense popularity, TikTok has not been around for as long as many other established platforms, so it makes sense that your following may not be as strong on it as Twitter, Facebook or Linkedin.
A strong online following is an important aspect of optimisation for Google, as it boosts digital presence and encourages more user engagement. Making use of your existing followings on other sites is a quick way to grow your TikTok audience, so be sure to cross-promote your content across other sites.
Create Interesting Content
Last, but certainly not least, make sure you create content that is engaging, informative and concise. For most users, the appeal of TikTok is that it provides quick pieces of entertainment, and so you are likely to get scrolled past if you do not instantly grab the viewer's attention.
Your content should showcase bite-sized snippets of what your company offers and not go on for too long. If you do this effectively, people are much more likely to explore what you do in more detail as a result.
A key aspect of SEO is digital content being engaged with by users, and TikTok is no exception. You can do all the above, but without the right style of content you are unlikely to be optimised for Google.

Found (part of Tomorrow Group) are a digital marketing agency with a proven track record of helping brands grow online. For more information on our services, don't hesitate to get in touch with us.