Google Panda 4.0 update – How to avoid Panda-geddon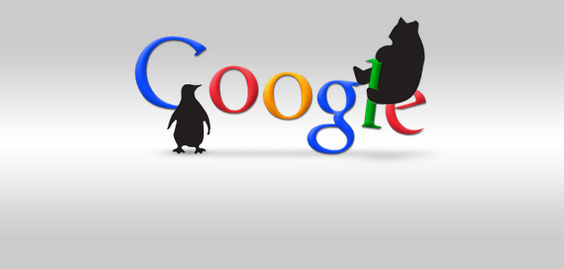 After a lot of speculation in the SEO world, it seems that Panda 4.0 has finally hit the SERPs causing waves of discontent in some quarters, and signs of recovery for others.
Google's head of web spam, Matt Cutts, announced the update on Twitter on the 20th May 2014 stating that: "Google is rolling out our Panda 4.0 update starting today." The update follows Cutts' previous announcement that he and his team were working on 'softening' the Google algorithm to help smaller businesses with quality content compete against larger sites.
Google is rolling out our Panda 4.0 update starting today.

— Matt Cutts (@mattcutts) May 20, 2014
What is Google Panda?
Panda is a search engine filter that is designed to stop low quality 'spammy' websites from ranking as well in the SERPs. The Panda algorithm, named after Google Software engineer Navneet Panda, first came on the scene in February 2011. It caused Panda-monium in the SEO world. (There we go, I said it). The latest update is a major release for Google, meaning that it is likely to be a data refresh as well as an algorithmic update.
Panda Patent
Google released a Google Panda patent (patent 8,682,892) on 28th September 2012. It was granted this year on the 25th March, 2014. The patent is a fairly wordy explanation of the algorithm that states that if a website fails to meet a certain quality threshold, then a modification factor will be applied and the site and it will subsequently be ranked lower in the SERPs.
Ranking search results
Invented by Navneet Panda and Vladimir Ofitserov
Abstract
Methods, systems, and apparatus, including computer programs encoded on computer storage media, for ranking search results. One of the methods includes:
Determining, for each of a plurality of groups of resources, a respective count of independent incoming links to resources in the group;
Determining, for each of the plurality of groups of resources, a respective count of reference queries;
Determining, for each of the plurality of groups of resources, a respective group-specific modification factor, wherein the group-specific modification factor for each group is based on the count of independent links and the count of reference queries for the group; and
Associating, with each of the plurality of groups of resources, the respective group-specific modification factor for the group, wherein the respective group-specific modification for the group modifies initial scores generated for resources in the group in response to received search queries.
How languages differ
Google Panda 4.0 affects different languages by different percentage. Google told Search Engine Land that the new Panda affects different languages to different degrees, impacting roughly 7.5% of queries in English.
Panda 4.0: not black and white
With the Panda 4.0 update announced at roughly at the same time as the Payday Loans 2.0 update, it is difficult to ascertain its effects yet. Google have almost certainly done this on purpose, making it harder for SEOs to reverse engineer the specifics of the Panda 4.0 update. As with any update though, there are certain key things that you can do to ensure that you are in the best position to be least affected by Google's animal updates. These tips are listed below:
Top ways to avoid a Panda Penalty
…or any other Google penalty
Create quality content that is original, interesting and engaging for your audience. Make sure you keep your site regularly updated with fresh content that people will want to link to.
Make sure you have high quality backlinks from authority sources.
Don't guest post on low quality sites using exact match anchor text for your 'money' terms.
Ensure that your site structure is technically sound. You can use our Found SEO Audit Tool to get a quick indication of some of the technical problems on your site's homepage.
Panda 4.0 update affecting big brands?
Ebay's sudden drop after Panda 4.0: Following the Panda 4.0 update, news broke quickly that eBay.co.uk's search visibility had fallen dramatically, as shown below: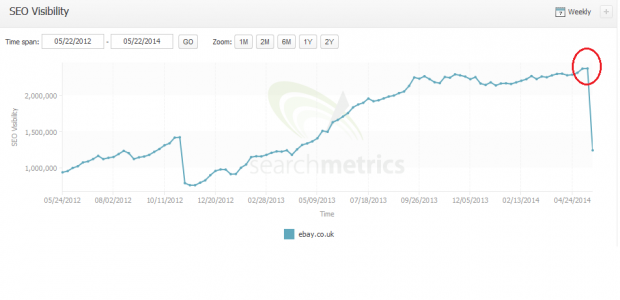 Moz Marketing Scientist, Dr. Peter J. Meyers, showed that eBay had lost rankings on a number of keywords. Meyers said that eBay had lost rankings for a number of specific phrases, losing two top ten rankings for three separate phrases: "fiber optic christmas tree," "tongue rings," and "vermont castings". Meyers stated that each of these was a category page on eBay. The site has also reported to have fallen out of the top ten for other phrases, such as: "beats by dr dre," "honeywell thermostat," "hooked on phonics," "batman costume," "lenovo tablet," "george foreman grill," and others.
The Panda effect: It's not all bad news
Although the potential effects of Panda updates can seem brutal, it can also have the opposite effect. Alan Bleiweiss, an SEO consultant, illustrated this on Twitter by showing that the latest Panda 4.0 update had actually increased his visibility on his website. The image below shows the type of effect that a Google update of this nature can have.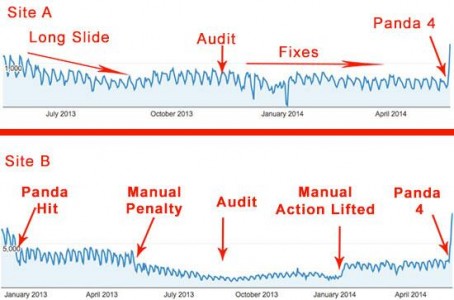 Dr. Marie Haynes, self-described as "completely obsessed about Google Penalties and algorithm changes", also posted a photo on Twitter of one of her sites that had improved after the Panda 4.0 update. Showing that Google updates are not always bad news and can actually benefit some sites dramatically.

Prediction:
Big brands will continue to be affected throughout the year by Google's Panda update
Being a big brand in 2014 no longer means you are immune from Google's updates. This year has seen an unprecedented number of big brands receiving Google penalties. Ebay could just be the latest.
Big brands should be checking that their websites are updated and relevant for 2014 and beyond. They need to do a thorough analysis of their backlink profile and make sure their website is technically sound to ensure they are in the best possible position as soon as the next update comes around.
I've got a Google penalty, can I recover?
As always with a big Google update such as Panda 4.0, there will be winners and losers. Ebay will almost certainly recover as they are a big brand. It is somewhat tougher for smaller companies though, and it certainly is possible to recover from a Google Penalty as illustrated by Rapgenius.com, who got hit at Christmas, 2013 and have managed to recover this year.

Found's client results after Panda 4.0
Following the Panda 4.0 update, Found have already seen some impressive increases in rankings for our clients. The graph below shows the increase in SEO visibility after the Panda 4.0 update for one of our clients.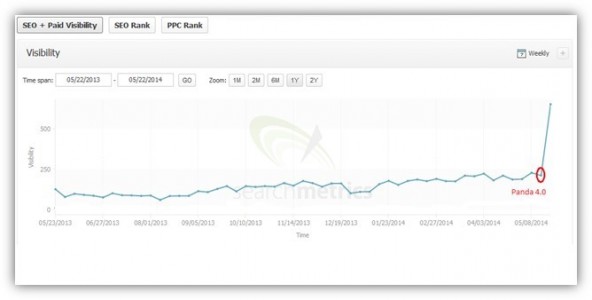 This is a client we took on with a history of on and off-site issues which had led to both algorithmic and manually penalties being applied. The site had been penalised by Panda 3.4 back in March 2012 and was then hit by penguin a month later which combined wiped out around 90% of organic visibility.
Over the last year, links have been cleaned up, a manual penalty lifted and content has been rewritten to remove duplicated elements. Although visibility had been gradually increasing, Panda 4.0 has enabled the site to return to page 1 for many high-volume industry competitive terms, with rankings for some keywords jumping several pages overnight from pages 3 and 4.
What does Panda 4.0 mean for me?
Based on previous Panda updates, the key emphasis has been to provide a mechanism for Google to remove what it perceives as low quality 'spam' websites from the search rankings. With Panda 4.0, we expect to see a continuation of this trend but also a potential 'softening' of its heavy handed approach of the past.
Unfortunately, it is still too early to assess the full impact of Panda 4.0, but it is likely to be good news for smaller websites that have been unduly affected by previous Google updates in the past.