Great Expectations? Our AI Predicts Oscar Wins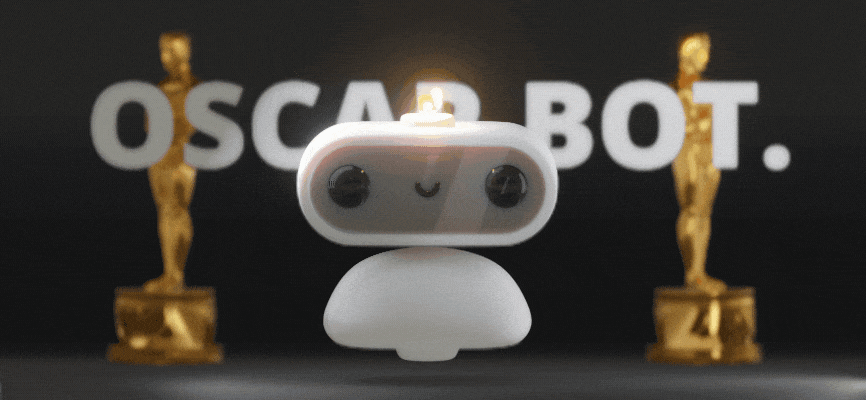 There's only a short time to go until the 92nd Academy Awards and until we find out who will win the coveted Oscar trophies.
For the Oscars last year we put our resident data science wizards to the test, challenging them to build an OscarBot and make predictions based on available data. The OscarBot was pitted against our resident film buff, Lily, and the bookies to see who could predict the results most accurately. You can see how the bot fared last year (let's just say it *was* the OscarBot's first rodeo and it lost big) but with 2020 in full swing, we thought to give the OscarBot some improved algorithms and another chance.
Pitting the OscarBot against Lily's passionate, hand-selected, knowledge and experience based predictions isn't quite enough for us. We needed another control group and the bookies' forecast is ideal to compare our OscarBot skills against. The following information is correct as of February 3rd, 2020, taken from oddschecker.com.
First, let's recap how our OscarBot does its thing. Here at Found, we know that AI isn't far enough along yet to go the distance alone, which is why we love stirring human brilliance into tech innovation. Our Data Scientist James trains the model with a carefully curated blend of social signals, IMDB features and historic awards data. From this, it learns to accurately predict an Oscar winner from a set of nominees. Then all we have to do is wait patiently for the results to roll in.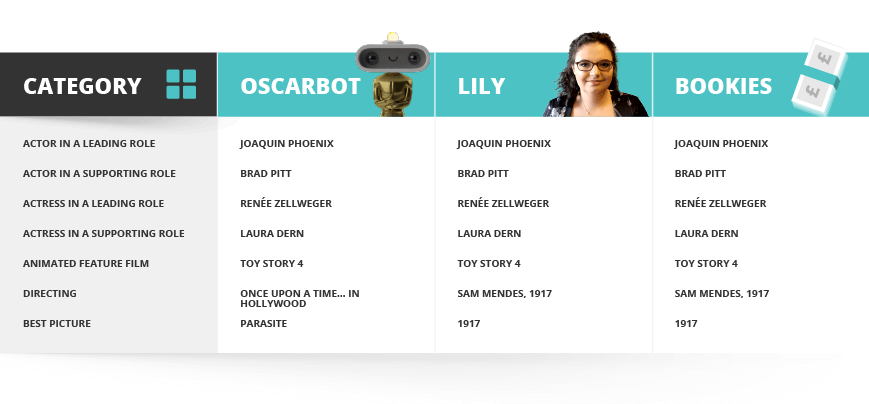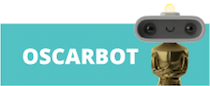 The OscarBot has given us an unexpected choice this year in the best picture category. Many want to see Parasite walk away with the award as it's highly unusual for a foreign-language film to scoop it. So unusual, in fact, that it would be a first in the Oscar's history. Parasite has some stiff competition from Once Upon a Time…in Hollywood and 1917; both films have the broad thematic appeal typically favoured by the academy members. A bold choice for OscarBot but not an unpopular one, could this an inspired choice that gives it the edge?
However a subject that Academy members generally seems to favour is war, and 1917 delivers with the kind of poetic realism that usually wins big. Best Picture is undoubtedly the category to watch with our OscarBot going squarely against the opinions of the bookies and film buff.
The academy has also been known to award 'retroactively', like in the case of Jennifer Lawrence who received an Actress in a Leading Role Oscar for Silver Linings Playbook when it was widely understood that she should have won for Winter's Bone; similarly, Colin Firth's performance in the King's Speech won him the Actor in a Leading Role Oscar – though he received boundless praise for the subtlety of his performance in previous year's A Single Man.
There are some murmurs online that it's Quentin Tarantino's 'time' to get a gong for directing, an accolade he's not received to date (he's won two for best original screenplay) and Once Upon a Time…In Hollywood is also about Hollywood – a subject Hollywood can't get enough of. Maybe this is the buzz our OscarBot picked up on to make his selection.
The OscarBot agrees with Lily and the bookies when it comes to who will win the Actor in a Leading Role gong. Joaquin Phoenix's performance was Oscar tipped long before the movie was even released and it's reflected in all the predictions. If Phoenix wins, it'll be his fourth Academy Award.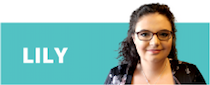 Lily, our resident film buff expands on her predictions:
"This year I would say that Laura Dern (Best Supporting Actress) and Renee Zellweger (Best Actress) are pretty safe bets given that they have won the SAG awards, Golden Globes and Critics Choice Awards. If there is an upset in the Best Actress category, I would say that Scarlet Johansson is an option.
In terms of the Best Supporting Actress award, the two possible upsets I see are Margot Robbie in Bombshell and Florence Pugh in Little Women.
The story is fairly similar in the men's acting categories – Joaquin Phoenix has been tipped to win the Best Actor Oscar – I will be incredibly surprised if he doesn't win on the night. Best Supporting Actor could be taken by the two performances from The Irishman, but I still see this as a fairly unlikely given that Brad Pitt has also swept the acting awards so far.
Moving on to best animated film – which has been dominated in the past by major studios especially Disney and Disney-Pixar, and therefore I predict that Toy Story 4 will win here.
Given that in the last 10 years, the Directors Guild Award winner has won Best Director at the Oscars in 9 out 10 years, I think 1917 is a good bet.
For Best Picture, I think this category's main competitors are 1917 and Once Upon a Time… in Hollywood. Both have won a Golden Globe for Best Picture, both are about subjects the Academy has a history of voting for (Hollywood and war), both are directed by prestige 'auteur' filmmakers. However, Once Upon a Time in Hollywood is a strongly actor driven movie, which appeals to the academy's predominantly actor voter base.
A last note on this category, other surprises are possible on the night – because I am a somewhat pretentious film nerd, I would LOVE Parasite to upset this category."
Popcorn at the ready
What do we see from these initial predictions? Lily and the bookies agree on who will walk away with all the shiny awards but our OscarBot has thrown a couple of curveballs. The OscarBot's analysis of social data (trust us, there was a lot of it) says that Parasite will make Oscar history and take home the Oscar for best picture while Tarantino will add his first trophy for directing to the collection.
While predicting the outcomes of an awards show isn't the most important thing in the world, it works as a great example as to why our strategic applications of AI (Artificial Intelligence) and ML (Machine Learning) are so valuable when it comes to distilling complex data into useful and informative insights. We know that data is a valuable resource, but the first step is separating the wheat from the chaff – or as we like to put it, carefully applying the right algorithms to quality data. It's only after identifying the best dataset to focus and learn from that we can make recommendations regarding the best strategies.*
Grab some popcorn and come back next week to see who wins and who loses. It's human brilliance (Lily) vs tech innovation (OscarBot) vs bookies' wisdom.
(*We don't accept any responsibility for any cash lost at the bookies. Sorry.)
If you're interested in how Found could supercharge your digital performance across SEO, PPC and Data, then get in touch today to speak to a member of the team.