Good to Grow: Prepping your marketing for the future

As we're slowly returning back to normality it is important to take a step back to really figure out what marketing strategy you're going to deploy to ensure you're putting your best foot forward in, for what many companies, will be their peak period – Q4.
COVID-19 has pathed the way for a new way of life, a new mind-set and with that becomes new behaviours. With these new behaviours comes new opportunities and brands need to ensure they're making consumers lives as easy as possible. The following quote really resonated with me:
"In such an uncertain market, value and convenience were the clear winners"
Nick Carroll, Associate Director, Mintel
It's no longer enough to just be customer centric, brands need to become customer obsessed and really understand what message they should be shown, at what time, to ensure they have the best possible experience of your digital storefront. I've compiled key points for preparing your marketing for the future.
1. A seamless user experience should be priority
According to a recent study by eMarketer, in 2020 UK retail growth is forecast to come from digital and mobile. Now is the time to spend time and investment on your UX, particularly for mobile. CRO is a great starting point to really figure out what small changes to key traffic driving landing pages can be improved by minor tweaks from CTA button placements to form optimisations. Consumers are more and more likely to spend time researching products online ahead of going into the store. In a recent study undertaken by GWI, 51% of adults planned to spend less time in stores or visit stores less frequently because of COVID-19. Your digital storefront needs to be your focus to ensure you're providing your customers with the best shopping experience, payment options and security.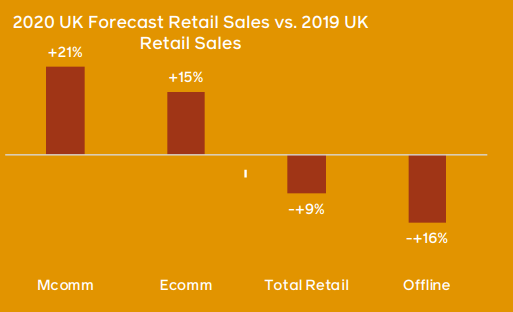 Page speed is also a priority for UX, not only is it a ranking factor, but it can harm your bounce rate significantly if pages don't load in under 2 seconds. Google states: "2 seconds is the threshold for e-commerce website acceptability. At Google, we aim for under a half-second." You can check your page speed with Google's page speed insights tool here for reference.
2. Understanding your audience & planning accordingly.
Consumer behaviour is changing and brands need to stay abreast on where their audience are spending their time. Do you research, look at competitors, create a customer persona and make sure you keep an eye on comments and engagements to see how your audience may have changed over time. It's important that your audience feels like you've supported them during challenging times. Customer segmentation is vital across all channels to ensure you're communicating the right message to the right user at the right time. Spend time ensuring that your CRM lists are all up to date and segmented properly.
Planning is key and full-funnel audience solutions can identify shoppers with high purchase intent during peak periods. Google has recently pulled together 'the ultimate seasonal calendar to help plan for the year ahead' which is a super useful guide which details the latest consumer trends, industry insights, and digital best practices to lay out the year's key seasonal moments. You can check this out here.
3. Setting the right KPIs across the business.
It's always difficult to get the right KPIs across the business, it's made particularly harder post-pandemic! The right KPIs are completely dependent on where you're at as a business, but it's important to ensure that everyone is aligned and working towards the same goals and objectives to ensure you're set up for maximum success, and to ensure your team is all singing from the same hymn sheet!
Many of our clients here at Found fall into 3 buckets: reactivating: i.e. turning campaigns back on, exploring: looking for new opportunities & finally investing: expanding customer relationships – depending on which bucket the client falls into will determine which KPIs we're broadly focusing on as an agency. The clients in 'Reactivating' are most likely to be focused on digital marketing channels providing a positive ROAS vs. 'Investing' which contains clients who are focussed on long-term growth.
4. Test & Learn budget.
There have been so many unknowns over the last couple of months that it's important to put aside budget for tests & learns. Not everything you test will be successful, but you will learn something new from everything you roll out. We work on a variety of verticals here at Found across both B2B and B2C. An example of a test and learn for each industry could be:
B2C: an ongoing challenge across a number of our retail accounts is knowing when to use discount codes. A test & learn could be to roll out removing a discount code from your PPC ads to see if this impacts overall business performance. You can implement this through Google Ads using the A/B functionality. A straight forward test but can give a good amount of insight which can help inform your future strategy
B2B: testing different creatives across multiple platforms to really understand what connects and inspires your target audience. These findings will allow you to understand what message should be served to what user and in turn should help to increase your engagement metrics.
These are just a couple of examples, but a test and learn strategy is something that always forms part of our roadmaps!
The above points may sound quite obvious to a lot of marketers, however as I mentioned at the beginning of this post, COVID-19 has pathed the way for a new way of life, a new mind-set and with that becomes new behaviours. Now is the time to tear up the rulebook and start anew! In some ways it's going back to basics to ensure that you're providing users with the best possible UX and in others its understanding how your customers have adapted over the last couple of months and making sure you're pivoting your approach to fit with their new mindset and values.
If you're interested in how Found could supercharge your digital performance across SEO, PPC, Social and Digital PR, then get in touch today to speak to a member of the team.