Pandas and Penguins Spotted in Brighton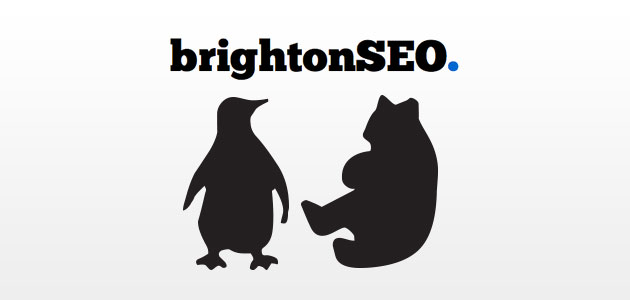 Found were some of the lucky ones to secure some places at the BrightonSEO conference that reunited SEO and Media experts all traveling from all over the UK and even overseas (the furthest being someone who came all the way from Texas!).
The conference kicked off with an amusing dance of a smirking Panda bear and a slim Penguin. All that was missing was for Harry Hill to show up, and shout 'FIIIIGHT!'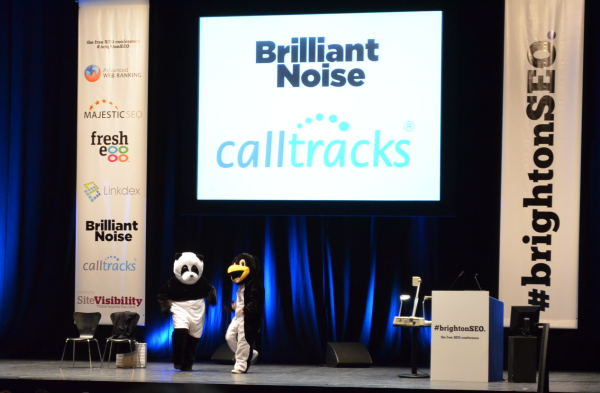 But what were the main things to take away? Below is a list of the talks and hopefully some useful tips:
First to talk was Dave Trott who gave us an insight into "Predatory Thinking".
How is this applicable to SEO? Well, in SEO just as in many other industries, you need to constantly win new business. And in order to win new business, as Dave taught us, you need to speak your client's language. Make them understand you are a true expert in your niche but explain your processes in terms that your clients can understand and win their trust.
Dave gave an excellent example of this: together with his colleague they were going to Morrison's to pitch for an advertising project. During the pitch, his colleague made the following statement: "in order to increase your profit, you need to optimise your own stock margins" and the client said that was the exact problem. They then walked out with the account.
Dave initially did not know what that meant and his colleague explained to him in the car on the way back to the office that it basically meant that Morrisons should make products cheaper so that people buy more and that he obviously did not want to put it that way as the client would not have been impressed.
The lesson learnt from this is that we need to show the clients we understand what the problem is and why they need us but persuade them in their language.
Following on from Dave's insights, Stephanie Troeth next explained to us that "speaking your user's language" is also essential because a website needs to reflect the company's ethics, business values and needs to easily deliver within few clicks the desired goals and actions. This is highly applicable for website design but, of course, we all know that. Never more so than now, there is an extremely strong connection between SEO, website architecture and website design.
Next on the list we had Rebecca Weeks who presented us with a case study of quick versus quality SEO. The conclusions were that in a post Panda and Penguin search world, SEO strategies need to be changed. So, if you have been focusing on your quantity of links (forum commenting, publishing of identical content on multiple target sites, guest posts, over-optimisation of anchor texts and/or page titles) rather than quality ones, then you need to quickly change your strategies and focus on less, more natural looking, links. Quality is more important than ever!
Oh, and, of course, verification that local SEO works! So don't be afraid to work towards a local SEO campaign for your local business. Ensure you have a legitimate address for your business and a few citations and you're starting on the right track.
Next, we met James Little from Top Cashback who spoke to us about affiliate marketing. He gave us a good insight into the difficulty of affiliate marketing in the current and highly competitive search environment.
With a decade of affiliate marketing experience, James has seen a lot of changes and he stated that generating revenue from various niche affiliate sites is no longer a sustainable solution. Rather, people should be looking to create brands in their own right.
Switching back to SEO, Martin Belam was up next, and he shared a few thoughts to bear in mind when doing SEO:
Headlines – you always need to think about your headlines and make them snappy, in order to catch people's attention and make people want to share them. Also, think about what your titles will read like when Tweeted. Titles often get shortened when shared on Twitter and if they don't read well, you are not going to encourage people to click on them.
Navigation – for a good user experience and a successful SEO campaign, make sure you understand your visitors' flow on your website. Make it easier for them to find what you have to offer and encourage them to engage with your website. Sometimes, including links on the homepage to all internal pages isn't necessary and it might just dilute your page rank to the important pages so bear that in mind too.
Site Speed: As a very short piece of advice, if your website isn't performing at its best and you've been doing everything you can, maybe it's time to invest in better hardware?
Conversion optimisation – always do some AB testing to ensure you achieve the highest conversion rates for your website. For example, optimised positions and the colour of a 'Buy Now' button can make a huge difference.
Next on the list there was a talk on Mobile SEO by Aleyda Solis who gave us a few tips on how to deliver a successful Mobile SEO campaign. A very good starting point for keyword research is your Analytics data. You can see which keywords people are using to get to your mobile website and for further research, one thing to bear in mind is that when searching on smartphones people tend to use longer tail keywords to increase their chances of getting relevant results because searching on the phone has some disadvantages compared to searching on your big screen laptops or desktop computers.
If you want to see what your mobile website looks like to Google, log into your Webmaster Tools, tick the mobile filter and Fetch as Google and there it is!
Also, just as on a standard website, the visitors' flow and behaviour on your mobile site is essential. Maybe you need to move things around, shift them higher up or to the left of the screen to improve navigation and conversions.
Sometimes there may also be a need to localise the way you market your product and target local keywords as when on mobile, people may be looking for results close to their location.
Another talk on quality links was delivered by Berian Reed from Auto Trader who introduced us to "Future proofing SEO on large websites". Here are a few quick wins for quality links:
Are people using your content without linking back? There is a free tool to help you get those links. Go to Tynt, create an account, place a snippet of code on your site and you're all set! Once tested, you should be able to get an automatic link back to your site whenever a competitor copies and pastes your content.
Use your Analytics data. Create a custom filter and find out who is linking to you and to which page. Is there anything more you could create to target more sites like the ones already linking? Can you create more and better content than the one that is currently on your website and receiving the most links?
Monitor your competitors' moves. You don't want to just make mistakes and learn from them (although we all do it), you want to learn from your competitors' mistakes too! Go to Change Detection and use the service to monitor what your competitors are doing. What are they changing? Why are they making those changes? What were the results of that move? If positive, can you do something similar?
Finally, use Link Detective to spy on your competitors' backlinks profiles. Can you use that data to create some quick links for yourself? Is anybody linking to a 404 page on your competitor's site? If yes, can you create something that the linking webmaster was looking for when linking to that page?
Next on the list was Danielle Fudge, from Forward 3D who introduced us to Pinalytics (a tool made by Forward themselves). Pinalytics is a free service that allows you to gather all sorts of data from Pinterest that you could use for link building. If you are not an advanced scraper, you can use this tool to find out who is posting images on Pinterest on specific themes or subjects and we all know how useful this is for link building. Time to get creative!
Finally, we learnt that 'ize' instead of 'ise' isn't an American English spelling. It was actually first used in British English. 🙂
It was a great conference, full of fun activities (again, you had to be there) and useful advice and I am sure we all learnt a lot from it! Happy SEO-ing everyone!