7 Top Tools and Takeaways from BrightonSEO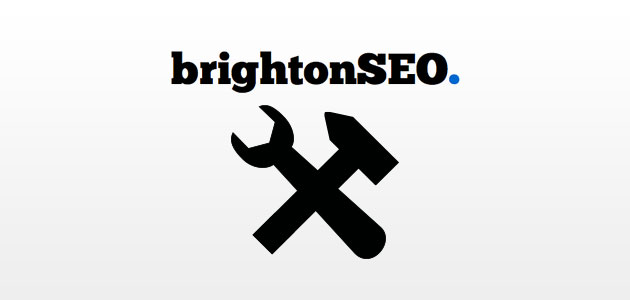 Three Founders had an early start last Friday as we headed to the south coast for BrightonSEO, the largest free search marketing event in Europe.
Following on from Raluca's post about BrightonSEO, I've decided to pull together some of the tools and services mentioned by the speakers.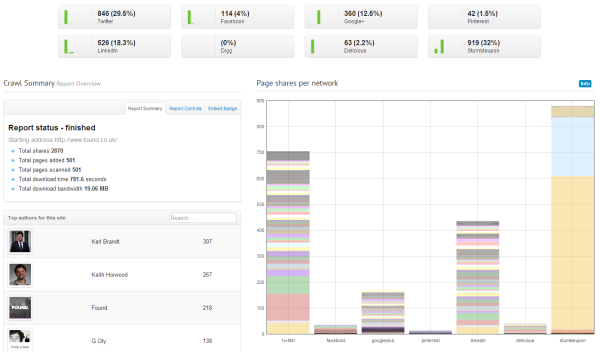 SocialCrawlytics enables you to quickly and easily identify the URLs on a domain which have been shared the most socially. This is a great way to identify your competitor's most popular content which you can take inspiration from when devising a content marketing plan.
Twitter, Facebook, Google+, Pinterest, LinkedIn, Digg, Delicious and StumbleUpon are the 6 social networking or sharing sites queried as SocialCrawlytics navigates your content.
After a quick Twitter oAuth registration, enter a starting URL and maximum crawl depth before either scheduling a regular scan or skipping ahead in order to run a one-off live scan. Free accounts currently come with 500 credits which are replenished at the start of each week.
The produced reports contain both tabular and visual representations of the socially hot content on a website – here's a look at a crawl of eConsultancy.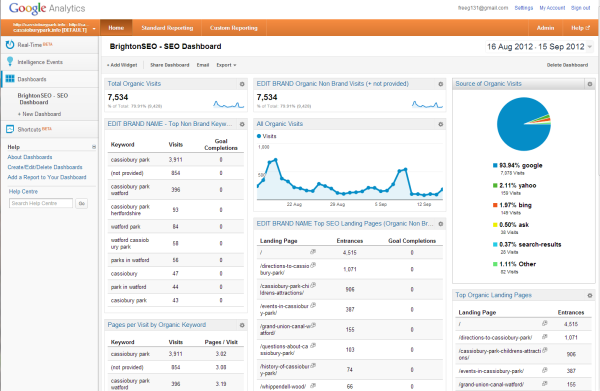 Custom dashboards in Google Analytics have been around for more than a year now, enabling a relevant overview of recent traffic performance to be visible with a glance at a single page.
Anna Lewis from Koozai shared 11 custom reports and dashboards which are useful for keeping an eye on online marketing activity, be it SEO, PPC, Email, Affiliate or Social. The great thing about this free takeaway is that the dashboards can be applied to your chosen Google Analytics profile. This can be achieved in just a few clicks, so you can be up and running in less than a minute.
There are some customisations which will first need to be made to the provided templates in-order to get the most out of them. For example, branded terms must be defined by modifying the provided filters but thankfully instances where changes are necessary are clearly highlighted on the dashboard itself.
If you're still using the default "My Dashboard" in Google Analytics the provided SEO Dashboard offers a quick and pain-free improvement.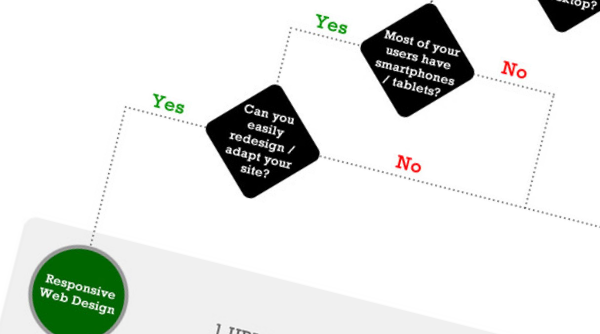 This post from Google's Webmaster Central blog introduces the search giant's recommendations for webmasters who want their content to be suitable for use by both desktop and mobile users.
In her slides Aleyda included an accompanying flow chart which can help establish what the best approach to creating a mobile website is for your particular situation – a separate mobile website, dynamic detection of mobile visitors or responsive design.
Change Detection is a free website monitoring tool I've been using for a while now. The premise is as effective as it is simple. You sign up, input a list of URLs you want the tool to watch over and then you get sent an email every time your listed webpages are modified.
The emails contain details of content which is added, updated or removed enabling you to keep tabs on the changes your clients and their competitors make to their websites.
Robotto will regularly monitor the robots.txt file for any website of your choice and alert you of any changes.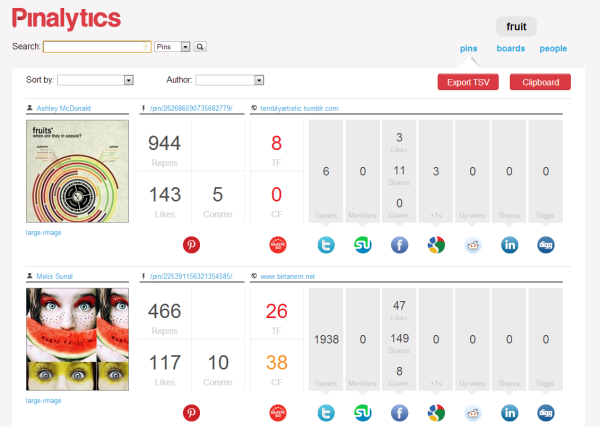 Pinalytics is a new tool that enables you to quickly find the source website of images on the social image sharing website Pinterest. By importing social share counts a number of opportunities are opened up – you can locate influential websites in a particular niche as well as identify the types of images which are popular in your target area.
Handily all of the data is easily exportable for you to play around with in Excel.
Account invitation codes were handed out at BrightonSEO but you can still use a limited service without creating an account.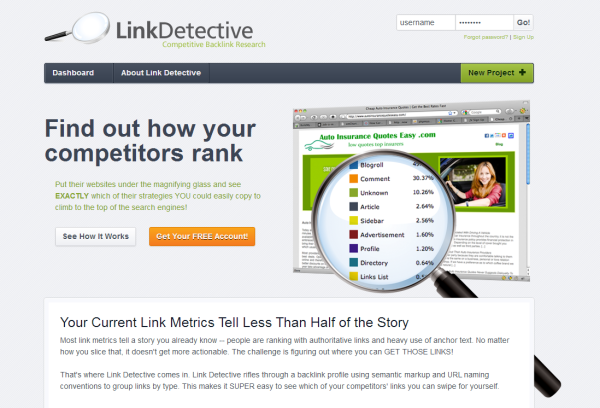 Only getting a brief name-check at BrightonSEO, Link Detective is a simple but powerful tool for drilling down into a competitors backlink profile. Link Detective takes in a .csv from OpenSiteExplorer and processes it additionally generating a more detailed backlink report.
Reports aren't returned instantly but when available they validate the existence of uploaded links (useful since the SEOmoz database takes so long to process information before pushing it live). Links are divided into categories such as blog comments and sidebar links, enabling you to get a quick snapshot of where a websites backlinks are coming from. You can also see the different anchor texts obtained from each type of link.