Setting up reporting in GA4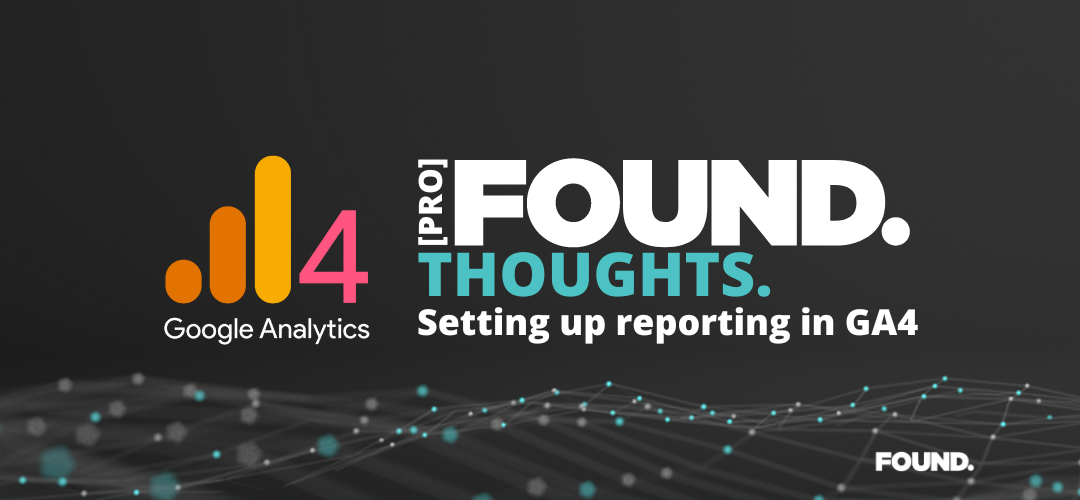 What is GA4?
GA4 is the next generation of Google Analytics that is replacing Universal Analytics (which is sunsetting on 1st July 2023).
Built on new technology, GA4 aims to provide holistic measurements and predictive insights that are built for a privacy-centric future.
Perhaps most importantly, Google Analytics 4 is going to be able to help your business make more informed digital optimisation decisions by providing your team with data-driven insights into your customers' digital behaviour.
However, getting started with GA4 can seem daunting to some, especially if you're used to Universal Analytics and haven't begun the process of switching over tools yet.
So, we're going to talk through the process of setting up GA4 and explain some of its key reporting features.
---
Setting Up GA4
The first step in setting up GA4 is to create a new property using Google's GA4 Setup Assistant.
This process is similar to Universal Analytics, and the Setup Assistant will guide you through the process of creating a new property. It may take up to 30 minutes for data to appear. To see if the property is set up correctly, visit your website and check the Real-Time report to see if there is any activity.
---
Reporting options in GA4
Once you have set up GA4, you can start using its powerful reporting capabilities. GA4 offers a range of reporting options, including;
A Reports Snapshot
A Real-Time report
Life Cycle reports
User Explorer reports
Just to name a few!
---
Main types of report
The Reports Snapshot is excellent for quickly glancing over important metrics and answering questions such as where new users are coming from and how many there are.
The Real-Time report is great for viewing activity on your website that is happening right now and seeing where users are coming from in terms of source and location.
By default, all GA4 properties will start with the Life Cycle and User Explorer reports.
The Life Cycle report focuses on understanding the user journey, from acquisition to retention, including engagement and monetization.
The User Explorer report helps you understand your customers/users in more depth, including demographics and devices.
---
HOW TO move over TO GOOGLE ANALYTICS 4
Making the switch to GA4 may not be a straightforward process. You should start by reading Google's resource for guidance but (for a smoother transition) we highly recommend seeking assistance from an expert.
---

---
Found is a London-based multi-award-winning digital growth, SEO, PPC, Social and Digital PR agency that harnesses the efficiencies of data and technology and future-thinking to help clients grow their businesses online.
If you have any questions or concerns about moving to GA4, the Found team is ready to help. Feel free to contact our team today.
---