What is Google Analytics 4?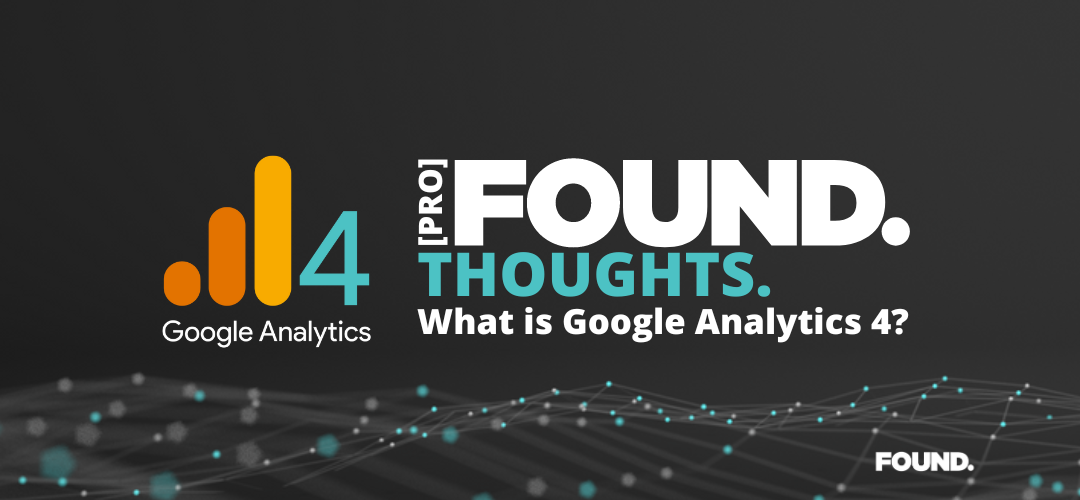 Google Analytics 4 (commonly referred to as 'GA4') is the next generation of Google Analytics, replacing Google's Universal Analytics tool, which is sunsetting on 1st July 2023.
Built on new technology, GA4 aims to provide holistic measurements and predictive insights that are built for a privacy-centric future.
Perhaps most importantly, Google Analytics 4 will help your business make more informed decisions by providing you with data-driven insights into your customers' digital behaviour.
By understanding what your customers are doing on your website, you can make changes to your marketing strategy, your website design, and your product offerings to better meet their specific needs.
Back in April 2022, we discussed what the future of Analytics might look like, and now the time has come. The suite of Universal Analytics tools, that we're all used to using now, is going to stop processing new data on the 1st of July 2023. So it is vital that your business is prepared for this switch.
---
WHY YOU SHOULD CARE ABOUT GA4
So, why should you be working to prepare our business for GA4?
1. Universal Analytics will no longer exist
Perhaps the most important reason you should care about GA4, is that the old analytics will no longer be available or pull in fresh data. GA4 takes over on the 1st of July 2023, so setting it up before then is crucial.
Universal Analytics customers will be granted an additional three months, to October 1, 2023.
From that point, properties will become read-only meaning that users will still be able to access UA properties for historical data analysis for another 6 months. After this period the data in UA will be deleted.
2. It offers you a greater understanding of customer behaviour
GA4 provides more accurate and detailed customer behaviour data through advanced machine learning algorithms. GA4 tracks event-based actions, such as users clicking on a button and video plays, regardless of whether they happen on web or in applications. The new analytics alert you of relevant trends in data, allowing you to predict changes and adapt accordingly.
3. You'll get insights about your clients and site in a faster timescale
GA4 can identify trends and patterns in customer behaviour, providing more actionable insights to improve campaign performance and drive better results.
4. You're going to have more control over your reporting
GA4 encourages custom reports to be created rather than premade ones. This helps to keep the dashboard neat and tidy, making it easier to navigate and present to clients.
---
HOW TO START USING & REPORTING WITH GA4
It's essential to understand how to use this powerful tool to track and analyse website traffic, user behaviour, and other key metrics that can help you improve your online presence and get found.
Getting started is simple, and follows a similar procedure to Universal Analytics. Google's GA4 Setup Assistant will show you exactly how and where to create a new property. Once this has been done, it can take up to 30 minutes for data to appear. To see if the property is set up correctly, visit your website and look for activity in the Real-Time report.
Now, speaking of reporting, GA4 offers a range of options to enable holistic and insightful tracking. It is different from Universal Analytics and here's how.
You will see a Reports snapshot report, a Realtime report, and a number of predefined reports.
The Reports snapshot is great for quickly glancing over and merging important metrics and answering questions such as, Where are new users coming from and how many are there?
The Real-Time report is great for viewing activity on your website that is happening right now, and seeing where users are coming from in terms of source and location.
By default, all GA4 properties will start with the Life Cycle and User reports.
The Life Cycle report focuses on understanding the user journey, from acquisition to retention. This includes engagement and monetisation.
The User report will help you to understand your customer/user in more depth, including demographics and devices.
---
We know that this move to GA4 can be daunting and the Growth Consultancy Team, here at Found, are more than happy to help you prepare for GA4 – after all, we're a Google Premier Partner agency!
So, don't be afraid to reach out and get in touch!