Social Media, Blackjack and Coffee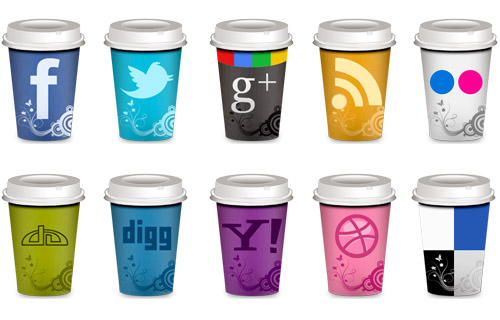 A week or so ago, I was lucky enough to attend the Figaro Digital Social Media Marketing Conference held at the International Coffee Organisation HQ in Berners St London.
In a room equipped with comfortable chairs, desk microphones with buttons and flags from around the world it felt a bit like I was attending a world trade summit rather than a Social Media conference. It quickly became apparent however that this was an ideal venue to relax, take notes and soak up the valuable insights and observations that were being presented by the excellent speakers, their slide decks clearly visible on a multitude of screens.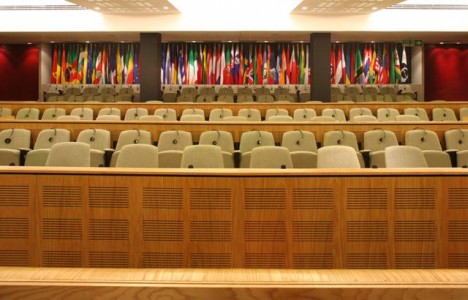 There was a broad range of speakers on the bill including Found's own Pete Newman who had the difficult challenge of kicking off the 'Figaro 21s' section.
Here each of the four speakers had to power through 21 slides with just 21 seconds per slide, as Figaro themselves put it "No sales pitches, no small talk, no second chances". Pete decided to take this '21' theme one step further and built his talk around a game of 'Social Media Blackjack'.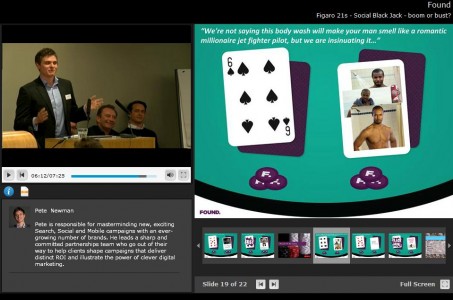 In a warmly received and truly entertaining manner Pete broke his slides down into micro Social Media campaign case studies that either went bust, or hit 21 with Social Media blackjacks. Referencing campaigns involving Katie Price, the Old Spice guy, roller skating babies and condoms with QR codes on them, Pete went down a storm. Delivery was clearly key here but I should mention the behind the scenes work done by our Social Media guru Gareth Olyott and our Lead Designer Andrea Downey who provided the great inspiration, research and design work to make it possible. You can watch Pete and his presentation >here<
Other highlights from the day included:
Allister Frost – Microsoft's Head of Digital Marketing Strategy, gave a concise and poignant overview of how Social Media has changed the shape of marketing in a digital world. Managing to simplify an often over-complicated subject matter Allister got the attention of the audience by stating things like "social media is just people having conversations online" and encouraging us all to "create social objects". Truly inspiring stuff indeed. You can watch Allister's talk >here<
Selina Sykes– Senior Brand Manager at Unilever, gave us some real insight and a behind the scenes look into Lynx 'Fallen Angel' an enormously successful and award winning multi-channel Social Media campaign. Facebook followers of Lynx got the chance to try and entice an angel down to earth and, if they were lucky, see her land in their street courtesy of a video and Google street view mash-up. See Selina's talk >here<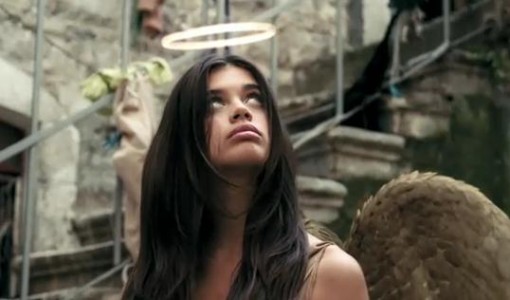 Roger Warner – Chairman at the DMA UK Social Media Council, gave an amusing and thought provoking talk entitled 'What Facebook can learn from Mad Men'. Roger emphasizes that Social Media is more than just a platform and that ideas, creativity and storytelling are at the heart of any good Social Media campaign. Referencing some of the true advertising greats Roger brings it back to the simple truths that ideas and people matter more than anything else when it comes to creating great campaigns. See Roger's talk >here<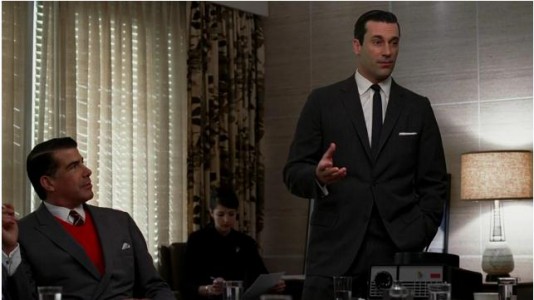 I have just cherry picked a few of my highlights from what was an excellent and really well organised day with some fantastic speakers. I should also mention the great food (salmon or gnocchi) that was on offer at lunch, but the real 'take-away' was the 'food for thought' the speakers and panelists provided. There were many more I haven't mentioned. You can see the full line up from the days events >here<
Many thanks to Figaro Digital and Jeremy Waite for setting it up we'll definitely be coming back for more soon.