1. Raw Data.
Google is a part of most peoples' daily lives. It is the world's leading and most popular search engine with almost 2 billion users worldwide and therefore clearly has a keen insight into what people around the world are interested in. Just as interesting, is Google's data collection of the tens-of-thousands of search queries made every second, which allows users to view and analyse this useful data for marketing and research purposes. This is why we have chosen to use Google Trends to analyse how interest in various topics has been impacted by the COVID-19 outbreak.
Google Trends can be an extremely useful tool for reviewing a company's digital marketing strategy, especially when we mine the raw data to predict the next wave of popularity or, in this case, paint a picture of what 2020 was supposed to look like. It enabled us to look back across history at how the popularity of any given topic had changed, which is how we have used it in this analysis.
2. Deseasonalisation to unearth trends.
We downloaded the last five years of "interest" data across 274 different industries in 14 different countries with the help of the Google Trends API. The first step was to flatten out any seasonal effects in the data (e.g. "Christmas trees near me" spiking at Christmas). This is standard econometric practice used when forecasting a time series. It removes seasonal patterns underlying the raw data allowing us to look at the trend and other unexplained fluctuations in isolation from seasonal shifts. For example, this graph shows how the highly repeated seasonal pattern (where it reliably peaks around the summer and dips around Christmas every year) in the interest in "Hotels & Accommodation" across the UK can be leveled out to expose the raw trend and other unexplained movements.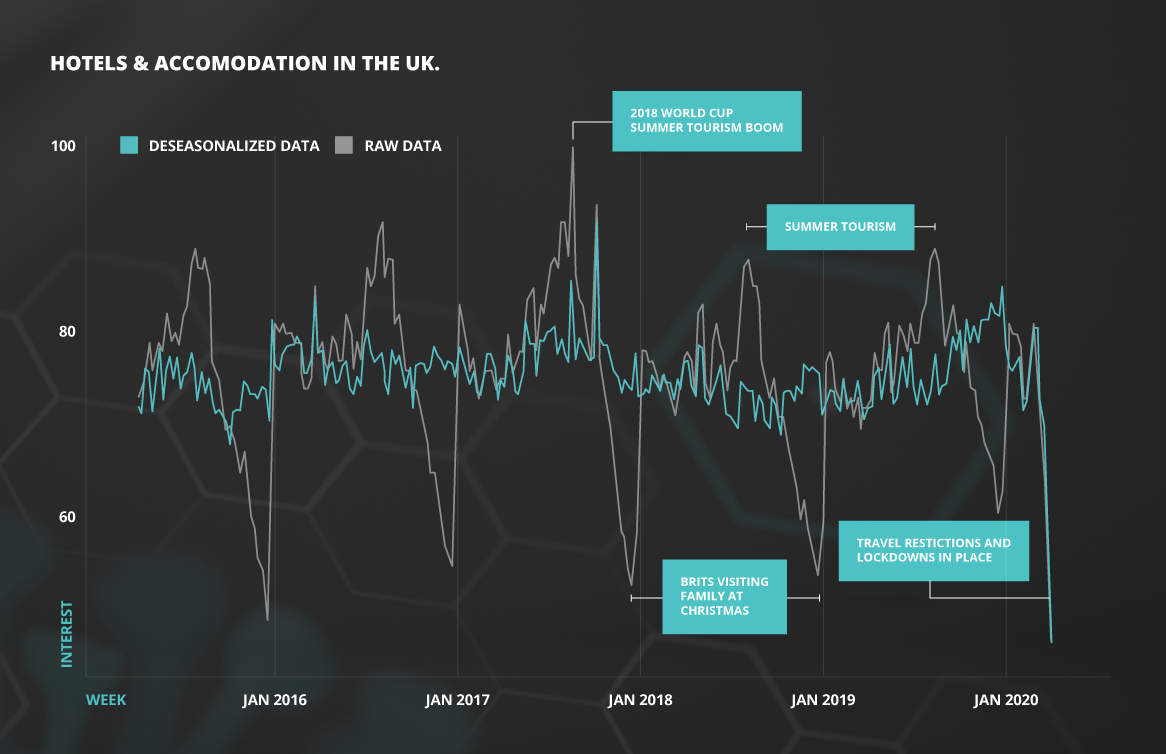 3. Finding the search divergence.
We trained a predictive model for each category-country combination based on all data from 2015 to 2019. The models were then used to take a "best guess" at what 2020 should look like based on historic performance. This is our interest benchmark.
Modelling the data gives us a view of what 2020 would have looked like, based on 5 years of prior data. We can get an idea of how different topics have been impacted in reaction to the coronavirus outbreak by comparing actual topic interest in 2020 against what we expected to happen. If a topic drops significantly below our benchmark then we can say that interest has definitely fallen.
4. Mapping the impact.