Found at the Red Letter Days Challenge Cup 2011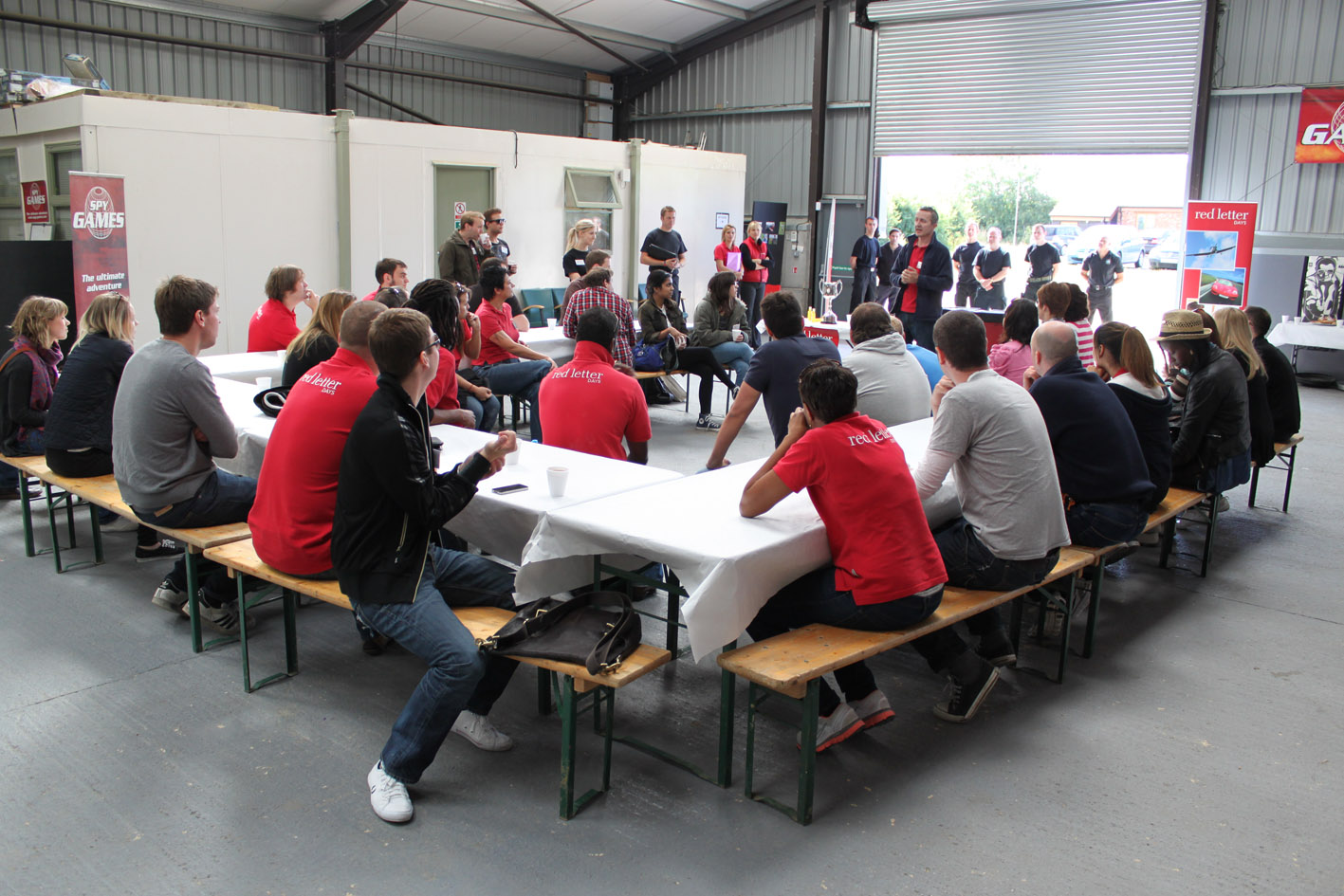 So it was that time of year again, a sunny July day provided that backdrop for the annual Red Letter Days Challenge Cup.
Up bright and early, a bleary eyed bunch of digital and network representatives were bundled onto a coach in Kings Cross and whisked off, in comfort, to a semi-secret location somewhere in the vicinity of Milton Keynes. No one really seemed to know what was in store for them, someone had mentioned axe throwing, another seemed to think paint and balls would be involved. All I knew was that the bus driver wasn't 'the Stig' and that he had the most awful collection of hen night style music playing.
On arrival it became clear that a) thankfully we weren't very close to Milton Keynes and b) that we were in the 'Spy Academy' HQ, a large shed like structure surrounded by freshly mowed green fields. Lots of intriguing looking activities awaited.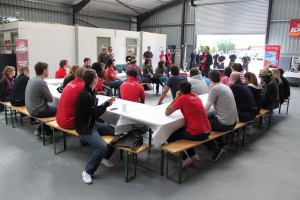 Coffee downed, pastries gobbled and before we knew it we were out in our teams and on our way to the first of 16 challenges! Previous RLD Challenge cups had seen me crash a canoe with Kevin Edwards and fracture my wrist wanging wellies, so I wasn't really brimming with confidence for this one. That said the first event involved crawling our way through a maze of lasers which I excelled at, so that perked me up. Other events were scarily titled things like 'Safe cracking', 'Unarmed combat' and 'Radiation', however these were not nearly as dangerous as they sounded and as far as I know, there were no injuries.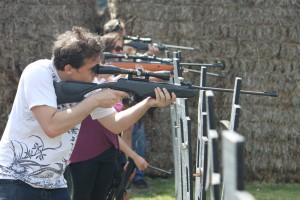 Found had two representatives on the day myself and Deepa Arthur, in teams purple and red respectively. At the half way stage team purple were just a few hundred 'Spy Dollars' behind the leading team and we felt fairly confident that we could snatch victory in the remaining events. With team red languishing in an unthreatening fourth or fifth place.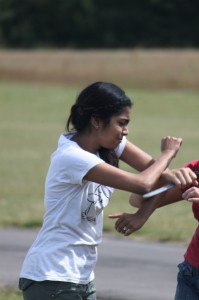 An excellent time was had by all and the winners were announced as we sank beers and prepared to tuck in to the BBQ. Somehow team red had come from nowhere to snatch first place and relegate team purple into a sorry 3rd. I later discovered that assembling a human pyramid had assisted in earning them an extra $2000 Spy Dollars which had made all the difference.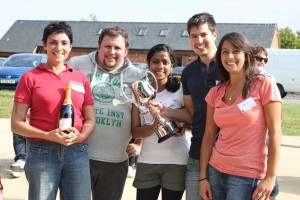 Not at all bitter, happy with my 3rd place water pistol and hungrily tucking into my slightly charcoaled burger I reflected on what had been a fun, and exhausting day. Awin had wrestled the trophy from Affilinet. But it wasn't over…
The booze got on the bus with us, and for what seemed like hours we trundled back at a slightly slower than leisurely pace, sun-burnt and knackered, sleep not an option despite my futile attempts, most of the bus were fairly tipsy by the time we rolled back into Kings Cross. Straight into a bar and it was all back on for me.. well after a double bourbon and coke it was.
A special mention should go to my purple spy team mates Gemma 'Tomahawk' Crozier, Tania 'Happy with a Gun' Ross, 'Killer' Keith Newton, and Delaine 'Gimme the Dollars' Yeoh.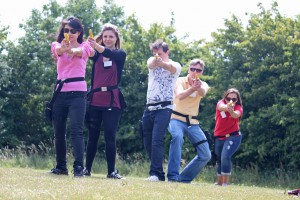 A massive thank you to Joshna, Gemma, Gerry and all at Red Letter Days for organising such a fantastic day, and congratulations to Deepa and the rest of Team Red for winning the cup for Awin.
Bring on the Red Letter Days Challenge Cup 2012, training starts tomorrow!