PAID SOCIAL CLIENTS.
Trusted by high-performing companies, from high-growth start-ups to global blue chips. Every sector, any size.
At our paid social media agency, we prioritise taking a data-first approach when crafting successful advertising campaigns that are tailored to our clients' objectives. We understand that each platform has its unique audience and engagement rules, so we create bespoke strategies to suit individual audience and channel needs, avoiding a one-size-fits-all approach.
Whether you're a small in-house team needing expert paid management, seeking creative guidance, or starting from scratch, we've got you covered. Our integrated agency provides a full suite of resources, from influencer partnerships to UX support, to elevate your paid social marketing campaigns.
As Meta Business Partners, we maintain strong relationships with key social channel contacts and stay ahead of the latest trends and innovations from the social media giant. Rest assured, you're in safe hands with us. Embrace the power of paid social advertising and achieve your marketing goals with our expert guidance and data-driven strategies.
"This award is an acknowledgment of all of the great work that Found do, how that work affects their customers and the digital advertising ecosystem as a whole. It's fantastic to see digital marketeers with such sound performance roots make the large but successful leap into effective creative. Found has it all - a focus on performance, a creative edge, fantastic people, sound measurements, great results and a clear customer focus. We are looking forward to what they do next."
HELENE AMBIANA – HEAD OF GOOGLE PARTNERS EMEA
PAID SOCIAL
FAQS.
WHAT IS PAID SOCIAL?
Paid Social is a dynamic form of digital advertising that leverages social media platforms to promote brands and engage with target audiences. Through paid social media campaigns, businesses can reach specific demographics, interests, and behaviours, maximising their online visibility. Whether it's Facebook, Instagram, LinkedIn, Twitter, TikTok, or other platforms, paid social offers a range of ad formats to achieve diverse objectives, from driving brand awareness to generating leads and conversions. A London-based paid social agency Found excels in crafting data-driven strategies and captivating campaigns that deliver meaningful results for businesses of all sizes.
WHAT ARE THE KEY BENEFITS OF PAID SOCIAL?
The key benefits of paid social are immense. With precise audience targeting and engaging ad formats, paid social campaigns reach the right people at the right time. Brands can boost their visibility, drive brand awareness, and generate leads effectively. Paid social allows businesses to tap into diverse social media platforms, each with its unique audience, maximising their reach. Additionally, it provides valuable data insights for optimisation and helps businesses stay ahead of the competition. With Found's expertise as a top-paid social media agency, brands can harness the full potential of paid social and achieve remarkable growth and success.
WHICH PAID SOCIAL MEDIA CHANNELS SHOULD I USE?
Choosing the right paid social media channels depends on your brand's objectives and target audience. Each platform offers unique advantages. For engaging younger audiences, TikTok and Snapchat are solid choices. LinkedIn is ideal for B2B outreach, while Pinterest can be effective for targeting shoppers in the decision-making stage. Facebook's extensive targeting capabilities make it a versatile option. Twitter's fast-paced nature suits engagement and awareness objectives. For international reach, platforms like Weibo, WeChat, and VK are valuable. At Found, our data-driven approach helps identify the best channels to fit your specific goals and audience needs.
WHY PARTNER WITH A PAID SOCIAL AGENCY?
Partnering with a London-based paid social agency like Found ensures you have access to experts who excel in creating high-impact campaigns across various social media channels. Our data-first approach tailors strategies to fit your unique objectives and target audience. We offer a full range of services, from campaign management to creative guidance, providing end-to-end support. As an integrated agency, you benefit from a diverse set of expertise, including influencer partnerships and UX support. With strong relationships with social channel contacts and Facebook Marketing Partner status, we stay at the forefront of social media trends and innovations, delivering exceptional results for your brand.
Don't Fret About It


for Fender.

Our mission was simple: to use the exciting launch of the American Professional Range to drive mass awareness for Fender. We knew it was time to start making some serious noise.

Read the case study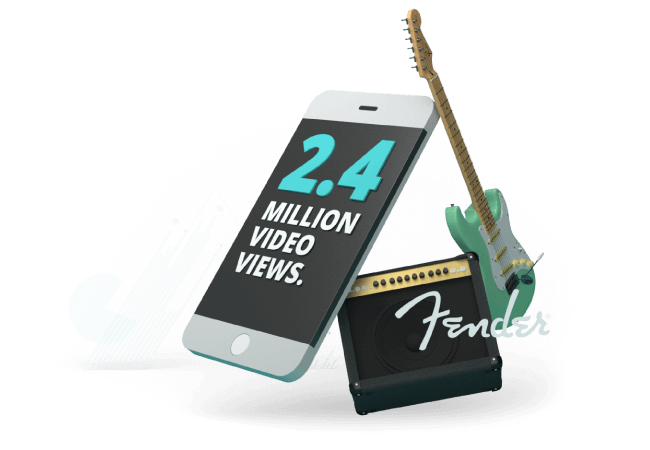 Get in touch
[contact-form-7 404 "Not Found"]